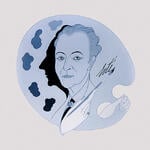 Although the renowned artist Erté died over 20 years ago, his art is still celebrated worldwide. Part of what makes him so amazing is that he was so widely talented: not only did he design costumes and sets for theatre, opera, and film, but he also created beautiful Art Deco fashion, jewellery and fashion illustrations. Because he had such immense gifts, it is no wonder that his work is still influential today.
The Beginnings
Erté was born in Russia on 23 November 1892, but with the name Romain Petrovich Tirtoff. His father, Pyotr Ivanovich Tirtoff, was an aristocrat who had served as an Admiral in the Russian Fleet. He wanted Romain to follow in his footsteps and pursue a naval career, but Romain's interests lay elsewhere.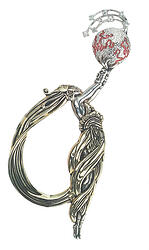 While Romain's father was away on naval manoeuvres, his mother would take him around Europe with her. It was in these trips that Romain began to seriously appreciate fashion. According to some sources, he actually began designing at the age of five, but with the help of the family dressmaker, of course. When he was 15, he lived in Paris for a year, and when he was 18, he moved there to become a fashion designer.
A few years later, in 1913, Romain took his fashion sketches to Paul Poiret, the top name in Parisian couture at the time, who promptly gave him an 18-month contract. Poiret was the one who gave Romain the pseudonym 'Erté', as that is the French pronunciation of Tirtoff's initials. The pseudonym was first used professionally by Erté himself in May 1913, as he didn't want to tarnish the family name, even though his father supported him in his chosen career.
Claim to Fame and Legacy
While Poiret's business closed at the beginning of the First World War, Erté moved to Monte Carlo to continue his fashion illustrations and costume designs. In Monte Carlo, he created what would be a lengthy relationship with the fashion magazine Harper's Bazar (now Harper's Bazaar). Erté's 2,500 drawings and designs were prominent in the publication from 1915 until 1936, even appearing on 200 covers. Unfortunately, the magazine made the switch to photography in 1937, and Erté's work would be featured no more.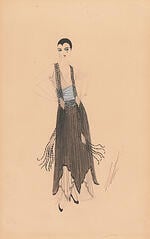 In the next 30 years or so, Erté focused on designing sets and costumes for theatre, film and opera. He also worked in interior and graphic design, but in 1965, Eric and Salome Estorick, the founders of Sevenarts Ltd, convinced him to uncover thousands of flawlessly preserved illustrations that he had been hiding in his cellar. The discovery of these drawings led to a resurgence of the Art Deco movement that lasted until the '90s. Inspired by these original works, Erté produced series of stunning silkscreen prints called 'serigraphs', developing new and innovative techniques. In 2003, the Victoria & Albert museum had an Art Deco exhibition that featured Erté's work quite prominently, which shows not only the importance of his work in the Art Deco movement, but also just how influential his work remains in the modern day.
Harper's Bazaar's celebratory December 2013 cover featured an illustration by Erté from 20 years earlier, and it was received to wide acclaim.
Several years before this exhibition and magazine cover, however, Erté passed away at the age of 97. He had lived a long and fruitful life in which he not only accomplished his dreams, but he expanded on them and became the master of Art Deco fashion and design.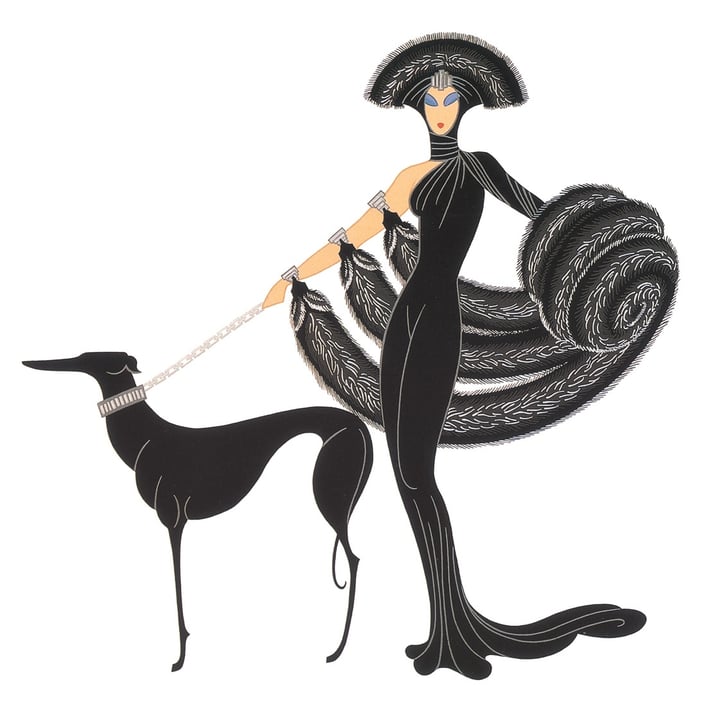 If you would like to see some of his fashion illustrations and graphic designs, you can purchase our beautiful new book Erté: Art Deco Master of Graphic Art & Illustration (ISBN 9781435157941) from Amazon.
All images in this blog © Sevenarts Ltd.
Links
See more about the Victoria & Albert exhibition here.

For more information about Erté's work on films, click here.

For more images of Erté's work online, click here.