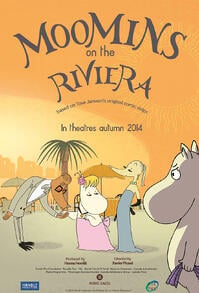 With the long-anticipated Moomin movie, Moomins on the Riviera, coming to cinemas in October 2014 and our beautiful 2015 Moomin Calendar now available in our Art of Fine Gifts range, it's not hard to rediscover a childish love for Moomintroll, his family and friends. The loveable trolls are only gaining in popularity since their beginnings as a comic strip in 1945.
A New State Of Moomin
We get a glimpse of what is in store for the audience when Moomins on the Riviera hits the big screen from the very exciting trailer that has now been released. The Moomin family is off on a new adventure that will, for the first time, threaten the bond between family members, in particular Moominmamma and Moominpappa.
Moomintroll also learns a thing or two about how love can be just as heartbreaking as it is beautiful, when Snorkmaiden becomes interested in a stranger. Even though the movie hasn't been created by Tove Jansson and her brother Lars Jansson like the iconic comic strip, it does seem to have retained much of the charm. The movie indulges the childlike happiness of new experiences and adventures while continuing with a more mature subplot, making the new Moomin movie a must-see for long-time fans and new ones alike.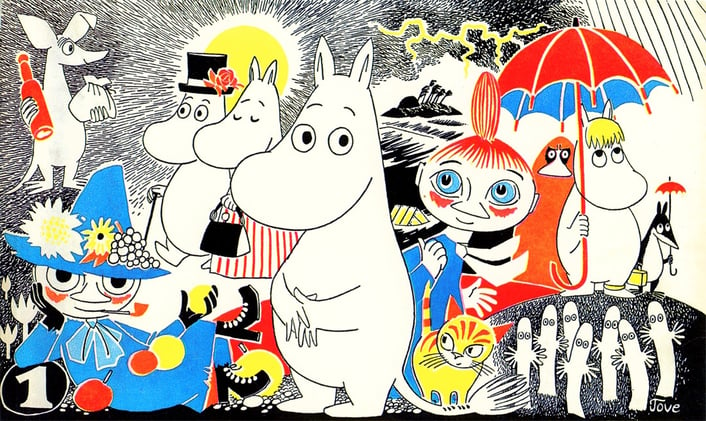 Characters Of Moomin Valley
The trailer looks delightful and beautifully made, and I was keen to see that my second favourite character Snufkin (my first being Moominpappa) is portrayed in the very first scene. I can't wait to see more of him in the movie itself. Snufkin is Little My's half brother and Moomintroll's best friend. He is a bit of a dreamer, and a traveller, but likes to travel on his own more than with others, focusing on the journey and not the destination.
Apparently the materialist Sniff, who is scared of water, will unsurprisingly not feature in the film. I was never particularly fond of Sniff as a child, as he was always the first one to give up on an adventure (a big no no in my books) but I would have liked to have seen him on the screen, especially in a place such as the Riviera where it seems wealth is continuously more present than in Moomin Valley.
It has also just been announced that Russell Tovey, who you might know from Being Human or The Pirates!, will be voicing the role of Moomin. He's a great choice and I can't wait to see how well he does as Moomin. Another name that has just been announced is Nathaniel Parker who will be playing Moominpappa. You might know him from Stardust, Merlin and The Chronicles of Narnia. And newcomer Stephanie Winiecki will play Snorkmaiden so it will be interesting to see her in her first movie role!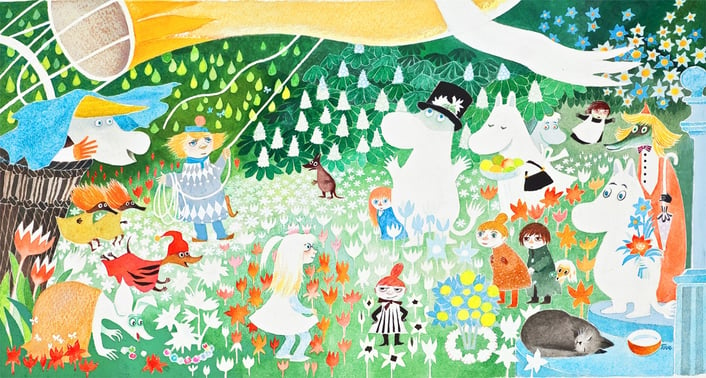 A Scandinavian Look
I grew up with the Moomins under the name Mumitroldene (the Danish name for the Moomins) and enjoyed them mostly through the adorable 90s cartoon. Of course, I am no less excited for the movie's premiere just next month. To be honest I had little idea that something I thought of as something entirely Scandinavian, was just as popular, if not more so, in the UK. Finding out that something you loved when you were younger has reached so many people in a different languages and cultures to yours can come as shock. But I'm so glad that the Moomins are enjoyed by so many people. It has made me even more certain that the world is smaller than it looks. And of course, the more countries that love the Moomins, the more great toys, phone cases and other merchandise there is for me to get which is always a plus!
Tove Jansson's timeless novels about the Moomins will hopefully continue to warm children's and parents' hearts for a long time yet. I am so excited for the reveal of what I hope to be a new beloved Moomin adventure. Now I just have to coax my younger brother to come with me to the cinema, so that people won't think me odd. I'm sure it won't take much convincing!
If you love the Moomins you should check out our fantastic 2015 art calendar (ISBN 9781783610617) on Amazon and iPhone cases (for example, ISBN 9781783613311) also on Amazon.
Movie poster is © 2014 Handle Productions Oy & Pictak Cie © Moomin Characters™ All rights Reserved. Other images are © Moomin Characters™
This blog post was written by intern Monique Jensen.
Links
For information on all things Moomin, from character profiles to fun blog posts, click here.
Watch the trailer and find out more about Moomins on the Riverera here.
You can find some really great merchandise in the Moomin shop here.