The incredible Banksy is based in the UK and is now known as a director, political activist and painter, as well as of course, a graffiti artist. His incredible dark humour mixed with his stark political images have featured on walls, bridges, pavements and even livestock all around the world.
Never long out of the news, his work has been back in the spotlight again recently – an artwork of his having been removed from a wall in Clacton-on-Sea by the local council after complaints that it was racist. The work showed a group of pigeons holding up signs stating 'migrants not welcome', telling another more exotic bird to 'go back to Africa'. Support for UKIP and their anti-immigration policies is high in the seaside town but Banksy declined to comment on the situation. What do you think about the work? Was Banksy trying to get the small town to confront racism or was his art offensive? Perhaps the council did not realise the work belonged to Banksy before they scrubbed it off the wall – previous works of his have been valued at over a million pounds.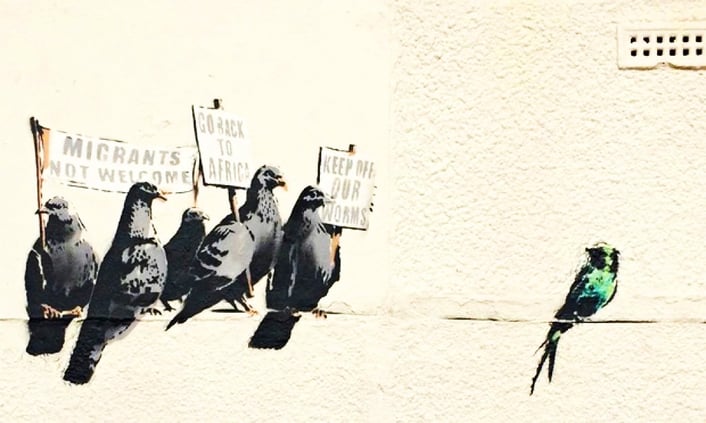 Image via graffitidesignart.net
Vandalism
Banksy has also been in the news because his work, the mural Art Buff, has been vandalised in the seaside town of Folkestone just two weeks after it was painted. The artwork is of a woman staring at an empty plinth, with her hands behind her back and leaning in (as if studying it). On Sunday evening, in a somewhat cliché act of vandalism, a spray-painted penis was added to the plinth. Ever since, the puns have of course been flowing.
Shepway district council had said they would work with the owner of the building to make sure that the artwork remained protected, but perhaps this was Banksy's intention all along? Was the empty plinth almost asking for someone to add something to it? There have been those suggesting that the area should be painted over by many artists to keep a conversation going about the nature of art. Of course, there are also those who are outraged and police are working hard to find the culprit.
Stencil Art
Of all the artists who have mastered the stencil art technique, Banksy is probably the best known (although he doesn't limit himself to stencils and has produced 3D work and performance pieces as well) and perhaps the most talented. The use of stencils in street art is so commonplace that it would be easy to assume that 'stencil' and 'street' art were the same thing. Of course, nothing could be further from the truth, but the increased profile of public art – especially in the last 10 years – has certainly been helped by the success of Banksy and other stencil artists.
Stencil art, like pure aerosol art, is nothing if not democratic. The cost of producing it is minimal, requiring at its simplest a single can of black paint and an idea to cut into a box or sheet of card, thus making it accessible to artists of almost any age or budget. There are other similarities to graffiti too: stencil art is fast to produce and easy to use as a way of covering a wide area, and therefore it's ideal for the clandestine artist seeking to establish a name or a little notoriety; equally, it's a way for an artist to replicate their work consistently on 'legal' walls.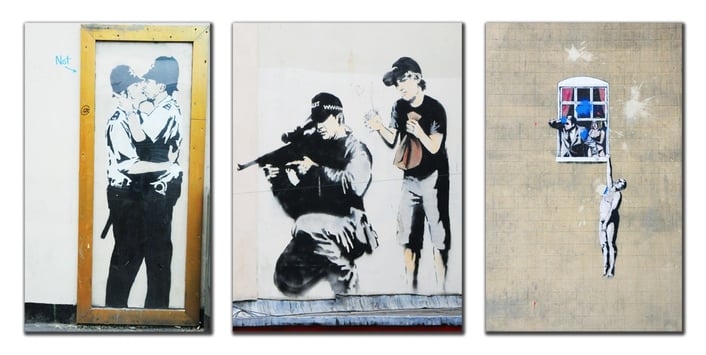 Find more Banksy art in our popular book, Street Art
Banksy and other stencil artists like him will travel quite lightly (depending on the stencil), packing little more than pre-cut stencils, masking tape and paint, regardless of what and where they're spraying. However, creating effective stencils in the first place takes time, the ability to think in colour layers, a really sharp knife and no small amount of patience.
If you love graffiti and all kinds of street art check out our book Street Art (ISBN: 9781783612697) displaying incredible artwork in our bestselling large format series in our Art of Fine Gifts range. Find it on Amazon here.
Links