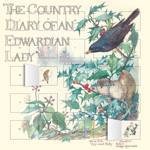 Who doesn't get excited for Christmas? Even if you don't celebrate the actual holiday, the time off from work is something to be celebrated and enjoyed. But advent calendars were invented to make people even more excited in the run-up to Christmas.
Advent calendars typically feature at least 24 little doors, one to be opened each day in December that leads up to Christmas day. Originally, they all included little religious pictures or bible extracts, but in the modern day, they can include anything from chocolate to pictures of Rupert Bear. We here at Flame Tree publish a few of our own advent calendars, and they cover a wide range of subjects and art styles.
Erté's Entrance of Santa Claus
Probably our iconic advent calendar images is Erté's Entrance of Santa Claus, featuring the glitzy, subtly Christmassy feel of Art Deco's sleek, geometric lines and metallic sheen.
Art Deco did not so much embrace representing Christmas in its art as evoke the kind of festive seasonal parties that fashionable ladies in their sparkly dresses would attend – and this is epitomised by Erté.
The 1930s did see the growing popularity of Christmas cards: in the late 19th century, the postcard was invented, and postage rates were cheaper than ever, so Christmas postcards were quite popular for a while. Later, cards with envelopes regained popularity in the 20s and 30s, so stationary, and therefore, Christmas cards, became a hugely profitable industry.
Behind each door of this calendar lies a deliciously sophisticated Erté image waiting to be discovered as you count down the days until December 25th. You can find out more about it here!
Santa
If, however, you're looking for something a bit more traditional, we also produce a few advent calendars that feature the one and only Santa Claus, a.k.a. Father Christmas.

The origins of the Santa we see today are complex and rather old: Saint Nicholas of Myra is the real person behind the idea of Santa, and he lived in the 4th century. Nicholas was famous for his generous gifts to the poor, in particular for one instance where he gave three daughters of a pious Christian dowries so that they would not have to become prostitutes. From this story, as well as other mythologies, the legend of Santa Claus was born, and now there is a patron saint for Christmas.
You can see a few of our advent calendars featuring Santa here, here and here!
Letters to Santa
No one is quite sure about how the tradition of writing letters to Santa started, but it's been considered a custom since at least the 1800s. Children write to Santa asking for whatever presents they wish for, and they tell Santa about how good they've been and why they deserve these gifts. Many post offices around the world even feature a 'Letters to Santa' page on their websites in order for these letters to be properly dealt with, which is different in each country.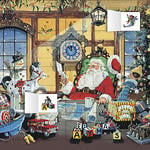 Many of the post offices provide due dates for the letters, as they will write back! In America, however, there is a letters to Santa adoption program going on, meaning that a child will send a letter, and then an adult can go into a post office, choose a letter, and buy a gift for the kid who wrote the letter. Then, the adult brings everything back to the post office, and the workers there package the gift up and send it off to the child whose letter the adult read.
We have a delightfully nostalgic calendar featuring Santa reading some letters surrounded by traditional toys in an illustration by Jean and Ron Henry. If you'd like to learn more about it, click here.
You can see our full range of our beautiful advent calendars here!
Links: