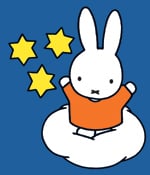 The first Miffy book was published in 1955: next year will mark the 60th anniversary of the creation of this adorable, lovable bunny. Almost 30 more books have followed this first one, and all together, they have sold over 85 million copies. Miffy has also been featured in two shows on the telly, and a feature film titled Miffy the Movie was released in 2012. This little white rabbit, while not of the masterpieces of art, has become an iconic representation of childhood.
Beginnings
Similarly to how the character of Roobarb (of Roobarb and Custard) was created, Dutch author and illustrator Dick Bruna was inspired by real life. While he was on holiday at Ergmond aan Zee with his family, he would tell his son, Sierk, stories about this little white rabbit he had seen earlier in the day, and the character of Miffy was born.
Miffy is female simply because Bruna wanted to draw a dress, not trousers on this rabbit, and it's obvious that she's young, but her exact age can depend upon the story. At first, she looked like a stuffed animal, with floppy ears, but by 1963, she developed into the iconic figure we see today.
Dick Bruna
Dick Bruna, the author, illustrator and creator of the series, didn't follow in his father's footsteps. His father actually became the largest publisher in the Netherlands, and his dream was for Dick to take over the company, but instead, his brother took over while he created children's books. However, Dick remained close to the company (A.W. Bruna & Zoon) and illustrated over 2,000 covers and 100 posters for them.
Bruna has published over 120 children's books, the most recent one being Queen Miffy in 2007. Over the years, he has won a multitude of awards for the series, such as the Silver Brush for Miffy in the Tent in 1996 and the Silver Slate for Dear Grandma Bunny in 1997. Earlier this year, he announced his retirement, but the rights to the Miffy character will not be sold.

Controversy
A similar character to Miffy is Hello Kitty, who was created by Japanese company Sanrio. Not only are they similar looking, being that they're both anthropomorphic, small, white, cute female animals, but they're drawn in similar artistic styles, as well. Miffy is often mistaken for being a Japanese character because of this, which Bruna is unhappy with. In an interview with The Daily Telegraph, he said, '"That", he says darkly, "is a copy [of Miffy], I think. I don't like that at all. I always think, "No, don't do that. Try to make something that you think of yourself."
It is worth noting that Hello Kitty was created in 1974, nearly 20 years after Miffy. It's also important to recognize that the Miffy brand is popular in Japan as well, but in 2010, Bruna actually started a legal suit against Sanrio, claiming that their character Cathy, a rabbit, was a copy of Miffy. It went to court, and eventually, they reached an out of court settlement that required Sanrio to stop production of products featuring Cathy. They donated all of the legal fees to support the victims of the earthquake and tsunami in Tokyo in 2011.
If you enjoyed Miffy's stories when you were growing up, you'll love our Miffy Family Organiser calendar! It features a different picture of the beloved white bunny for you to admire whenever you glimpse at the calendar, and it also has five different columns so if you have little ones, their schedules can be kept separately from yours! Check it out on our website here.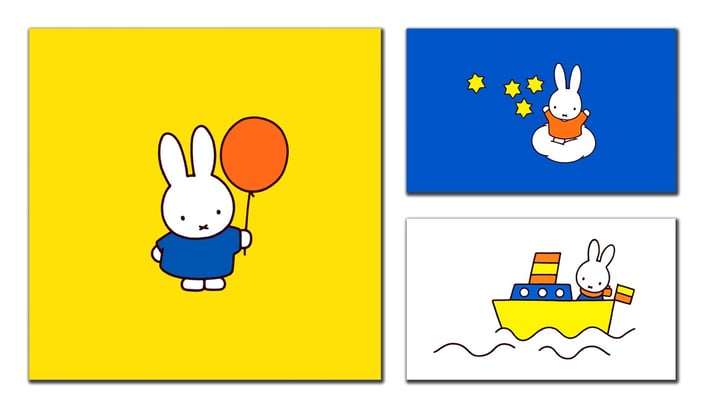 Links:
To see the official Miffy website, click here.

To learn more about Dick Bruna, click here for an article by The Telegraph.

If you'd like to learn more about the court case, you can click here.
This post was written by intern Taylor Steinberg.