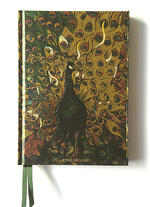 Although Louis Comfort Tiffany worked with many other materials, he is mainly remembered for his amazing stained glass work. He was so passionate about working with glass that he even created new methods of glass manufacturing, which became integral parts of his masterpieces of art, and allowed him to showcase his work all over the world.
About Tiffany
Luckily enough, Tiffany was born into a wealthy family, which allowed him to tour the world and to experience all kinds of different art and architecture styles. His father was Charles Lewis Tiffany, better known as the creator of the world famous jewellery company Tiffany & Company, so the family had plenty of money to support Louis' travels and artistic interests.
Tiffany actually started out as a painter, but in the late 1870s, interior decorating began to take over his interests. One of his earliest windows, created in 1878 and showcased at his family's apartment in New York City, shows how Tiffany used glass unconventionally, and how his future works would take stained glass to the next level.
Inventing Glass
Stained glass was going through a revival in the late 1800s and early 1900s, but most revivalists actually didn't approve of Tiffany's work because he was reinventing the art. They were focused on the classical Gothic way of creating stained glass pieces, which was to paint with enamel on clear glass, but Tiffany wanted to create something different, so he created Favrile glass.
Tiffany patented Favrile glass in 1892, and this glass was very different from other types of glass that were being produced at the time. Favrile glass is opaque, but it has an almost iridescent shimmer that's created by mixing different colours of glass together while they're still hot. Nobody can describe this glass quite like its creator: 'Favrile glass is distinguished by brilliant or deeply toned colours, usually iridescent like the wings of certain American butterflies, the necks of pigeons and peacocks, the wing covers of various beetles.'
Reactions
Tiffany's work has almost always been celebrated. He was one of the first artists to be acclaimed abroad, and his work was even sold at Siegfried Bing's gallery the Maison de L'Art Nouveau, which served as a platform for some of the most influential work of the time.
Throughout his lifetime, he had won a multitude of honours and awards. The New York Times listed them in his obituary, published in 1933: 'A gold medal was awarded to him and he was made Chevalier of the Legion of Honor in Paris in 1900. In 1893, at the World's Columbian Exposition in Chicago, he received fifty-four medals. Other honors included the grand prix at the Paris Exposition in 1900 and at St. Petersburg the next year; gold medal, Buffalo Exposition in 1901 and the Dresden Exposition the same year; grand prix and special diploma at the Turin Exposition in 1902; gold medal at the St. Louis Exposition in 1904 and the Jamestown Exposition in 1907; grand prize at the Seattle Exposition in 1909, and gold medal at the Panama Exposition in 1915 and at the Sesquicentennial Exposition at Philadelphia in 1926.'
Beautiful Notebooks
The striations and deep, rich colours that can be seen in the glass that Tiffany used in his work are reproduced in especially glorious style in our beautifully crafted notebooks. If you've ever wanted to own a Tiffany glass piece but can only afford the lesser quality pieces sold on the Internet, our foiled notebooks will allow you to own a high-quality printed version of his work that you could use every day. And because of the luxuriousness of Tiffany's original work and the exceptional quality of the images, our journals make wonderful Christmas presents. While we have a wide range of Tiffany notebooks, my favourites are the Trellised Rambler Roses and Poppy. Check them all out here, though!

Links:
To read the whole of Tiffany's obituary, click here.
For more information about our whole range of foiled notebooks, click here.
Learn about the Louis Comfort Tiffany Foundation here.
This blog was written by intern Taylor Steinberg.