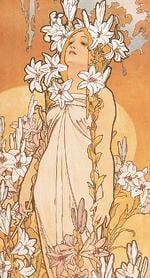 As well as his paintings, Alphonse Mucha was known for his illustrations, adverts, postcards, photography and many recognisable designs that were used in a myriad of ways. His distinct style is now recognised all over the world, and his works hang in the Mucha Museum in Prague.
You only have to look at a selection of Alphonse Mucha's work to understand why it was popular, and has consistently been part of the zeitgeist. While Mucha was at his peak his works were admired and sought after, but towards the end of his life they were considered outdated and were certainly not loved in the same way they are today. But while they were out of style for some time, Mucha's work and the Art Nouveau style took off again in the 1960s with a huge following that hasn't relented since.
Early Years
Mucha was born in Moravia, in the Czech Republic. He grew up with painting as his hobby and spent many hours helping out with decorating jobs painting set designs for theatres, which is how he came to work for a major Viennese theatrical design company that helped to teach him the very beginnings of what he would learn about design.
In 1887, Mucha moved to Paris and joined the famous Académie Julian, which is where his studies in art really began. His time in Paris would be one that would enable him to become the fantastic artist we know. One of his works produced in 1900 was Poster for the Austrian Pavilion at the Paris Exhibition which was an early depiction of what was to later become the style recognised world-wide in works such as The Flowers: Lily (the first image in this post). It featured the sensual figures and flowers but was lacking the real energy he managed to incorporate into his later, more refined, works of this type.
His paintings from around this time are not so recognisable – they don't have the distinctive style that is now so well-known and many are much darker, for example the painting Military Camp in Winter.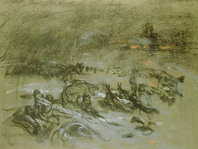 Military Camp in Winter, Image © Mucha Trust
The Art Nouveau Movement
At the end of the 19th century the Art Nouveau movement shook the art world, igniting feelings of reform and rebellion. It was a reaction to the vast differences in opinion between what was considered 'high art' and 'low art'. Many artists felt that art was incredibly important, whether it was hung on a gallery wall or a ballet performed in the Royal Opera House or was considered 'low art', such as advertising, furnishings, jewellery etc. Mucha, and many Art Nouveau artists like him, displayed such a wide range of artistic pursuits for this reason – they felt that every kind of art was worthwhile. This may not seem like much of a revelation today, but this movement was fiercely opposed by the Catholic Church and other traditionalists in the 19th century.
Distinctive Designs
A major inspiration for the Art Nouveau movement was nature, as flora and fauna in particular became popular themes that encouraged people to look outside themselves at the world around them. Mucha's own work often features intricate flower designs that embellish the subject of his work – in particular, this can be seen in his poster The Arts Dance (below, far right), an incredibly sensual image of a woman dancing, which was produced in 1898. The petals surrounding her and the flowers in her hair, blowing in the breeze, add to the movement of the image and are thought to symbolise looking outward, into the world and a spiritual awakening that could result from art. The flowing lines are also typical of the style. Art Nouveau artists sought movement in their works as a reaction to traditional art, which had always been so static.

Mucha Legacy
Mucha's artwork has been passed down through the generations of his family and there are still many exhibitions of his work today. Professional tennis player Ivan Lendi, who has been collecting Mucha's works since 1982, was able to publicly exhibit them for the first time in 2013 in Prague. It is one of the biggest collections of Mucha's work, so well worth a look if you are in Prague!
If you can't get enough of Mucha you can take a look at our fantastic Mucha greetings cards and 2015 wall calendar here.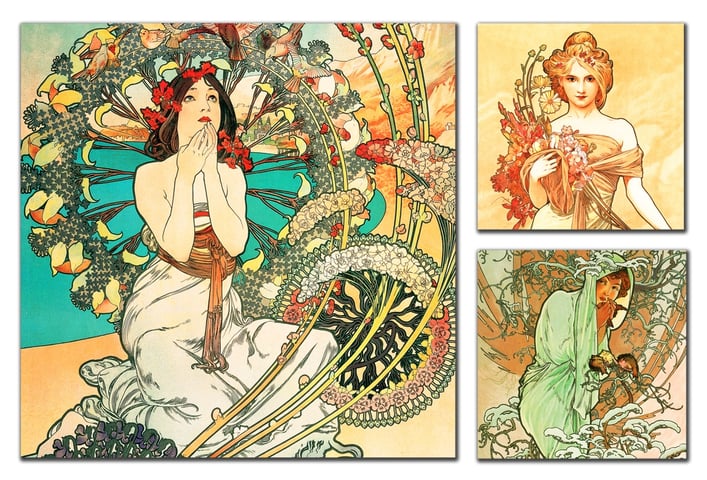 Links