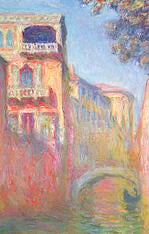 As the leading figure of Impressionism, Claude Monet is renowned for his portrayals of light and water and his skills as an artist have secured the enduring popularity of his paintings. His collection of masterpieces continues to draw great interest, and this is especially true within the collector's market, where his paintings are sold for jaw-dropping monetary sums. Last year one of his Waterlilies paintings sold for over £31 million, and earlier this month his painting of Le Grand Canal went for over £23 million at Sotheby's Impressionist and Modern Art Sale, becoming the highest seller of the night. There were five paintings by Monet in the evening auction, with their sales totaling a massive £55.74 million – certainly not a sum to be sniffed at.
Le Grand Canal, painted in 1908, is one of a number of Venetian scenes that Monet captured, and the painting embodies so much of the characteristic style and content associated with his work. His use of colour, light and water, and the interplay between these elements is masterful, and the impression of fluidity he produced in his depictions – not just of water but of architecture too – meant that Venice, a city of water, provided in many ways the perfect subject for his paintings. Le Grand Canal was a part of a series, and in today's blog we thought we'd explore this series in more detail, observing the appeal of Venice and the appropriateness of such a setting for an artist like Monet.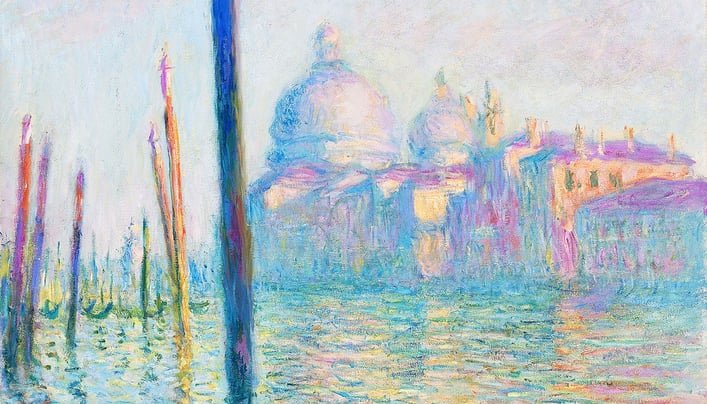 Monet had a career-long fascination with atmosphere and architecture, culminating in two projects focusing on locations that brought out this relationship. In 1899, 1900 and 1901 he made winter visits to London, painting the panorama of the often fog-shrouded Thames. Venice comprised the second project: Monet made two visits, in 1908 and 1909, and was utterly entranced by the scenes he encountered. When Monet and his second wife Alice were invited to visit Venice in 1908, it was an invitation that seemed to have arrived at just the right time for the 68-year-old artist, who had been in poor health and was unhappy with the work he had been producing. He accepted the invitation, therefore, in the hope that the trip would revive his enthusiasm for his work and for life. During this visit, he would paint relatively few canvases – 37 – but they would become some of his best-known and best-loved work. He was at first, it seems, a little reluctant to follow such great artists as Whistler, Canaletto and Turner, who had all famously painted Venice, though as soon as he set eyes on the beautiful city he was transported by the light, reflections, architecture and atmosphere. 'It is too beautiful to paint!' he exclaimed when he first arrived, 'It is untranslatable!'.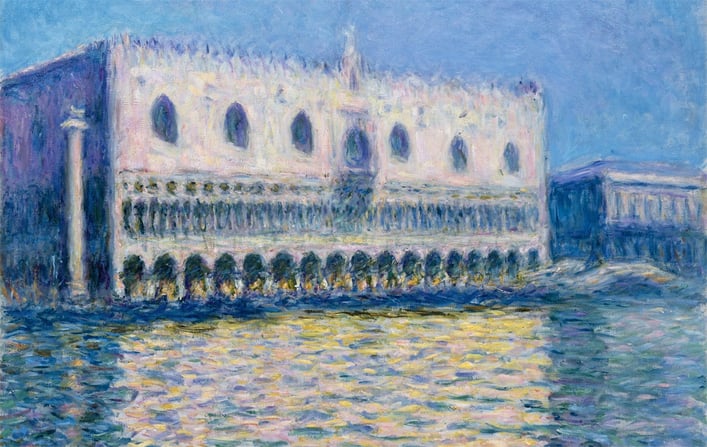 Only intending to visit Venice briefly, Monet and Alice stayed there for two months, with Monet focusing on eight specific subjects including the fifteenth-century Contarini Palace and The Doge's Palace. Alice documented their stay and Monet's work there through daily letters to her daughter Germaine Salerou. From there, Monet also wrote to a friend: 'My enthusiasm for Venice continues to grow, and it saddens me that the moment is coming when I must leave this unique light. It's so beautiful. But I have had delicious moments here.' They stayed at the Grand Hotel Britannia, where they had access to electric lighting and from whose landing stage could be enjoyed spectacular views of the distant island of San Giorgio. He set up his easel there and began work on a series of views of the island in the distance. He wrote to the art critic Gustave Geffroy: 'I console myself with the thought of returning next year, for I have only been able to make attempts, beginnings. But how unfortunate not to have come here when I was younger, when I was full of audacity.' Monet finished the 'trials and beginnings' of his paintings back in his studio at Giverny, and when 29 of the Venice canvases were exhibited at the Bernheim-Jeune gallery in Paris four years after the trip, they were a huge critical and popular success.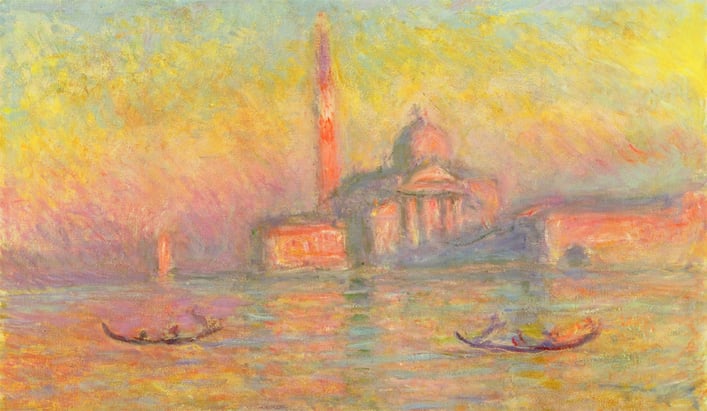 It is helpful to know more about Monet's styles and techniques, in order to appreciate quite how perfect a location Venice proved to be at this late stage of his life. As a young boy, Monet had exhibited considerable talent as a draughtsman, with his earliest known works being wicked caricatures. Shortly after making the decision to leave school, however, Monet left precise and linear draughtsmanship behind him, and began to paint (and draw in charcoal) landscapes. His early landscapes show a lyrical use of colour and the artist's interest in light effects, aspects that preoccupied his work for the rest of his life. When he was introduced to the technique of painting 'en plein air', it was a revelation: 'Suddenly, it was as though a veil had been ripped from my eyes,' he later said. 'I saw what painting could be!' When asked once where his studio was, he replied, 'My studio! But I have never had a studio.' Indicating the surrounding countryside with a sweep of his hand, he continued, 'That is my studio.'
Venice, a city that itself blurred boundaries in uniting water and architecture so strongly together, would be the perfect studio to suit his artistic style. The major role of water in such a location could only appeal – Monet's portrayals of water were already famous, and as an element that suited the techniques of impressionism so well in its reflection, concentration and dissipation of light, its continuous flowing movement fascinated him just as had the fog of London. We can only imagine how enchanted he was by this floating city, a city which inspired him to produce some of his most identifiable works, and a setting that united his obsessions: water, magnificent buildings and spectacular light.

The material for this blog was based around content from our book Masterpieces of Art: Claude Monet [ISBN: 978-1-78361-210-9], you can buy it from our website here. If you would prefer, this title is also available on Amazon now.
LINKS
If you're curious about the other paintings that were sold at the Sotheby's Impressionist and Modern Art evening sale, have a browse of them here.

Venice has long captivated artists as a setting for their work: see a collection of some famous works of art detailing Venetian life and landscapes

here

.

In the past, Venice's unique construction has proved advantageous, but climate change is now posing engineering dilemmas for its preservation. Have a read of the intriguing city's history here.