This month is Disability Pride Month, so we're taking a look at one of the most prolific disabled women to date and her revolutionary, lasting impact on society today. From queer feminist icon to Mexican fashionista - Frida Kahlo has become a household name, and here's why.
Frida Kahlo was born July 6, 1907, in Coyoacán, Mexico, a village on the outskirts of Mexico City. 18 years later, she began painting when a nearly fatal bus accident left her unable to walk for three months. After that her health was always fragile, the accident left her with lifelong pain and medical problems which ultimately led to her death in 1954 at age 47. For three decades her work remained relatively unknown outside of Mexico until the 1983 publication of the biography written by Hayden Herrera. Following this in 2002, a Hollywood biopic was released based on that book, becoming the catalyst for her renewed international recognition. Kahlo's work and her life soon became beacons for the feminist movement, emboldening women in any number of creative fields to have the courage to speak about the difficulties they face in their lives; equally, being a woman of mixed race who embraced her complex heritage – an openly bisexual woman too – she has also become a role model for minorities of all kinds. Inevitably, such iconic fame has spread beyond the spheres of art and politics to which she devoted her energy, to fields such as fashion, where the influence of her personal style has become something of an exotic cliché.
Frida Kahlo isn't only celebrated for her artistic talents. She is an icon to many for many reasons. Her openness around female sexuality has inspired and impacted the LGBTQIA+ community for over a century. Her free spirit, character and modern attitudes toward sexuality have made her an icon for all in the community. As an openly queer woman in the early 20th century, having open relationships with women was seen as pretty revolutionary. Her search for love wasn't limited to the confines of societal norms of that time. As an openly bisexual woman, she had love interests of both men and women. The two loves of her life were Diego Rivera and Josephine Baker. During her rollercoaster marriage to Diego, she had several affairs (as did he) with men and women, whilst later falling in love with Josephine in Paris once divorced. Her open queerness during her lifetime transcends into her artwork and continues to impact the world today. One of many elements in her "What I Saw in the Water" (below, left), the two female nudes in "Two Nudes in the Forest" are made the subject of the painting, in which Frida is clearly celebrating lesbian sexual love.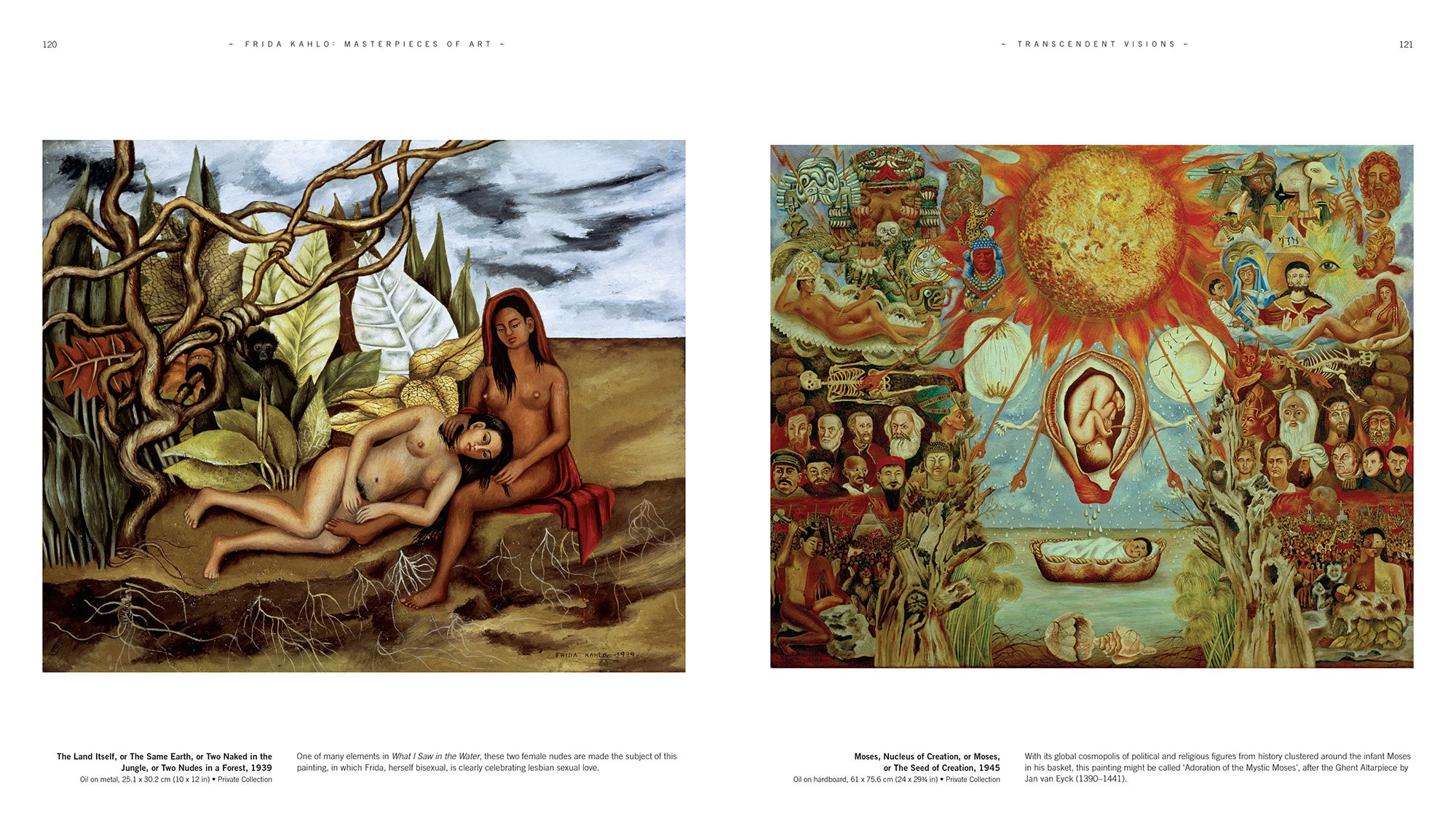 Kahlo has undoubtedly become a huge source of inspiration and empowerment for women over the generations. From a young age, she was resilient, strong and took control of her own life. She became a feminist icon through her character, activism, and art. Her paintings were intimate, personal, included nudity and were seen as revolutionary for her time. During the feminist movement in the 70s, Kahlo was admired as an 'icon of female creativity'. Kahlo's life and art often reveal the continuous battle for self-determination in the life of being a woman. She forged her own identity in her paintings outside the societal norms of her time. Her transparency and frankness in her art covered themes such as pregnancy, miscarriage, politics, conception, gender roles, and sexuality. All of which were revolutionary for a woman to be broadcasting to the masses during (and even after) her lifetime. To be openly questioning her identity and the role of women in society was and still is an incredibly ground-breaking statement.
Kahlo was a renowned cross-dresser, purposely wearing male attire to project a message of power and independence. This family photograph from 1926 (below) shows her dressed in all men's clothing next to her feminine mother and sisters. Kahlo frequently used her clothing to make a nationalist political point, as well as making a statement about her own independence and rebellion from feminine norms. The famous monobrow and moustache were both real features she deliberately exaggerated in the numerous self-portraits through which she is best known. Her features were confidently unconventional. Her image remains a beacon of empowerment for all women who want to defy the narrow social constructs around the 'perfect feminine image'.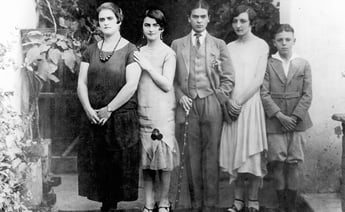 Although Kahlo's artwork took a few decades to become widely discovered, in her lifetime and to this day she has had an immense impact on Mexican culture. Whilst travelling the world with her husband at the time, she introduced traditional Mexican attire to the mainstream. Kahlo showed her Mexican pride by wearing Tehuana dresses which featured full skirts, flamboyant hairstyles and embroidered blouses. Kahlo fused this indigenous look with the more contemporary elements of her wardrobe, showcasing her cross-cultural identity and honouring Mexican women of all generations. The message of her 1937 painting "My Nurse and I" (below, left) is a clear celebration of the continuity of the nurturing Mexican culture from that ancient past (mother with the face of a pre-Columbian deity) to her own creative present.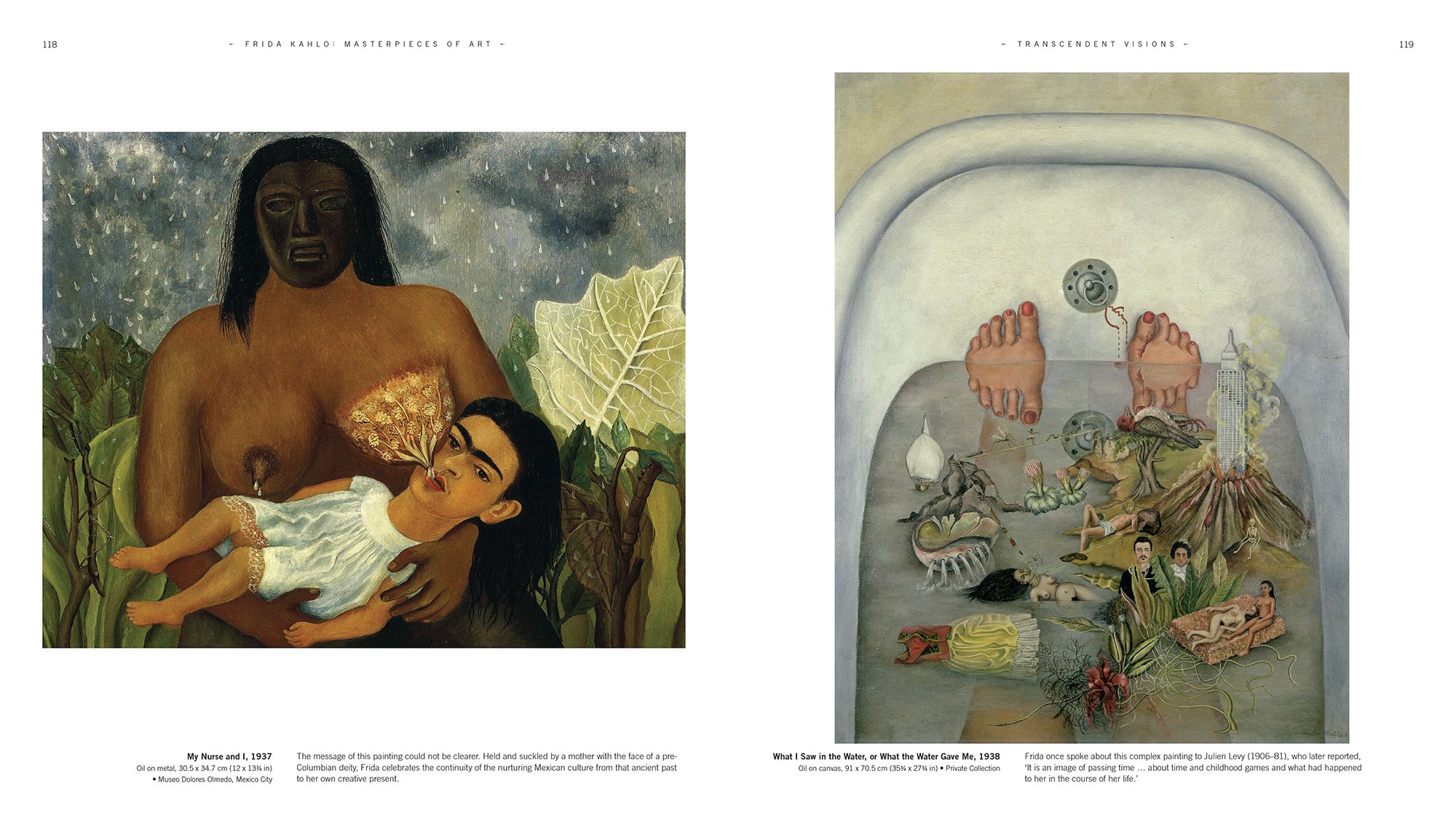 Whilst travelling continents in this attire, she gained a lot of attention from locals who'd stop and admire her amazing outfits. Kahlo is said to have been one of the biggest reasons Mexican costume became internationally recognised. From Europe to the USA, people were in awe of her presence and persona. Everywhere she went, she celebrated her culture with her choice of clothing, and it didn't take long for this style to catch on internationally. Throughout the 1930s and 40s, her image made the most predominant waves in the mainstream fashion world. Kahlo's style became synonymous with Mexican culture. In October 1937 she was featured in that month's edition of Vogue, which was the catalyst for the Italian designer Elsa Shiaparelli's creation "La Robe de Madame Rivera" ("Mrs. Rivera's Dress") based on Kahlo's Tehuana styles. Her message of female liberation shortly became associated with the Tehuana style, and it didn't take long for it to infiltrate the high fashion scene. The most notable designers since to have referenced Kahlo's wardrobe have been the spring/summer collection of Jean Paul Gaultier in 1998 and most recently Valentino's spring/summer 2015 collection.
You don't necessarily have to research Frida Kahlo to find out about her lasting impact on society. Walk into any stationery, book, or clothes shop and see the impact for yourself. You'll find her famous self-portrait on mugs, t-shirts or calendars. You can buy a going-out dress heavily inspired by Mexican culture. You can get a printable Kahlo quote to stick on your wall for inspiration and empowerment. Even over fifty years after her death, she is still all around us; her legacy lives on.
The story of Frida Kahlo is a revolutionary one of a brown, disabled, queer, feminist icon. It's a story of tragedy, adversity, triumph, and liberation. She continues to make a profound impact on the world not only from her talents but by standing firm in who she was. She reminds us that there are infinite possibilities beyond our physical limitations and liberation in our vulnerability.

Some content & all of the book spreads in this post are taken from our book Masterpieces of Art: Frida Kahlo (ISBN:9781786644824). This title is part of our Masterpieces of Art series which is packed, with tonnes of information and beautiful images. You can order it from our website here or on Amazon here.
Image credit for Frida Kahlo's family photograph:
© Fine Art America