The nineteenth and early twentieth centuries encompassed some of the most exciting periods in the history of art. With an explosion of new styles and movements, the variety is duly reflected in our 2018 calendars. Take a look at this week's Top 10!

With its fusion of Baroque richness and execution drawing on Parisian posters of the nineteenth century, Alphonse Mucha's (1860–1939) style is immediately recognisable. Though known primarily for his extraordinary paintings of women surrounded by flowers and elaborate decoration, the Czech artist also dabbled in decorative arts, including interior design and jewellery. Richly coloured and glittered on every page, this limited edition calendar contains 12 of Mucha's Art Nouveau masterpieces sure to draw your attention and bring beauty into everyday life.

Gustav Klimt (1862–1918) is probably the best known representative of the Viennese Secession. His paintings layered with gold leaf in particular brought him recognition that remains alive today. Though fascinated primarily by the female body, Klimt also painted landscapes with equal commitment to detailed patterns. This luxurious calendar showcases 12 of Klimt's fascinating works. Ranging from his earlier period to his acclaimed masterpieces such as The Kiss and Portrait of Adele Bloch-Bauer I, study a different painting's hidden detail every month of the year.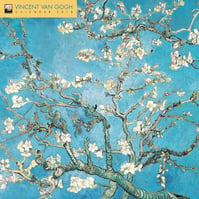 Vincent van Gogh

Though remembered by some for his troubled life, Vincent Van Gogh (1853–90) remains one of the best known artists in the history of art. While Impressionism bloomed in France, Van Gogh's artistic education was based primarily on observation of Old Masters, particularly the local heroes Rembrandt and Peter Paul Rubens. Their influence is clearly represented in Van Gogh's use of thick paint and expressionist brushwork. By combining those qualities with the Impressionist rich palette and interest in landscape, Van Gogh came to be known as one of the fathers of Post-Impressionism. This colourful calendar contains a selection of his beloved masterpieces.

The nineteenth century witnessed the emergence of photography and early cinema, inventions that could not have gone unnoticed by artists. Often described as an Impressionist, Edgar Degas (1834–1917) was familiar with the notion of quickly capturing the impression of a landscape. Whilst adopting the Impressionist palette and brushwork, he had his own ideas on subject, preferring to depict people and performers in particular, clearly inspired by and attempting to mimic the camera's capability to capture rapid motion. This beautiful calendar features 12 images of dancers on stage and during their everyday routine.


British book illustration of the late nineteenth and early twentieth centuries is well known around the world, and significant merit lies in Arthur Rackham's (1867–1939) contribution. Rackham's intricately-detailed style was a result of his experience in newspaper documentary illustration, still more prominent than photography at the time. Bring some magic into your life with this mesmerising calendar, containing 12 of Rackham's ink and watercolour illustrations of fairy tales, children's books, and Shakespeare's work.


Having grown up in an unsupportive environment that pushed him to become an engineer, Edvard Munch (1863–1944) quit education due to poor health and embraced art as a way to explore his own understanding of life. At first inspired by Impressionist everyday scenes and landscapes, Munch then turned more toward Symbolism and Post-Impressionism. Paul Gauguin's subjective use of colour in particular finds its reflection in Munch's red skies and green faces, often considered the beginning of Expressionism. This colourful calendar contains a selection of Munch's work, showcasing different stages of his self-exploration throughout the years.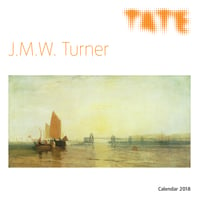 Tate – J.M.W. Turner

At the turn of the nineteenth century, landscape was not considered a particularly respectable genre of painting in Britain. J.M.W. Turner (1775–1851) was one of the revolutionaries whose inspired work raised the status and popularity of landscape among the establishment that educated him. Influenced by French Impressionism and the British Industrial Revolution, Turner fused the former's brushwork and the latter's smoky palette. This stunning calendar presents 12 of his landscapes, ranging from more naturalistic ones, to those borderline abstract.

Having only lived to be 25 due to tuberculosis, the skill and ongoing influence of Aubrey Beardsley's (1872–98) work is ever more fascinating. He chose to become an artist in 1881, following a trip to Paris where he discovered the posters of Henri Toulouse-Lautrec and Japanese prints that also inspired the Impressionists. The trip clearly influenced Beardsley's choice of ink as his primary medium as it allowed him to recreate and focus on the black outlines and intricate, decorative detail. This beautiful calendar presents 12 of Beardsley illustrations, not only in black and white, but also more rare colour images.

The Arts & Crafts Movement emerged in the nineteenth century and quickly went on to increase the status of decorative arts by the inclusion of 'real' artists like the architect Charles F.A. Voysey (1857–1941). In the wake of Industrial Revolution in Britain, many designers aimed at the repudiation of modernity and turned to the vernacular for inspiration. This luxurious calendar features 12 of Voysey's designs for wallpapers and textiles. Inspired by nature and functionality, his work resembles that of the British Arts & Crafts master William Morris.

Charles Rennie Mackintosh (1868–1928), a Scottish architect, painter, and designer, and his wife Margaret Macdonald Mackintosh (1864–1933), a painter and glass artist, were both members of the Glasgow Four. The Four comprised of artists inspired by the rising popularity of modernist design, but also Arts & Crafts, Japanese art, and even literary sources such as the Bible. This stunning calendar showcases a selection of works that resulted from these exciting stylistic fusions.
Links
Want a peak into what was going through Edvard Munch's mind while painting specific works? This website offers a range of translated writings by the artist.

To read up on the emergence of Arts & Crafts and Art Nouveau movements, check out this article and database of related essays by the Metropolitan Museum of Art in New York.

If you're interested in what exactly the difference is between Impressionism and Post-Impressionism, this article explains it well!