Joseph Mallord William Turner (1775–1851) is an elusive figure who hovers on the peripherals of his paintings and sketches. He was hugely prolific during his life, and apart from his exhibition oils and watercolours, has left a legacy of sketchbooks and drawings done during his extensive travelling. His work leaves us with volumes of information about his painting, his techniques and his influences, but little about his essential being.

Formation of an Artist
J.M.W. Turner was born in 1775, the son of a London barber, and grew up in the hubbub of the Covent Garden area. He first experienced the countryside at the age of 10, when he lived temporarily in Brentford. During his life he travelled across Britain and Europe absorbing the landscape and scenery, filling hundreds of sketchbooks.

Early Studies
He first studied drawing with Thomas Malton Jr., an architectural draughtsman, and was accepted as a student at the Royal Academy (RA) in 1789. His extraordinary artistic talent was quickly recognized and in 1796 he sent 10 watercolours, and his first oil painting, Fishermen at Sea, to be exhibited in the annual RA exhibition. The picture was well received, and his use of 'natural and masterly' colour, and effective rendering of moonlight on water, was duly noted by the critics.
This early work shows the influence of the popular marine paintings of Philip James de Loutherbourg (1740–1812), Claude Joseph Vernet (1714–89) and Joseph Wright of Derby (1734–97), but already Turner was adding a new dimension through his subtle use and treatment of light.

Fishermen at Sea is an early indicator of his scientific interest in the play of light on atmosphere and the nuances of colour and tone that would become central to his later works.
Personal Life
At this time Turner was still living at home, although it was far from a happy one. His mother suffered from mental illness, resulting in violent tantrums, and his parents' marriage was clearly turbulent. Turner bitterly resented his mother, but formed a close relationship with his father, especially after his mother was hospitalized in a mental institute. This early traumatic home environment doubtlessly coloured Turner's own approach to relationships and life in later years.
Turner's personal life remains shadowy. What is clear is that there was the public Turner and the private man, and his work falls into two categories: those that were executed to be exhibited, and those works never intended to be seen. It is the latter of the two, seen in his sketches and watercolour drawings that capture the passing moment for us. He uses a freedom of expression that conveys the scene around him in the most impressionistic manner. As he neared the end of his life, the disparity between the techniques in his highly finished exhibition pieces and his private sketches drew closer and closer, perhaps best demonstrated in Rain, Steam, Speed, first exhibited in 1844.
He was notoriously independent, never married, and kept his affairs clouded in secrecy.
The Royal Academy
As a student of the RA, Turner would have worked in the Plaister Academy, drawing from casts, then progressing on to life models. Records show that he attended life classes on an irregular basis until 1799, which demonstrates his will to learn and improve, especially in a genre outside that in which he excelled – namely landscape.

By 1799 Turner stood for election as an Associate of the RA. He was accepted and was the only Associate to be chosen in 1799. Around the same time he met the actress Sarah Danby, who became his mistress and is believed to have been the mother of two of Turner's children, although they never married.

During this period he moved to Harley Street in London, an area that was fashionable and burgeoning, sharing his accommodation with John Thomas Serres (1759–1825), the marine painter.
His self-portrait of 1799 shows a confident, well-heeled artist, a far cry from his early life in Covent Garden. His Self Portrait owes a debt to the Dutch school of Old Masters and is a sombre, yet determined reflection of the artist about to take the art world by storm.
In 1802 Turner was elected as a full Royal Academician and changed his signature from W. Turner, to the eloquently grandiose, J.M.W. Turner RA. In 1804, Turner opened his own gallery, and by 1806 Turner had travelled extensively across Britain, seeming to favour the North, and had visited Paris and the Swiss Alps.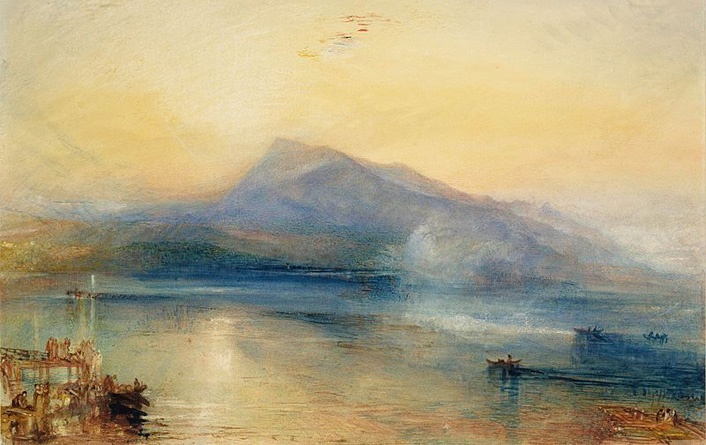 Style & Influences
The age of Romanticism was in full swing during Turner's life, and his work is closely associated with the terms: sublime, Romantic, picturesque and colourist.

At the time that Turner was embarking upon a career as a landscape artist, there were two main schools to fall under, that of the Classical landscape and that of the Dutch landscape. Turner was to be influenced by each to a certain extent.
'Modern,' Neo Classical, and Dutch
He greatly admired the works of the contemporary artists Richard Wilson (1712/3–82) and J. R. Cozens (1752–97), both of whose work had absorbed elements from the Neo Classical masters Claude Lorrain and Nicolas Poussin (1594–1665), but he had trained for a short time with Thomas Malton, who looked more to the Dutch tradition.

The Dutch seventeenth-century painters, especially Van de Velde and Albert Cuyp were an inspiration to Turner, seen in Tabley, Windy Day, 1808, but just as easily he could turn to fantastical, mystical pieces such as Death on a Pale Horse, and Angel Standing in the Sun, 1846.
The Louvre and Titian
In 1802 the Treaty of Amiens was signed, opening up routes of travel between England and France and giving artists the chance to see the Louvre; Napoleon had begun a systematic period of looting across Europe and housed his prizes there. Bearing in mind that the National Gallery in London was not yet open, the Louvre offered the chance for the public to see the single-most impressive collection of art anywhere in the world.

Turner sketched from Old Masters for a period of time, filling his 'Studies in the Louvre' sketchbooks with copies of the works and detailed annotations. Titian was to have a major influence on the young Turner and one that he would refer to throughout his career.

On his visit to the Louvre in 1802 he made copies from many of Titian's works and was particularly influenced by his use of colour, composition, form and subject matter. Turner's Vision of Medea, for example, was clearly based on the structure of Titian's St Peter Martyr, which was one that Turner copied in 1802.

Ruskin
No reference to Turner is, of course, complete without mentioning the name John Ruskin. Ruskin was one of Turner's greatest advocates. His admiration for the artist, and his perception of Turner's art shaping his art criticism as a whole, formed the basis for the stout five-volume tome of Modern Painters.

Ruskin did not, however, always interpret Turner's work quite as the artist would have liked, and this caused some tension in the relationship.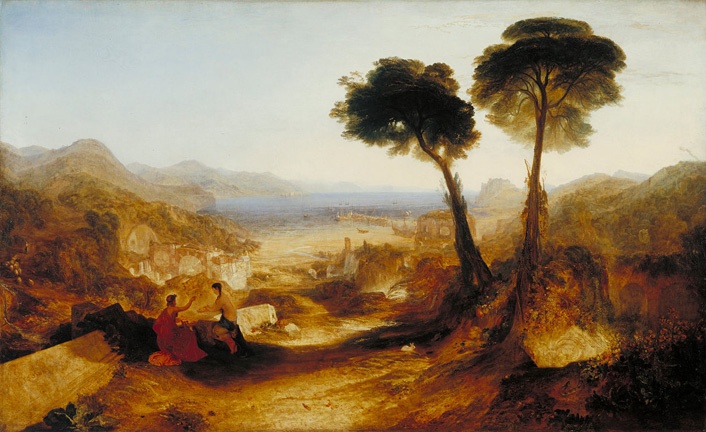 Society
Turner was born into an age of enormous growth and advancement. Over the course of his long life he became intensely interested in the designs and inventions that the Industrial Revolution gave birth to, and his fascination in science would come to be seen through the medium of his painting.

Whilst the Industrial Revolution was booming, new theories and inventions were being propagated and transport was enabling a more mobile population. This freedom and liberation on the one hand, however, did not extend to the still strictly confined requirements of social and political correctness.

Technology
The technological advances during Turner's lifetime came thick and fast. The advent of steam power, first in boats and then on the railways, had a massive effect on the population. Suddenly travel was an option to those who could afford it, and it was the start of the 'shrinking world' that we now experience, where no place is too far.

Turner's innovative depiction of a steam train cutting a swathe through the country in Rain, Steam, Speed remains one of his most famous paintings. It was stunningly modern in its visualisation and became hugely influential to the French Impressionists. Ruskin was unenthusiastic and the rest of the media was divided between amazement and admiration. The painting has been identified as showing a bridge over the Thames at Maidenhead, and the story goes that Turner was on the train during a storm and put his head out of the window so that he could observe the effect, getting soaked in the process.
Turner's Legacy
It is Turner's quality of reinvention that makes him so outstanding for his time. He could move effortlessly between oils and watercolours, paint Classically inspired landscape scenes such as The Festival Upon the Opening of the Vintage at Macon, in 1803, and follow it with the sublime Shipwreck two years later.

Turner's treatment of subject matter, his handling of paint and his expression of mood, be it terror or repose, paved the way for succeeding artists to further expand their creative signature. Around 1830 he painted Fire at Sea, which depicted man in an eternal – and futile – struggle with the elements, and the pre-eminently peaceful Evening Star, two totally different pictures in mood and feel.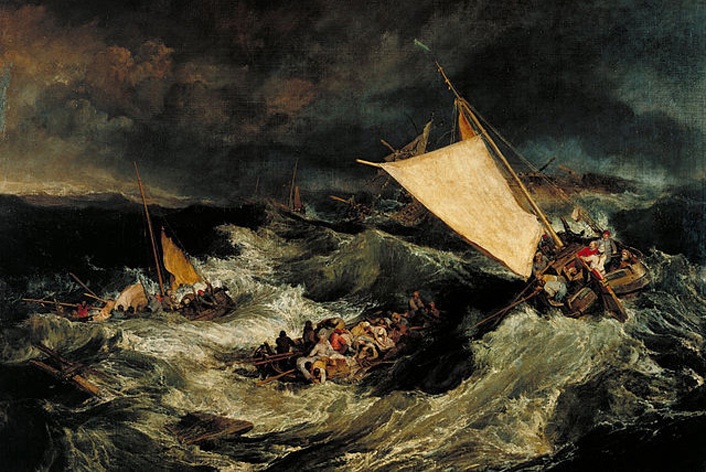 English Romantic painter J.M.W. Turner paved the way for Impressionism through his many works in several different mediums. To see some of those pieces and learn more about the controversial artist who created them, take a look at out gorgeous book J.M.W. Turner Masterpieces of Art (ISBN: 9781783612062) by clicking here.
Links