Salvador Dalí (1904–89) was the most complex and possibly the most controversial artist of the twentieth century. Although his popularity with the public at large has never been in question, the attitude of the art world towards this giant of twentieth-century art has often been much more ambivalent. Reasons for this apparent mismatch between public and academic reactions to Dalí's work can be traced to the artist's life and the huge body of work that his prodigious creativity and boundless energy produced.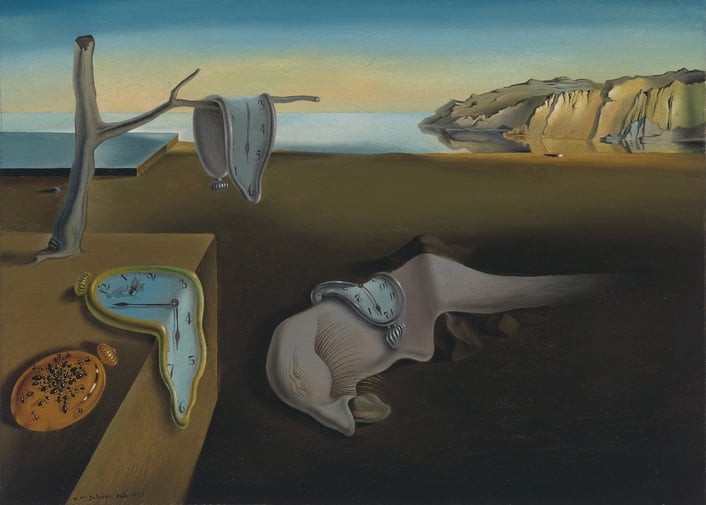 A New Kind of Artist
Dalí spent his whole life constructing the image he wanted the public to have of himself and his art. He was a consummate showman, an impresario and an international celebrity. In many ways he created the template for the personality-led career of Andy Warhol (1928–87) in the 1960s, and for late twentieth-century artists such as Damien Hirst and Tracy Emin who live their lives deliberately in the glare of the media spotlight.
What was worse for many members of the art establishment, Dalí seemed to be obsessed with money. In America he painted portraits of the rich and famous, produced murals for their homes, never turned down a commission from the advertising agencies on Madison Avenue, decorated Fifth Avenue shop windows and even had a hand in designing hair styles. Driven by the fierce ambition and single-mindedness of Gala Dalí (1894–1982), his lover, wife, muse and business manager, he even arranged the sale of his own work, upsetting the profitable financial arrangements between artists' agents, dealers and galleries.
In the twenty-first century, Dalí's behaviour would pass almost without comment, but in the middle of the twentieth century he managed, at one time or another, to offend almost every part of the art world. No wonder its opinion of Dalí has been a little hesitant at times. What many critics seem unable to do is divorce 'Dalí the constructed identity' from the work he produced as a consummate artist. There seems to be at times an unwillingness to accept that although much of his work was done for commercial motives, it never compromised or interfered with his serious work, which comprises, across its breadth and depth, some of the truly great achievements in western art.
Of course none of these things concern the public at large, with whom Dalí's work clearly connects. Ultimately, given the choice of the unilateral approval of the art establishment for his work or the popularity of the public, Dalí may well have chosen the latter.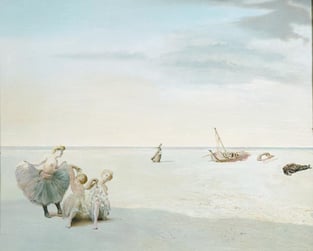 Early Life
Dalí led a complex life, moving between countries and continents, but he never forgot his Catalan roots. He was born on 11 May 1904 in Figueras, a busy market town in the Spanish province of Catalunya, the second child of a reasonably prosperous family. His elder brother had died tragically little more than nine months before Salvador's birth, a fact that was to haunt Dalí all his life.
Catalunya was, and still is, a region of Spain fiercely protective of its own distinct culture and language. Dalí was brought up in a society that was essentially liberal-minded, cosmopolitan, sceptical of the church and broadly socialist in outlook. Throughout his childhood, Dalí's interest in art and his obvious talent as a painter were encouraged both by his own family and by the Pichots, friends of his family and part of an extended 'clan' of talented Catalan artists.
Childhood
Dalí spent his childhood summers immersed in his painting and studying the works of the great artists. Every summer he stayed in the little fishing village of Cadaqués, where his family had a small house. Cadaqués, some 40 km (25 miles) from Figueras, was something of artists' retreat at the time and the Pichots, who had a modest estate there, entertained many famous artists including, in 1910, Pablo Picasso (1881–1973).
Something of a child prodigy, Dalí was publicly exhibiting his work to critical acclaim in Figueras as early as 1918 when he was just fourteen. Following the heartbreaking death of his adoring mother in 1921, he left Figueras to continue his studies at the Academy of Fine Arts in Madrid where he met and befriended the great Spanish poet Federico Garcia Lorca (1898–1936) and the Surrealist film maker Luis Buñuel (1900–83). These two talented young Spaniards were the first of a remarkable group of Europe's leading artists that Dalí collaborated with over the subsequent decade.
University
Although originally a shy, retiring child, Dalí had by now developed sufficient confidence in his growing abilities as an artist to be openly critical of his tutors and the quality of their lectures. This led to his temporary expulsion from the college in 1923, when he was charged with inciting his fellow students to riot. In the following year, Dalí was jailed for five weeks, ostensibly for campaigning against the Spanish dictator Primo de Rivera (1870–1930). Then in 1925 he held his first one-man show at the Dalmau Gallery in Barcelona. Dalí's life had already become the constant tumult of activity that it was to continue to be virtually until his death.
Over the next five years, Dalí took his place at the very heart of contemporary European art. He was friends, or at least acquainted with, all of the major modern artists working in Europe at the time and moved in a circle that included Joan Miró (1893–1983), André Breton (1896–1966), René Magritte (1898–1967), Juan Gris (1887–1927), Picasso and Marc Chagall (1887–1985). By the age of twenty-five Dalí had arrived.
Meeting Gala Dalí
In the summer of 1929 a group of artists, including René Magritte, the French poet Paul Eluard (1895–1952) and their wives, visited Dalí at Cadaqués. Dalí had achieved heightened international fame and public notoriety that year with the release in Paris of Un Chien Andalou, the Surrealist film that he had produced with his friend and collaborator Luis Buñuel (1900–83).
As soon as Dalí saw Eluard's wife, the Russian émigré 'Gala' (her real name was Helena Dimitrievna Diakonova Eluard), he began what was to become a lifelong fixation with her. Gala's marriage to Eluard was a fairly dissolute one and when he left at the end of the summer visit, Gala remained with Dalí. It would be difficult to exaggerate the effect that Gala had on Dalí and the influence she exerted over him throughout their life together. Gala was at once his lover, his muse, his advisor and, most controversially for the rest of the art world, his business manager.
His affair with Gala, a married woman, was profoundly shocking for his family. It shattered the vestiges of the relationship Dalí had with his father, who categorically refused to accept Gala under any circumstances, although years later Dalí's father was grudgingly prepared to acknowledge her role in his son's success.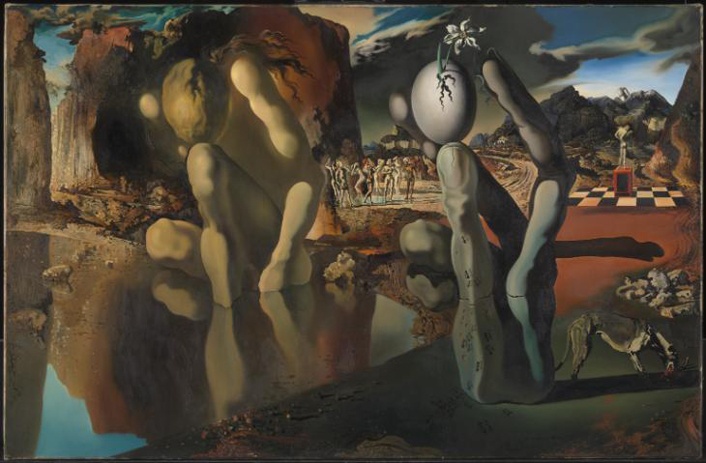 Finding Success
In 1930 Dalí bought the small fisherman's cabin in Port Lligat that he and Gala were to add to extensively over the years, finally converting it into their home and studio complex. The house at Port Lligat, a tiny fishing community adjoining Cadaqués, was to become Dalí's base for the rest of his life and no matter how much he travelled it was always to here that he returned. He was to say of it, 'I am home only here; elsewhere I am camping out'.
Surrealism
During 1930, the same year he bought the cabin at Port Lligat, Dalí officially joined the Surrealist movement, which had been founded by André Breton in 1922. However, no sooner had he joined the Surrealists than he started to upset them and eventually, in 1939, after a number of temporary rifts, he finally broke with them completely. An enduring influence on Dalí, which outlasted his membership of the Surrealist movement, was the work of Sigmund Freud (1856–1939). Dalí made a serious study of Freud's work and met him in London in 1938.
America
The 1930s are referred to as Dalí's Surrealist period and it was during this decade that he created many of his best-known works. In 1934 he and Gala visited America for the first time and America welcomed Dalí with open arms. The media loved him and American high society treated him with an affection he found lacking in Europe. Dalí and Gala returned to Europe briefly, but in 1940 they moved to America and made it their home for the next nine years, not returning to Europe again until 1949.
America gave Dalí's wide-ranging creativity the free rein that Europe had denied it. As well as painting and drawing, he wrote extensively, produced storyboards for film sequences for Alfred Hitchcock, Walt Disney and Fritz Lang, and designed haute couture clothing and jewellery. He also produced the artwork for numerous advertising campaigns and designed stage sets, shop-window displays and exhibition stands. Dalí even produced his own range of perfumes and cosmetics. His life was a torrent of creativity and he was seldom out of the media's attention, appearing not only in magazine features and television programmes, but starring in advertisements for products as unlikely as Alka-Seltzer.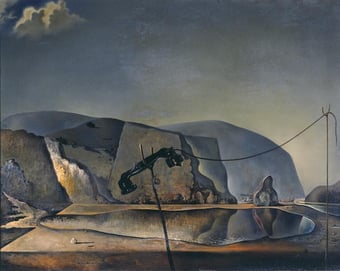 Iconic Dalí
During this period, Dalí and Gala were busy developing the Dalí 'brand'. They had an apparently inexhaustible appetite for money and to satisfy this Dalí was prepared to embrace the world of commercial art with his usual energy and enthusiasm. However, he was still producing 'serious' art, turning from Surrealism to a more measured style, influenced in part by the old masters of the Renaissance and in part by the new developments in atomic and nuclear physics.
Dalí and Gala returned to Europe in 1949 and were now major international celebrities. For the next thirty years they travelled around the world mixing with world leaders, film stars, musicians and, on two occasions, were even granted audiences with the Pope. Such was Dalí's fame at this time that he could publish a successful book based entirely on photographs of his moustache. Whenever possible Dalí and Gala returned to their home at Port Lligat where Dalí continued to produce masterful paintings and artefacts alongside his more commercial activities.
Gala died in 1982, and Dalí painted his last picture, The Swallow's Tail, the following year. Heartbroken by the death of Gala, Dalí died on 23 January 1989 after a long and painful decline.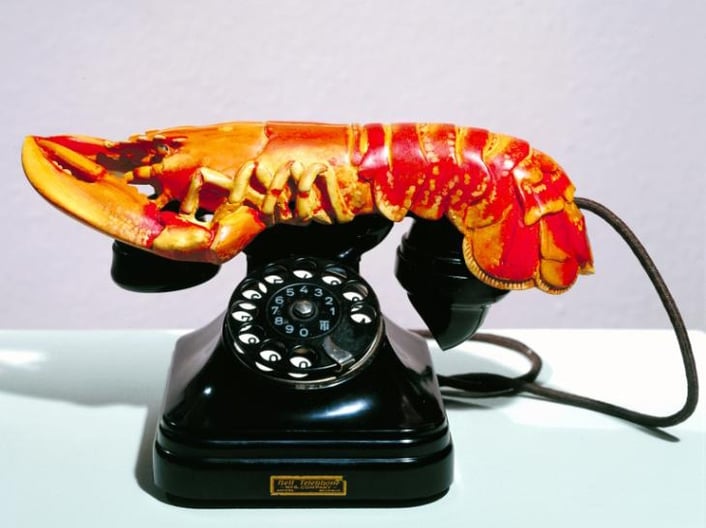 If you want to find out more about the compelling Dalí, take a look at our brand new book Salvador Dalí in our Masterworks series. This beautiful, heavily-illustrated book will give you a detailed look into this fascinating artist who has been hugely influencial to the world of art.
Images in Order of Appearance:
The Persistence of Memory, 1931 © 2016 Salvador Dalí, Gala-Salvador Dalí Foundation / Artists Rights Society (ARS), New York, courtesy of the Museum of Modern Art website.
Forgotten Horizon, 1936 © Salvador Dali, Gala-Salvador Dali Foundation/DACS, London 2016, courtesy of the Tate website.
Autumnal Cannibalism, 1936 © Salvador Dali, Gala-Salvador Dali Foundation/DACS, London 2016, courtesy of the Tate website.
Metamorphosis of Narcissus, 1937 © Salvador Dali, Gala-Salvador Dali Foundation/DACS, London 2016, courtesy of the Tate website.
Mountain Lake, 1938 © Salvador Dali, Gala-Salvador Dali Foundation/DACS, London 2016, courtesy of the Tate website.
Lobster Telephone, 1936 © Salvador Dali, Gala-Salvador Dali Foundation/DACS, London 2016, courtesy of the Tate website.
Links