Vincent Van Gogh – the man, the legend and the artist – has become all but lost in propagated myths and romantic visions. He is perceived as the 'mad artist', the man who painted in a frenzy, the tormented soul, the artist who cut off his ear – all partially true – but factors that have nonetheless suffocated the actuality of an intelligent and reasoned man.

Early Influences
Van Gogh's early life was particularly significant in the light of his future career, and had an enormous impact on his subsequent artistic development. He was a Dutchman, and though he spent most of his life as an artist in France, his art is often, mistakenly, described as French, when in essence the foundation for his art is undeniably Dutch.
Social Situation
He was born and raised in a provincial area of the Netherlands into a middle­class family, the son of a Protestant pastor. The area was primarily agricultural with a large population of peasants. From an early age Van Gogh was aware of the disparity between his middle­class background and the poverty­ stricken life of those around him.
He later developed socialist ideals, but instead of propagating change through his art, he instead immortalized the peasant in nostalgic and heroic terms, similar to those of Jean­ François Millet (1814–75) and Jules Breton (1827–1906). It is worth noting that Van Gogh considered Millet to be one of the greatest artists, and frequently referred to and copied Millet's works, especially when considering that it was a Millet painting that took the art world by storm in 1889. His painting Angelus was sold to America for the staggering sum of 580,000 francs. Though Van Gogh could not have predicted this unprecedented sale, which caused much controversy amidst his circle, did he perhaps recognize the direction in which Millet's paintings were going? And if this was the case then did Van Gogh, by echoing the work of Millet, consciously believe he was creating art that would be commercially successful?

Religion
The religious nature of his upbringing was another factor that was pertinent to Van Gogh throughout his life. For a brief period of time he embraced religion with an ardent enthusiasm, keen to become a missionary and live and work amongst the less fortunate.
His over­zealous approach, which was typical of his passionate, all or nothing nature, put him at odds with his superiors, and frightened those he was supposed to be helping. He maintained spiritual beliefs throughout his life, though rarely painted subjects of a religious genre. His beliefs moved away from those of organized religion and became increasingly spiritual in nature, which was later reflected in symbolic elements of his work.
Interestingly he criticized a number of religious paintings by his friends Paul Gauguin (1848–1903) and Émile Bernard (1868–1941), writing: 'Of course with me there is no question of doing anything from the Bible and I have written to Bernard as well as to Gauguin that I believed that our duty lay in thoughts and not in dreams, and I was therefore surprised to see that in their work they let themselves go in that direction ...'
Van Gogh the Artist
Van Gogh made a conscious decision to become an artist, having first tried different career avenues. It was an informed choice, and once made, he set about creating his career in a thoroughly logical manner, and with a keen awareness and knowledge of the art market. As an artist Van Gogh strove to sell his work, and though unsuccessful, it is this aspect of his career that is often overshadowed by the perception that his paintings are mere visual manifestations of his troubled mind.
Influence of Working with Art Dealers
An important period of Van Gogh's early life was spent working for the art dealers Goupil et Cie. He joined the company, in which his uncle was partner, in 1869 and worked for them until 1876, a span of around six years, which is considerable in view of the length of his subsequent art career that spanned only approximately 10 years. During his time with Goupil et Cie he experienced the commercial side of the art world, and the practicalities of it: the organization of exhibitions; the sales of prints and originals; and the prices that these works fetched.
The job saw him travel from The Hague to London and Paris, all of which afforded him the opportunity to study a wide range of paintings, including the Old Masters and the works of the Barbizon and French Realists of which he was so fond. The experience of working in this environment for a comparatively long time in the course of his short life was one that undeniably affected his subsequent development as an artist, especially with relevance to exhibiting and promoting his own work as well as that of his friends and contemporaries.

Theo van Gogh
There is one name that is virtually synonymous with Van Gogh, and that is Theo, his younger brother. Throughout his life Van Gogh corresponded with Theo, and other friends, on a regular basis and the surviving letters between the two shed much on the nature of their complicated relationship that was both personal and professional.
Theo also worked for Goupil et Cie, (later called Boussod et Valadon) and in 1886 was made a director of their modern art branch at 19 boulevard Montmartre. Primarily he dealt in works by the Barbizon artists, but was allowed to show works by more avant ­garde artists (the Impressionists and later Post­-Impressionists) in a room on the second floor. Theo, as a dealer, was therefore an important figure for Van Gogh's contemporaries, and to some extent he also relied on Van Gogh to bring his artist friends into his commercial circle.
Van Gogh, who remained unsuccessful commercially during his life (though not for lack of trying), relied on Theo financially, and Theo in turn acted as Van Gogh's primary dealer. Van Gogh was not passive, however, and during the two ­year period in Paris when the two brothers lived together on rue Lepic, he actively promoted his own work by staging exhibitions at the cafés and restaurants in Montmartre and drew on his earlier experiences with Goupil et Cie.
The professional nature of Theo and Van Gogh's relationship, which overlapped the personal one, led to tension and difficulties between the two men, but they nevertheless remained close until Van Gogh's death, and rather than Van Gogh being totally dependent (emotionally) on Theo, it transpires from their letters that the two brothers were somewhat reliant on each other.
Mental Health
Van Gogh relied heavily on his relationships, that of his brother, his mother, sisters and friends. He was a man who craved companionship of equal footing, but ironically in the same breath managed to alienate those that he drew around him. It was his dream to form an artists' community, to have a shared studio and foster a sense of brotherhood with his fellow artists along the lines of Japanese models, yet he was impossibly temperamental.

Mental Illness
His behaviour, which was symptomatic of his long struggle with mental illness (and an excessive fondness for absinthe), was alarming to many, disruptive and argumentative, with the consequence that people distanced themselves from him. He longed to be surrounded but by the same token he needed peace and quiet to work, and by his own admission Paris became too frantic, too busy and too loud for him to concentrate.
One of the worst years of his life was spent in the asylum at Saint­ Rémy during which period he had no contact with friends or social equals, and the sense of isolation, both mental and physical became almost intolerable.
Transforming Emotions into Art
Van Gogh was a man who felt more intensely than normal, whose emotions and passions ran at a higher level than others. His anger, his happiness, his kindness and compassion, his depression and even early on his religious zealousness was pitched at a supra­normal level. A parallel can be drawn between this sense of pure, undiluted (dangerous even) emotion and the intensely brilliant palette that he developed.
His use of colour as an expression of mood was something that evolved through his art, as did his varied use of brushwork. To separate the man from the art is in Van Gogh's case virtually impossible because his art was an expression of his self.
However, despite this evident self ­expression, it is also necessary to consider that he carefully chose his subjects, his format and composition, and that he developed his innovative style consciously. Even when his painting became a form of therapy following episodes of instability, his approach to his works was still grounded in reason, with a view to them being saleable, and he chose his subjects of landscapes, still lifes and portraits in this respect.
Enduring Legacy
Had he lived for a further 10 or 20 years even, he could possibly have finally gained the commercial success that he had craved, and which ironically has now become so extreme that his paintings – in the rare instances that they do appear on the art market – fetch prices beyond belief. Possibly what would have been more gratifying to the flame­haired Dutchman, though, was the knowledge that his art was to be of such enormous importance to a whole emerging generation of artists who took up his brush where he left off and painted their way towards a new expression of 'modern art'.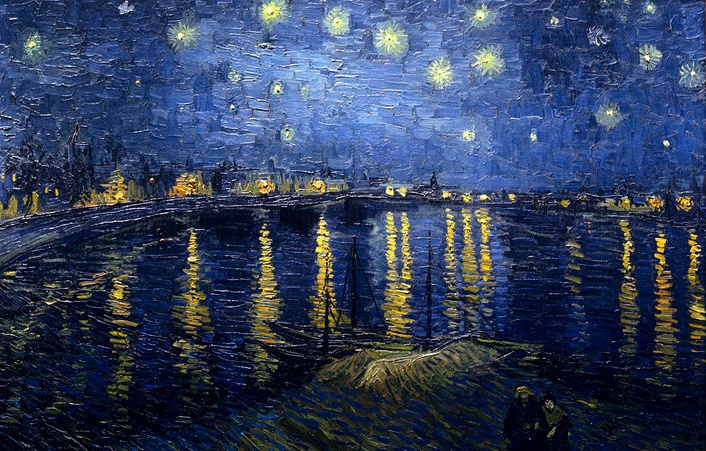 Whether you are a devotee of Vincent van Gogh or a just discovering his work for the first time, take a look at our stunningly illustrated book Vincent Van Gogh Masterpieces of Art (ISBN: 9781783612093), available online here, or give yourself the gift of a luxurious foiled journal with Van Gogh's Wheat Field with a Lark on the cover here. If you are looking for a something smaller, perfect for handbags and travel, and you enjoyed Van Gogh's Starry Night over the Rhone pictured above, treat yourself to our magnificent foiled Pocket Journal which can be found by clicking here.
Links