Continuing with our series of author Q&As, we turn to the writer of Kosmos, Adrian Laing. He talked to us about influences, writing practices and what's in store for the readers of Kosmos!

The first question is of course, what is Kosmos about?
A young and ambitious lawyer whose first case is defending an old boy who thinks he's Merlin on a manslaughter charge. The riotous trial turns Merlin into a celebrity; money, greed and ambition take hold of the barrister, George, and his partner Heather until the secret of Merlin's past is revealed as the spirit of Saint Yves intervenes to ensure George and Heather follow their true paths. 'Kosmos' is a modern-day jury trial, a feel-good love story and a spiritual journey involving Saint Yves, Nemesis and Merlin
That's a really interesting mix of subjects, what would you say are the underlying themes tying it togther?
The themes in the book are quite eclectic and varied. The central theme is love, ambition, greed and redemption. An underlying theme is the ambiguity of identity and the clash between a disordered state of mind and the 'establishment'. I can't say I decided at the beginning what the themes of Kosmos would be. I had an idea which I wanted to root and cultivate; the themes took over as the work developed.
One theme that sort of appeared was the pure evil and destructiveness of gutter journalism. The 'bad guys' in that context I created to be almost comically evil, so the badness could be expressed through the characters and their actions.
But fundamentally with Kosmos the over-riding theme is a love which is pure and true and capable of overcoming challenges particularly the distraction of greed and money. An old story, really.
You mention it being an "old story", what would you say are the influences in Kosmos?
The influences for Kosmos came from an enormous variety of sources, primarily from my own life-time experiences, the books I have read, films and plays I've seen and the twists and turns of everyday life.
The central character is a 'Merlin' figure and I enjoy the 'ambiguity of identity' in the sense that a person may deep down really believe themselves to be one person whereas the outside world may disagree. The objective reality usually prevails as a matter of common sense, but I wanted to create a scenario which maintains the possibility of the subjective reality prevailing over the objective for as long as I could before the truth comes out. Even then I wanted to challenge preconceptions about a mythical character.
Ironically the traditional Merlin texts – from Geoffrey of Monmouth to T.H. White via Thomas Malory and Alfred Tennyson I used as reference and research as I moved further into the Merlin character not at the beginning.
Kosmos is very much a book of two halves; the first half builds up to a jury trial and as lawyer my influence has been John Grisham who I used to read avidly in his early days. But my reading is all over the place – if you read say Cervantes as an adult you can't help but be amazed at the way the author can take you on a wild journey come what may. Even a work like Moby Dick is one strange trip and only at the very end does the work come to a dramatic conclusion. So, I can't really point to a specific influence, first off you need the desire to write a book and secondly some rooted clear story line that you can develop. If you read any work of fiction as a potential author, you begin to understand the challenges the author faced and how those challenges were met.
I read widely to understand the author as much as the story they are telling. Bernard Cornwall is always a joy; John Steinbeck I read into a great deal to remind me that writing is an art and a skill, and he sets a standard, which I find really humbling.
Would you say you have a writing method? Do you have a particular place you like to write in, a type of music you use, do you write many drafts?
My writing method is not set in stone. I do not have a plan which I write to, I have an idea that takes root and is developed. I have tried to write 'methodically' but that doesn't work for me. You can either try and see the story and then almost 'explain' it or, which is what happened with Kosmos, start with a basic idea and run with it. Sometimes I needed to stop and reflect where I was heading, to think in advance - but I didn't see the ending until I was quite far into the work. What helps me is to visualise certain scenes and characters.
With the jury scene I wrote out a 'back story' for each of the jurors just for my own purposes. I could allow the jurors to interact intensively with each other because I felt I knew them very well – how they looked and sounded to each other. It was an odd coincidence that I was called up for jury service just before I wrote that scene! The experience was invaluable.
The main character Merlin I could 'see' quite clearly from the beginning, but it took a lot of research to understand the historical complexity of his character. The barrister characters were easier because I spent many years at the Bar defending and prosecuting in jury trials and therefore, I had many reference points to start with.
I go through many, many drafts because I am willing to make significant changes late in the day if that is what is needed to improve the work. I need serious peace and quiet for long patches, preferably early in the morning.
I also need to be at my 'writing place' and nowhere else. I cannot write 'on the go' so to speak. I have my desk, my screen and a sense of privacy that is needed to be creative. I do however try to maintain a discipline of the number of words I will try to achieve in a day or a 'session' – e.g. I say to myself 'no breaks until you hit 2,000 words.'
I know some people like music in the background, but that is too much of a distraction for me. I prefer absolute silence or as near to it as I can get. Certain noises I can live with for example falling rain. Or a cat purring. But a slow drip of water is a killer to my concentration.
Is there any advice you can give someone starting to write?
Find whatever route works for you. Keep going. Be prepared to let go of material if needs be, as difficult as that may be. I find it's easier to create a visual image of a scene before writing. Also, do not underestimate how much work goes into a writing a full-length work of fiction. It really is a long haul.
Can we ask what you're writing now?
I am writing a story about a bipolar politician who becomes PM and goes mad, in the sense of extreme psychosis, whilst in office. I'm trying to keep it serious and not fall into farce.
I am also working up a play 'The Symposium' which is an intense dialogue between R.D. Laing, David Cooper, Michel Foucault, Nietzsche and Freud who are waiting outside the Pearly Gates while St. Peter decides who should be let into Heaven and who should go to Hell. (You did ask!).
Thank you!
Kosmos, by Adrian Laing will be available in paperback, hardback, audiobook and ebook from our website from the 30th of November!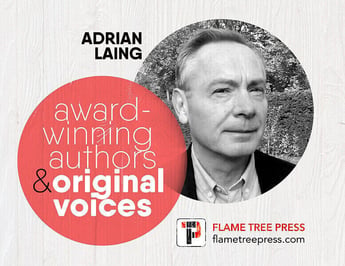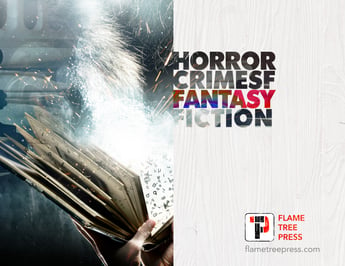 Now living in eastbourne, Adrian Laing was born in Harlow, Essex in 1958 and was educated at Hillhead High School, Glasgow and Exeter University where he studied law, graduating in 1978. Adrian was called to the bar (Inner Temple) in 1979, aged 21. Following a sabbatical in Paris studying with Michel Foucault at the College de France, Adrian undertook a pupillage in chambers and was made a Tenant (2 Pump Court, Inner Temple) practicing at the criminal bar defending and prosecuting in jury trials for seven years.
Leaving the criminal bar in 1987 to pursue more commercial interests, Adrian worked as the Assistant Head of Licensing at the ITC during the Channel 3 franchise process and then as a full-time consultant to the Chief Executive of Thames Television (Richard Dunn), following which Adrian was appointed the Senior Broadcasting Lawyer for the Leeds-based firm of solicitors, Hammond Suddards working in the city of London.
In 1994 Adrian was selected to become the first in-house lawyer at the Murdoch-owned publishing house, HarperCollins, where he held the position of Director of Legal Affairs and Company Secretary till 2001 working with some of the leading authors and agents of the day. Adrian qualified as a solicitor in 2003 and set up his own legal practice (Laing & Co) for over 10 years acting for a wide range of prestigious business clients and authors. Adrian presented or chaired a leading seminar for The London Book Fair 2003 to 2012.
Adrian Laing is the co-author with his wife (Deborah Fosbrook) of three leading law titles published by Bloomsbury Professional, the author of R.D. Laing: A Life a widely acclaimed biography of his late father, the Scottish psychiatrist R.D. Laing, and a novel, Rehab Blues.
Check out all of the November Release blog posts!