It's always intriguing when a film is met with rave reviews from critics but a lukewarm reception from the public. At the time of writing this Hereditary holds a 91% with critics on Rotten Tomatoes and only a 58% with audiences. I've read some reviews that put this down to audiences expecting a different kind of horror that they've been conditioned to want by countless Purge and Final Destination movies. I'm not sure that that's very fair.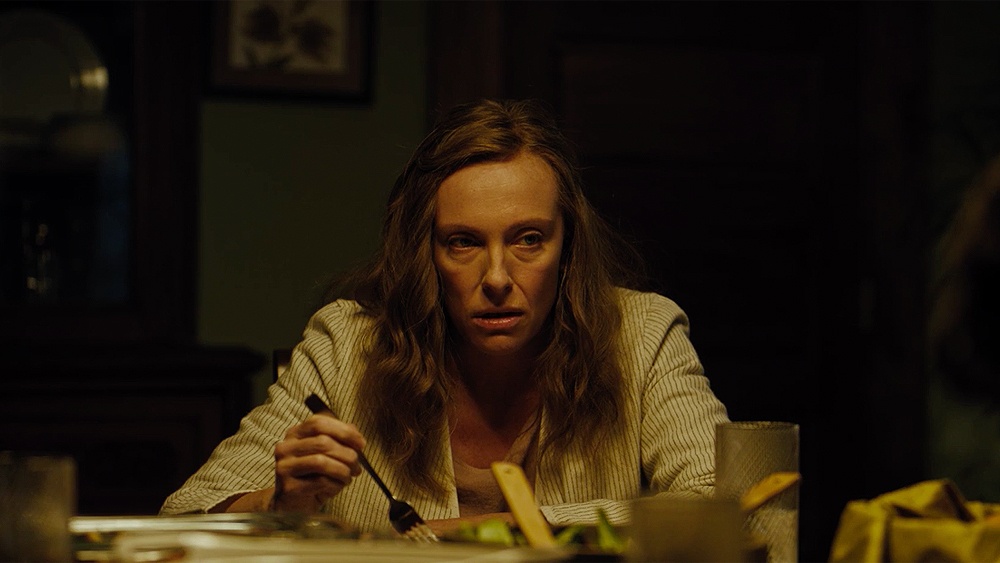 At its core Hereditary tells the tale of a family's reaction to grief and it's here it is best at its story telling. After the death of a mother and grandmother figure, the family is thrown into several very different forms of emotion. The fear of a young child in the face of bereavement, the want of an individual to assign blame, the stoic resolution of certain characters in the face of great loss; there are countless faces of grief that Hereditary presents, and presents amazingly well. As the film progresses and the family encounters more heartbreak, we begin to learn more about these characters through their pain and eventual anger. In the second half, the film begins to take a turn into the supernatural that, to be quite honest, I wish it hadn't. The interaction of the family, and the development of those characters, had the makings of a terrifying horror film set in psyche of the family members. While I did, for the most part, enjoy the second half of the film it didn't feel like the shocking and amazing cinematic experience I had been promised by the hype surrounding it.
I think, surprisingly, Hereditary has something in common with La La Land (2016) in the way in which it pays homage to its genre. In both films you can clearly see the influence of classics, be it Singing in the Rain (1952) or Rosemary's Baby (1968) respectively. The problem that faces a horror film is that even to people who haven't seen Singing in the Rain, La La Land is a fun and (mostly) feel-good film whereas Hereditary is at points a hard watch that leaves you a little drained by the end irrespective of whether you've seen Rosemary's Baby. If you pick up all the details and references to classic horror then you might look at Hereditary as a stunning love letter to the genre but even then you might come out of it feeling a little bewildered or queasy. Horror films have an uphill battle in trying to please both critics and audiences because in some ways the two groups are looking for different things.

That's not to say that Hereditary doesn't deserve the praise it is getting. The film is beautifully made and throughout you can see nods to Kubrick, 70s horror, 80s horror and even some more recent trends that are done masterfully. I'm not sure it deserves the accolade of "scariest film since The Exorcist", or maybe even of the year so far. I think there are some very scary points and it utilises different methods to achieve these be it slow builds, jump-scares or the classic "thing we can't see". I do think there might be a conflation of people seeing Grotesque or shocking imagery and mislabelling it as scary.
It has to be said that the standout aspects of this film come from the acting and direction. Ari Aster, the film's director, does an incredible job of constructing scenes and sets that can feel very open or extremely claustrophobic depending on how they are shot. You can see and feel a deep love for horror films in this movie. The acting is also impressive. I think everyone puts in great performances but clear standouts are Alex Wolff, who plays the Peter, and Toni Collette, who plays Annie. Wolff plays a great image of a teen already struggling with themselves who is then dragged through a horror plot and switches between grief, anger and sadness in such a believable way. Collette puts in a phenomenal performance. Award shows like the Oscars and the Golden Globes have pushed horror films to the side, but the recent win for Get Out has possibly signified the reintroduction of the genre to the awards circuit. If Collette's performance is not nominated for the way she anchors his film I would honestly be shocked. From beginning to end she is incredible.
Hereditary is good but it has been hyped a lot. I don't think it has as much good story telling as A Quiet Place and I personally think Ghost Stories was scarier, but it is worth being seen if you already enjoy horror. If you don't enjoy horror this might be a steep incline to start with.

Links
You can pick up Supernatural Horror Short Stories, part of our Gothic Fantasy series

here.
Click here for an interview with Toni Collete about the making of the film.
For and interview with Alex Wolff, Ari Aster and newcomer Milly Shapiro, click here.