We're pleased to announce the authors included in our upcoming anthology: First Peoples Shared Stories! Earlier this year, we opened for submissions on this theme (whether speculative, fantastic, sacred or folkloric) from writers with appropriate heritage in order to widen the door to creativity, to celebrate the international diversity of indigenous backgrounds and storytelling cultures. The book, due to be published in early October 2022 (UK) and mid-November 2022 (North America), combines new and contemporary stories with classic and ancient origin stories and oral traditions from around the world, to bring new perspectives and attention to the legacy of Indigenous Peoples, First Peoples. Award-winning Māori novelist, short story writer, essayist, and editor Paula Morris provides the foreword, alongside an introduction by Dr. Eldon Yellowhorn, author of Turtle Island: The Story of North America's First People and more. With invaluable editorial support from professor and Indigenous literature specialist Marc André Fortin, we're delighted to have chosen the stories below for inclusion: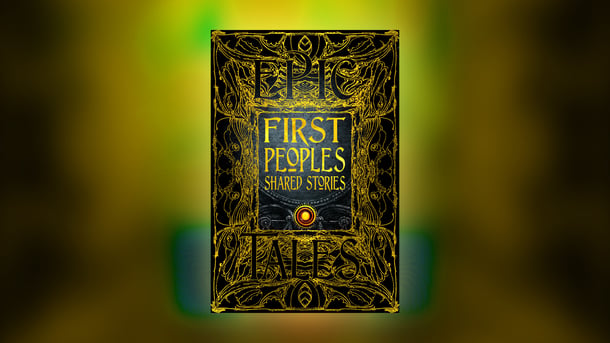 An Unwanted Two-Spirit, and
The Man Who Lost Himself by Chukwu Sunday Abel
Anansi, the World, and the Stories by Laura Barker
Potter's Field by Shelley Burne-Field
Sunset on Mars by Gina Cole
Finding Home by Kylie Fennell
Sinking Cities by Sophie Garcia
Grass Dancer by Owl Goingback
Imitate by Shane Hawk
Whole by Somto Ihezue
Little Pieces of Flint by D.K. Lawhorn
The Call of Ancestors, and
Yeredzo River by Tsitsi Mapepa

Buuts' Ka Luuk' by Arnoldo Millán Zubia
Red Christmas, and
Three Princesses by Paula Morris
A Mother's Lament, and
Biter's Tale by Weyodi OldBear
A Mayan Story by Claudia Recinos Seldeen
When Angels Come Knocking by Drew Hayden Taylor
Beaver's Tail, and
The Three Sisters, and
Woodchuck Winter by Brigit Truex
Mexpakinte, the Shadow Woman by Pedro Vázquez Luna (told by David J. Schmidt)
Glade of the Uncles by Jay Hansford C. Vest
Snow Blindness by Laika Wallace

These contemporary authors will appear alongside classic stories transcribed from oral traditions belonging to such peoples and cultures as Yana, Zuni, Blackfeet, Pima, Chippewa, Osage (Native American); Filipino; Tongan; Hawaiian; Aboriginal and Torres Strait Islander; Māori; Aztec, Maya, Mexican; Incan, Peruvian; Ugandan; Zanzibari; Tanzanian; Nigerian; Basotho; Ndau (Zimbabwe, Mozambique and Malawi); Hausa (southern Niger and northern Nigeria); Manyema (Congo); Swahili (east Africa); Ekoi (Nigeria and Cameroon); Banyarwanda (Rwanda); and Zaramo, Chaga (Tanzania). Though we cannot hope to cover everywhere, we hope it offers a glimpse of the wealth – and importance – of storytelling heritage around the world.

This book will be available to buy later this year via book stores, Amazon, and our website page for First Peoples Shared Stories!

• Browse the full series of anthologies here.
• Our most recent anthology publications are Christmas Gothic and Compelling Science Fiction: see the list of authors for those here and here.
• Watch out for future submission calls via our newsletter, website and social media pages (Facebook, Twitter) – including Immigrant Sci-Fi.