We have some great titles coming out in the next few months, so we wanted to talk about them here! We have three brand new Flame Tree titles, a horror from Catherine Cavendish called The Garden of Bewitchment, Michael R. Johnston's The Blood-Dimmed Tide, the sequel to The Widening Gyre, and The Goblets Immortal, a fantasy novel by Beth Overmyer. Check out today's blog for more details about everything we have coming up over the next couple of months!

January
We Are Monsters - Brian Kirk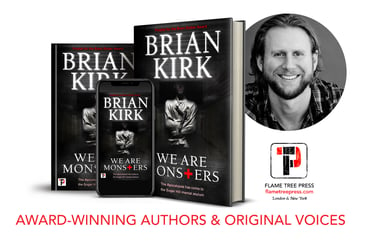 Nominated for a Bram Stoker Award® for Superior Achievement in a First Novel.

"A stark and frightening novel. Horror fans should definitely seek this one out." – Booklist

Some doctors are sicker than their patients.

When a troubled psychiatrist loses funding to perform clinical trials on an experimental cure for schizophrenia, he begins testing it on his asylum s criminally insane, triggering a series of side effects that opens the mind of his hospital s most dangerous patient, setting his inner demons free.
Check out We Are Monsters on our website!
---
Snowball – Gregory Bastianelli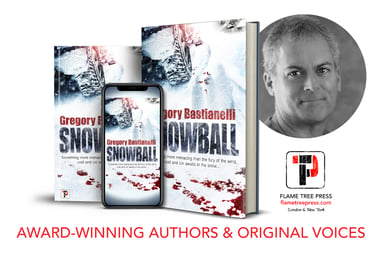 A group of motorists become stranded on a lonely stretch of highway during a Christmas Eve blizzard and fight for survival against an unnatural force in the storm. The gathered survivors realize a tenuous connection among them means it may not be a coincidence that they all ended up on this highway. An attempt to seek help leads a few of the travelers to a house in the woods where a twisted toymaker with a mystical snow globe is hell bent on playing deadly games with a group of people just trying to get home for the holidays.
Check out Snowball on our website!
---
February
The Garden of Bewitchment – Catherine Cavendish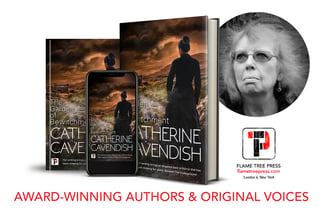 "Cavendish draws from the best conventions of the genre in this eerie gothic novel about a woman's sanity slowly unraveling within the hallways of a mysterious mansion." – Publishers Weekly

Don't play the game.

In 1893, Evelyn and Claire leave their home in a Yorkshire town for life in a rural retreat on their beloved moors. But when a strange toy garden mysteriously appears, a chain of increasingly terrifying events is unleashed. Neighbour Matthew Dixon befriends Evelyn, but seems to have more than one secret to hide. Then the horror really begins. The Garden of Bewitchment is all too real and something is threatening the lives and sanity of the women. Evelyn no longer knows who - or what - to believe. And time is running out.

Check out The Garden of Bewitchment on our website!
---
The Blood-Dimmed Tide – Michael R. Johnston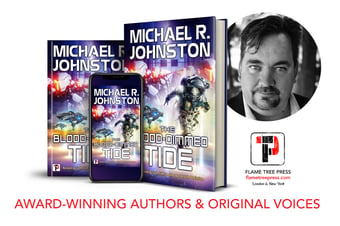 Book 2 in 'The Remembrance War' series.

Reclaiming Earth from the Zhen was only the beginning.

For the first time in a thousand years, humans walk the world where their civilizations first arose. Settlements have become towns, swelling with new settlers fleeing the oppression and lies of the Empire. For the first time in a thousand years, the human race is free.

But freedom never comes without a price, and a year of rebuilding ends with the human homeworld pushed to the brink of collapse by a series of Zhen attacks. Tajen Hunt, the man who found Earth and uncovered the truth about the Zhen, is sent to the Kelvaki Assembly to ask for ships and pilots to bolster Earth's defenses.

Between an assassination attempt on the Heir to the Assembly throne and the labyrinth of loyalties that is Kelvaki politics, it's not an easy task. And it's made impossible when the Zhen Empire seizes control of Earth and sets up a brutal Occupation.

Now Tajen and his team must return to Earth and find a way to end the Zhen occupation. But unlike the first Battle of Earth, the lines between friend and foe are no longer clear—because the Zhen have human agents among the people of Earth—and not all of them are known.
Check out The Blood-Dimmed Tide on our website!
---
The Goblets Immortal – Beth Overmyer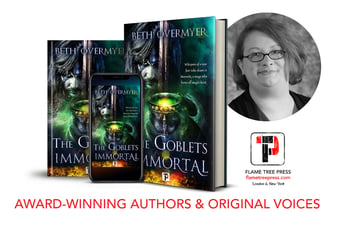 In a land where elves and goblins live on the fringes of society, there exists a rare magical kind: the Blest, the offspring of a cult and the product of the Goblets Immortal.

Aidan Ingledark possesses the magical gift of Summoning: he can make non-living objects appear and disappear at will, as well as Call them into his waiting hands or Repel them and thus force them away from himself. He has had the gift since he was ten, and that was when everything went wrong. Aidan believes he Dismissed his family and has since been unable to find them in Nothingness, a great pocket universe that lies between Existence and Death.

Now wanted for murders he did not commit, the Summoner is on the run from Lord Dewhurst, a usurper to his title and Aidan's accuser. Dewhurst wants Aidan for unknown purposes…but then, so does the mage Meraude.

Meraude is reputed to hate all magical beings, but has sought to enlist Aidan's help in finding and retrieving the Goblets Immortal. If he does her bidding, the mage has promised his family's safe return. If he refuses, she has promised to seek him out and murder him. Her desire for the Goblets is an enigma, other than the promise of immortality that comes from drinking from all of the vessels.

To complicate matters, the unwanted responsibility of an ornery slave girl has been thrust upon Aidan's shoulders. Slaíne hates Meraude with a fiery passion and wishes to be the one who ends the mage's life. Her relationship with her new master is tenuous at best, and she claims to have had a curse laid upon her head that would prevent her from ever being free…but for one clause that she remains unwilling to disclose.

Is it wise for Aidan to seek the Goblets Immortal for Meraude's unknown purposes? Friend and foe blur the magical lines, and Aidan must discern who will shake his hand or slit his throat before they have a chance to act. Magic kind might be depending on it.
Check out The Goblets Immortal on our website!
---
Make sure you check back in with the blog for more Q&As with the authors of our January releases!
FLAME TREE PRESS | October Releases | 1 | Snowball Q&A
FLAME TREE PRESS | October Releases | 3 | Upcoming Titles