In the first of this month's Q&As with our April authors, we have Marc E. Fitch, author of Boy in the Box. He discusses some of the themes in the novel, who he based his characters on and advice for new writers! Be sure to check in tomorrow for more writing inspiration!


What is the book about?

Boy in the Box is about three friends who must return to the scene of a hunting accident that killed a young boy ten years ago. They buried him in the mountains but now must move the body. Along the way they are stalked by a supernatural being that has been plotting their fate for decades. Their decision to bury the boy in the first place trapped them in a web of guilt, remorse and lies and now they find themselves hunted by something beyond their understanding. In their attempt to bury the truth, they embark down a road that leads to insanity and death.

What are the underlying themes?

Its about the traps that we build for ourselves throughout our lives. Decisions we make shape our lives and our worlds and, in that way, can bury us, condemn us to fates from which there is little escape. It is about guilt, fear and remorse. One of the frustrating tragedies of life is that there is no do-over, as much as we may wish for one.

Did you base your characters on anyone you knew?

I generally use people I know as the basis for characters, so I can visualize them, but that is the extent of it. The individuals I pictured in my mind are far from the men and women depicted in this novel, but I did use certain characteristics, used scenes that I have witnessed to flesh out the characters and make them more real. I also draw from stories I have been told by others, experiences related to me that are not my own but somehow work for the story.

What other works influenced you most in the writing of the book?

The Ritual by Adam Nevill was a great book and part of the influence. But to be honest, I found the most thematic influence to be Lord Jim by Joseph Conrad. It's a haunting look at a man who is defined by a cowardly decision that follows him throughout his life. Lord Jim is horrifying in its own right — there are these quiet, devastating and frightening scenes throughout the novel. Fear and guilt follow Jim like a curse. It is why I quote from the book at the beginning of Boy in the Box: "How does one kill fear?"

Is there any advice you can give someone starting to write?

There's the usual platitudes of "read everything" and "write every day." That's all good advice, I suppose. To me, it was never about wanting to write, it was about needing to write. You have to do it for yourself. If you're expecting fame or money, find another line of work. That's just the hard reality of it.

Where did you write?

My life was relocated to a single, rented room. I didn't have a desk, or much at all, so most of this book was written sitting in bed. Now I'm kind of addicted to writing in bed.

Did you write in silence, or to any particular music?

I prefer silence. When I do listen to music, it's usually classical played very low in the background. If there is music with lyrics I get distracted by the words.

Did you find it hard to write? Or harder to edit your own work?

The hardest part of writing for me is after the initial rush, when I get into the second act of the novel. The first part usually comes fast and I generally know how I want the novel to end, but it's the middle of the story that always hangs me up. I like editing my work to an extent. In some cases I get sick of reading my own words and don't want to look at it anymore. In the case of Boy in the Box, I originally wrote the novel as a first person narrative. I decided that didn't work and then rewrote the whole thing in third person. It was a lot of work, but it changed the whole perspective and gave me a chance to really rework the novel into a more cohesive piece.

What was it like to be edited by someone else?

I love having editors. There are few things more valuable to a writer than a good editorial eye. If it were up to me I'd keep some poor editor chained up in the basement, available at my beck and call because, when I'm working extensively on a project, I get lost in my own head and can't see the text for what it really says. You need a separate set of eyes. Just because a sentence or scene makes sense to you, doesn't mean it makes sense to readers.

What are you writing now?

I'm about a third of the way through a dystopian novel that I'm very excited about. It deals with the abuse of money and power, the haves and have nots, and I think it is an interesting glimpse into a possible future. I am also nearing completion of a novella; a reimagining of the exorcist archetype that also deals with money and horrors of an oligarchic social structure.


Thank you!
---
Thank you to Marc for taking the time to talk today about Boy in the Box. You can pick up this book, along with the other April releases now. It will be available in paperback, hardback and ebook. Check out our website for details.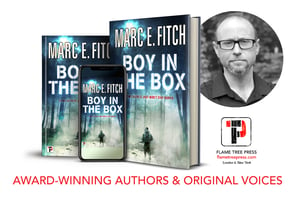 Marc E. Fitch is the author of the novels Old Boone Blood, Paradise Burns and Dirty Water, as well as the books Paranormal Nation: Why America Needs Ghosts, UFOs and Bigfoot and Shmexperts: How Power Politics and Ideology are Disguised as Science. His short fiction has appeared in numerous publications and anthologies, including Best Horror of the Year vol 10.

Marc received his Master of Fine Arts degree from Western Connecticut State University and has worked as a bartender, psychiatric technician for in-patient behavioral health hospitals, and most recently as an investigative reporter for a public-policy organization. He was the recipient of the 2014 Robert Novak Journalism Fellowship and the Leslie Leeds Poetry Prize. He is the father of four children and lives and works in Connecticut.

---
---
Make sure you check back in with the blog for more Q&As with the authors of our April releases!


FLAME TREE PRESS | April Releases | 1 | Marc E. Fitch Q&A
FLAME TREE PRESS | April Releases | 2 | Eric Lewis Q&A
FLAME TREE PRESS | April Releases | 3 | Ramsey Campbell Q&A
FLAME TREE PRESS | April Releases | 4 | Upcoming Titles