We have some great titles coming out in the next few months, so we wanted to talk about them here! We have yet another amazing Flame Tree Horror from Jonathan Janz and from JG Faherty. We also have a new Thriller/Crime novel from Faye Snowden being released soon! Check out today's blog for more details about everything we have coming up over the next couple of months!

August
The Darkest Lullaby - Jonathan Janz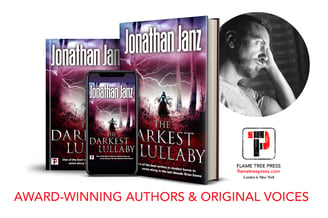 The old house waited. For years there had been rumors that the owner, Lilith Martin, had been part of an unholy cult. People spoke of blasphemous rituals, black rites filled with blood, sex…and sacrifices. Then Lilith died and the house sat empty. Until now.
Lilith's nephew, Chris, and his wife, Ellie, are moving in. Ellie isn't happy about living in such a dark, foreboding place, but she wants to get pregnant and this house has a lot more room to raise a baby than their apartment. Unfortunately, she and Chris will soon learn that Lilith has other plans.
Check out The Darkest Lullaby on our website!
---
Hellrider – JG Faherty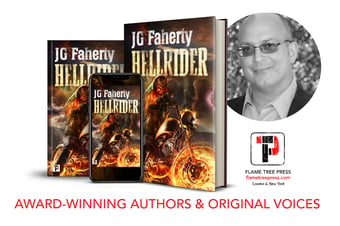 When Eddie Ryder is burned alive by fellow members of the Hell Riders motorcycle gang for ratting on them, he vows revenge with his dying breath. He returns as a ghost, with his custom motorcycle Diablo by his side. After he finds out he can possess people, he launches a campaign of vengeance that leaves plenty of bodies in its wake and the police in a state of confusion. Spouting fire and lightning from his fingers and screaming heavy metal lyrics as he rides the sky above the town of Hell Creek, he brings destruction down on all those who wronged him, his power growing with every death. Only Eddie's younger brother, Carson, and the police chief's daughter, Ellie, understand what's really happening, and now they have to stop him before he destroys the whole town.
Check out Hellrider on our website!
---
A Killing Fire – Faye Snowden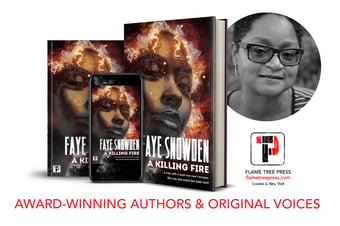 As a child forced to witness her father's crimes, homicide Detective Raven Burns dedicates every waking moment to proving that she is not her father's child. But when she shoots a suspect who has what turns out to be an unloaded weapon, Raven finds that she must confront both the demons of her past and the stains on her soul in order to stop a killer.
Check out A Killing Fire on our website!
---
September
One by One - D.W. Gillespie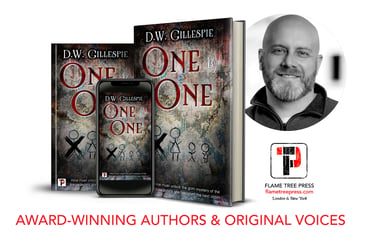 The Easton family has just moved into their new fixer-upper, a beautiful old house that they bought at a steal, and Alice, the youngest of the family, is excited to explore the strange, new place. Her excitement turns to growing dread as she discovers a picture hidden under the old wallpaper, a child's drawing of a family just like hers.
Soon after, members of the family begin to disappear, each victim marked on the child's drawing with a dark black X. It's up to her to unlock the grim mystery of the house before she becomes the next victim.
Check out One by One on our website!
---
The Guardian – J.D. Moyer
Reclaimed Earth Book 2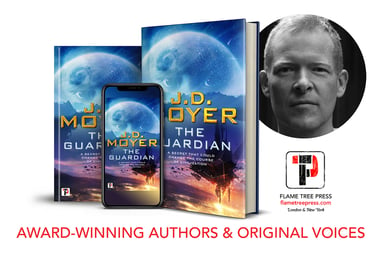 In the year 2737, Earth is mostly depopulated in the wake of a massive supervolcano, but civilization and culture are preserved in vast orbiting ringstations.
Tem, the nine-year-old son of a ringstation anthropologist and a Happdal bow-hunter, wants nothing more than to become a blacksmith like his uncle Trond. But after a rough patch as the only brown-skinned child in the village, his mother Car-En decides that the family should spend some time on the Stanford ringstation.
Tem gets caught up in the battle against Umana, the tentacle-enhanced 'Squid Woman', while protecting a secret that could change the course of humanity and civilization.
The Guardian, the sequel to the The Sky Woman, is a story of colliding worlds and the contested repopulation of a wild Earth.
Check out The Guardian on our website!
---
A Savage Generation – David Tallerman
Sickness is ravaging America, driving the infected to savagery.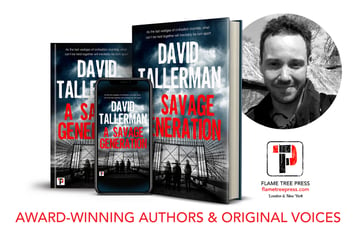 Petty criminal Ben Silensky is determined to get his girlfriend Carlita and son Kyle free of the quarantined city they live in, enough so to risk a foolhardy crime and then to team up with Carlita's equally desperate cop cousin Nando. Once they're out, Nando is certain they'll find a place in the open prison where his uncle works, unbeknownst to him already become a survivalist colony named Funland under the management of entrepreneurial convict Plan John.
In Funland itself, guard Doyle Johnson is shocked when his ex-wife abandons his son Austin into his care. Fearing the vulnerable position he's been placed in, he recruits the help of Katherine Aaronovich, the former prison's doctor. But Aaronovich's traumatic past has left her with vulnerabilities of her own, along with radical theories on the nature of the epidemic that will place all their lives in jeopardy.
As the last vestiges of civilisation crumble, Funland may prove to be the safest or the most dangerous of places, depending on who comes out on top - and what can't be held together will inevitably be torn apart.
Check out A Savage Generation on our website!
__________________________________________________________________
Make sure you check back in with the blog all week for more Q&As with the authors of our July releases!