Before the month is out we will have two more Flame Tree Press titles launching! Not only will we be seeing the international releases of both Night Shift and Think Your Self Lucky but also of The Sorrows from Jonathan Janz and Kosmos from Adrian Laing! In this blog post we are looking at both books and learning a little about their story and the authors behind them.

The Sorrows

by Jonathan Janz
The Sorrows, an island off the coast of northern California, and its castle have been uninhabited since a series of gruesome murders in 1925. But its owner needs money, so he allows film composers Ben and Eddie and a couple of their female friends to stay a month in Castle Blackwood. Eddie is certain a haunted castle is just the setting Ben needs to find inspiration for a horror film. But what they find is more horrific than any movie. Something is waiting for them in the castle. A malevolent being has been trapped for nearly a century. And he's ready to feed.
About Jonathan Janz...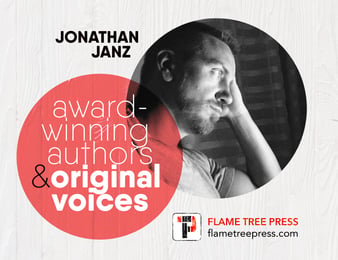 Jonathan Janz grew up between a dark forest and a graveyard, which explains everything. Brian Keene named his debut novel The Sorrows "the best horror novel of 2012." The Library Journal deemed his follow-up, House of Skin, "reminiscent of Shirley Jackson's The Haunting of Hill House and Peter Straub's Ghost Story."
Since then Jonathan's work has been lauded by writers like Jack Ketchum, Edward Lee, Tim Waggoner, Bryan Smith, and Ronald Kelly. Novels like The Nightmare Girl, Wolf Land, Savage Species, and Dust Devils prompted Thunderstorm Books to sign Jonathan to an eleven-book deal and to give him his own imprint, Jonathan Janz's Shadow Side.'
His novel Children of the Dark received a starred review in Booklist and was chosen by their board as one of the Top Ten Horror Books of the Year (August 2015-September 2016).Children of the Dark will soon be translated into German and has been championed by the Library Journal, the School Library Journal, and Cemetery Dance. In early 2017, his novel Exorcist Falls was released to critical acclaim.'

Jonathan's primary interests are his wonderful wife and his three amazing children, and though he realizes that every author's wife and children are wonderful and amazing, in this case the cliche' happens to be true.
You can find Jonathan Janz at jonathanjanz.com
Kosmos by Adrian Laing
Rookie barrister George Winsome, young and arrogant, defends an old boy who thinks he's Merlin on a manslaughter charge. The riotous trial turns Merlin into a celebrity; money, greed and ambition take hold of George and his partner Heather until the secret of Merlin's past is revealed as the spirit of Saint Yves intervenes to ensure George and Heather follow their true paths. 'Kosmos' is a modern-day jury trial, a feel-good love story and a spiritual journey involving Saint Yves, Nemesis and Merlin.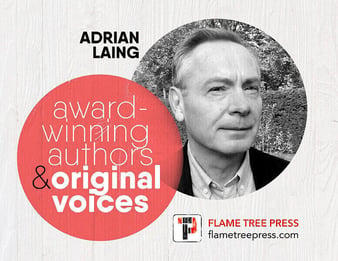 Now living in eastbourne,
Adrian Laing
was born in Harlow, Essex in 1958 and was educated at Hillhead High School, Glasgow and Exeter University where he studied law, graduating in 1978. Adrian was called to the bar (Inner Temple) in 1979, aged 21. Following a sabbatical in Paris studying with Michel Foucault at the College de France, Adrian undertook a pupillage in chambers and was made a Tenant (2 Pump Court, Inner Temple) practicing at the criminal bar defending and prosecuting in jury trials for seven years.
Leaving the criminal bar in 1987 to pursue more commercial interests, Adrian worked as the Assistant Head of Licensing at the ITC during the Channel 3 franchise process and then as a full-time consultant to the Chief Executive of Thames Television (Richard Dunn), following which Adrian was appointed the Senior Broadcasting Lawyer for the
Leeds-based firm of solicitors, Hammond Suddards working in the city of London.
In 1994 Adrian was selected to become the first in-house lawyer at the Murdoch-owned publishing house, HarperCollins, where he held the position of Director of Legal Affairs and Company Secretary till 2001 working with some of the leading authors and agents of the day.

Adrian qualified as a solicitor in 2003 and set up his own legal practice (Laing & Co) for over 10 years acting for a wide range of prestigious business clients and authors. Adrian presented or chaired a leading seminar for The London Book Fair 2003 to 2012.
Adrian Laing is the co-author with his wife (Deborah Fosbrook) of three leading law titles published by Bloomsbury Professional, the author of R.D. Laing: A Life a widely acclaimed biography of his late father, the Scottish psychiatrist R.D. Laing, and a novel, Rehab Blues.
Check out all of the UK November Release blog posts!