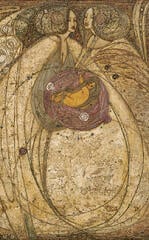 After the recent drama concerning a fire at the famous Mackintosh designed Glasgow School of Art we thought it would be a good time to look back at what has made the Scottish artist so iconic. Known as an architect, artist and designer, the Scotsman is often associated with the Art Nouveau movement.
Growing Up
Charles Rennie Mackintosh was born in Glasgow, 7 June 1868. Childhood wasn't too easy a time for the young Charles. He was born with a contracted sinew in one foot that resulted in him walking with a limp, and his right eye drooped somewhat. He struggled with reading and writing, a condition that would undoubtedly be diagnosed today as dyslexia. Throughout his life, he had problems with spelling, as can be seen in his diaries.
At the age of 16, Mackintosh left school to work at the offices of Glasgow architect John Hutchinson. Alongside the growing wealth of Glasgow merchants, there was a burgeoning art scene whose leading lights included the art dealer Alexander Reid (1854−1928), friend of Whistler and van Gogh; Sir William Burrell (1861−1958), a shipping tycoon who built up a huge art collection that was later donated to the city of Glasgow; the eminent architect Alexander 'Greek' Thomson (1817−75); and the group of artists known as 'The Glasgow Boys', whose colourful, naturalistic paintings were beginning to gain a reputation around Europe.
As well as working for Hutchinson and learning his trade, Mackintosh attended art classes in the evening, learning how to draw using the National Course of Instruction devised by the Department of Science and Art in London.
A Growing Reputation
Mackintosh began entering his first, speculative designs into competitions. Compared to his later, far looser drawing style, these works – a design for 'A Public Hall', for example – seem laboured, but are the work of a young man eager to please and to show what he had learned.
When his apprenticeship at Hutchinson's office came to an end, the 21 year-old Mackintosh joined the Glasgow architectural firm, Honeyman and Keppie. Mackintosh began earning notoriety not only within the firm but outside of it too, especially by delivering lectures on his various adventures and outlining his opinions about art. All the while, although he did not work on any new buildings, he persevered with competition designs, some of which were described as 'clever' by British Architect magazine. He was still a young man, and it showed in these works, but his style was developing, as was his interest in line and imagery.
In 1893, at the age of 25, Mackintosh received his first major architectural commission. The publishers of the Glasgow Herald newspaper provided £30,000 for some work at the back of their offices in Buchanan Street in Glasgow, in Mitchell Street and Mitchell Lane. This was to be the start of a successful career for Mackintosh, of which we could pore into endless detail, though more than anything, we must briefly talk about The Glasgow School of Art.
The Glasgow School of Art
This would become one of Mackintosh's greatest achievements, and is claimed by some to be the beginning of modern architecture. Honeyman and Keppie entered a competition to find appropriate architects for this prestigious project. It was not an easy site, sloping down one of the city's steepest hills, and the brief was extremely specific, detailing window size, the requirement of north light − as the building would face north − and studio size. Honeyman and Keppie were declared the winners in January 1897 with a design always accepted to have belonged to Mackintosh.
However, although the first half of the building was completed in 1899, it was not until 1909 that the whole project was completed. By this time Mackintosh was established as a considerable talent and he found it difficult to meet the deadline for the plans due to the 'pressure of other work' as he told the committee. He was, in fact, working on another tea room for Catherine Cranston, at 217 Ingram Street where he designed a dark, galleried space called the Oak Room.
Death
After a prolific career, Mackintosh and his wife (Margaret MacDonald) found themselves in the Mediterranean south. They led quiet lives, as Mackintosh's French was not particularly good and as no other artists lived in the town, preferring the coast in Collioure. Mackintosh painted watercolours, 41 of which survive, depicting views of farmhouses, flowers and boats being unloaded. They are imaginative and free – he could be cavalier with geographical details for the sake of the composition. At last, he could be the artist that he probably always considered himself to be, and Margaret and he seemed to have been very happy with their isolated lifestyle.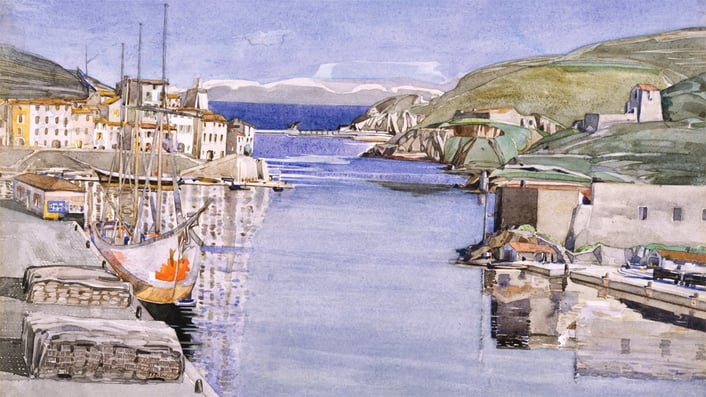 In May 1927, Mackintosh developed cancer of the tongue, probably a consequence of his lifelong smoking habit. That autumn, he became seriously ill and was taken back to London, where he underwent radium treatment. When he was discharged from Westminster Hospital months later, he was unable to speak. Charles Rennie Mackintosh died on 10 December 1928 and his funeral was held at Golders Green Crematorium.
This blog is modified from text in our beautiful book Masterpeices of Art: Charles Rennie Mackintosh (ISBN: 978-1783612079). Have a look at it on amazon here.
Why not check out this article on the V&A website about The Scottish School? Just click here.
You might want to have a look at the Charles Rennie Mackintosh Society here.
Read more about the Glasgow School of Art here.