We're Going On a Bear Hunt is the well loved children's read-aloud that's celebrating its 25th birthday this year. A favourite among families and young children, the fun, energetic book is brought to life through the charming illustrations of Helen Oxenbury.
The lovely watercolour images bring to life the story of a family out for adventure. The rhythmic chanting of the book's text is complimented by the Oxenbury's kinetic images and it's really no wonder that this book has been so enduring.
The story of the book's origins differ slightly, but it's agreed that the idea was originally conceived after both author Michael Rosen and illustrator Helen Oxenbury heard a song about a bear hunt. Oxenbury was commissioned to design a record cover for the track, whilst Rosen had already turned it into a story and approached Oxenbury to illustrate the book, unaware of her prior connection to the project.
The illustrations are based on locales Oxenbury was already familiar with, such as the Suffolk mudflats where she has a boathouse, and a rocky beach she visited while on holiday in Pembrokeshire. She has said of Rosen that he was very supportive. Unwilling to inflict ideas upon her, he let Helen work as she wanted. The result was the artwork being completed all in one go, sidestepping the slowdown of submitting preliminary sketches. Surely we have Oxenbury's dedication and immersion into the project to thank for the book's unforgettable imagery.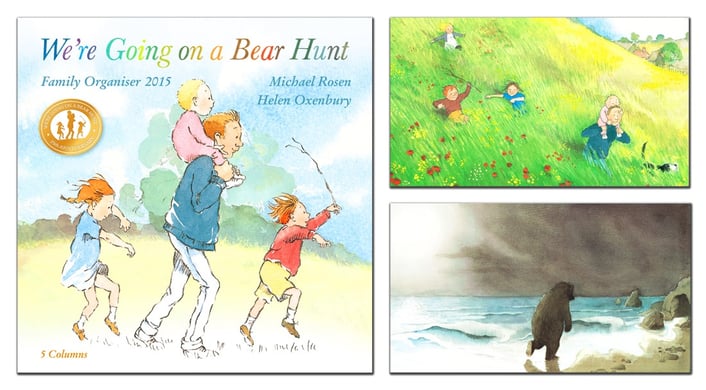 Since its publication We're Going on a Bear Hunt has been hugely popular and sold all over the world. Rosen has always spoken admiringly of Oxenbury's drawings, saying that it is her talent that helped marry the text and imagery, finding that beautiful balance between narrating a story with words and image.
Like any good children's book, there are layers of subtext and interpretation. We can ask ourselves questions about the bear's happiness and the effects their encounter with the bear left them with. There is a poignancy to be found in this story that is common only among the very best tales for young people. We're Going on a Bear Hunt stands with entitlement alongside the classics of illustrated fiction for children.
Beautiful Illustrated Calendars
We have selected some of the most beautiful images from the book and featured them in our 2015 Family Organiser. This lovely art calendar helps light up a room, while featuring all the pertinent information you'd expect. If you have a love for other charming children's characters, you may also like our Roobard and Custard, and Maisy 2015 Family organisers too. For all our other illustrated 2015 calendars, just click here.
Links
Have a look at the official site here.

There's also a live show on this December, check it out here.

Watch author Michael Rosen perform a story read-along here.