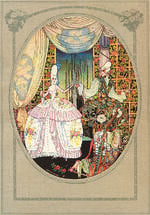 Kay Nielsen was one of the great masters of illustration from 'The Golden Age of Illustration'. He was one of an entourage of talented artists that included Arthur Rackham and Edmund Dulac. Nielsen's art was influenced not only by these the men, but also by his contemporaries who varied in their choice of form and where they lived in the world. The result is an amalgam of influence that is represented in Nielsen's dreamlike artwork. A unique talent who suffered tragic pains before his death, in this blog we look at the brilliant artist that was Kay Nielsen.
A Very Fairy-Tale Tale
Nielsen was born in 1867, in Copenhagen. The son of two actors (his mother, Oda, a particularly famous talent), his interest in the arts was established at an early age. He chose to study art in Paris, and whilst there he became aware of the Art Nouveau movement. However, also interested in Romantic artists and book illustrators, his work shows, even from an early stage, the influence of these people he surrounded himself with.
Key names in this early, formative period would be Arthur Rackham and Edmund Dulac. Both of these men looked to the Romantic school for inspiration and it is thought that their classical sensibilities played against Nielsen's more instinctive pull towards modern styles, such as Art Nouveau. Of course, Paris was the perfect place to be if one wanted to engage with this art movement and so as Nielsen perfected his craft, so his work showed the flourishes of this style, with vivid colour schemes and sometimes thick lines, too.

Nielsen made his name portraying fairy tales with his own original stylistic flair. In 1913 he illustrated the tale In Powder and Crinoline. So distinctive are Nielsen's portrayals of these stories that even to this day few artists have dared to reimagine them. The following year Nielsen produced what many consider to be his masterpiece, East of Sun and West of the Moon. The stories written by Gudrun Thorne-Thomsen were brought to impressive and startling life by Nielsen's artwork. From his Art Nouveau stylistic influences, to the poise of his Romantic peers, his illustrations brought the story to life such that the story is almost impossible to imagine without them. As with his first work, Nielsen's illustrations were so incredible that artists daren't try to do better than this accomplished vision.
Sadly, the First World War shattered the momentum that Nielsen had accumulated. It was not until 1924 that his work began to appear again in public. He began by producing illustrations for Hans Christian Andersen's Fairy Tales, then followed that up with a collection of art for fairy tales by The Brothers Grimm. However, these works were more select than his previous achievements, and though the images still displayed some of Nielsen's more charming practices, the small collections were not substantial enough to revive his career, nor that of the gift book market.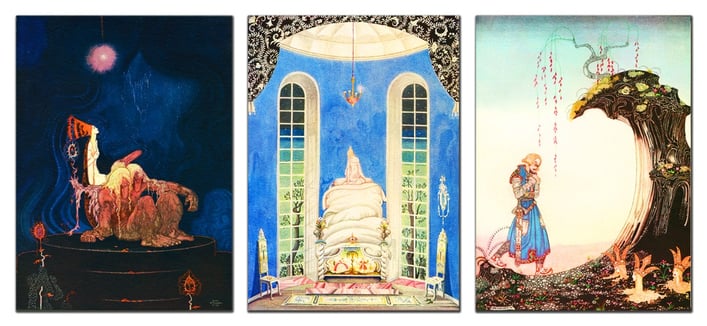 He returned to Copenhagen; there he involved himself with the theatre and subsequently illustrated animation. After working for a living he applied to Disney and was taken on. Whilst at the company Nielsen would realise scenes in beautiful pastels, passing them on to the other artists who may add to them, or use them as a reference for the animation part of the process. He created beautiful designs that were featured in Ave Maria and Night on Bald Mountain, as well as the famous Fantasia. However, Nielsen's approach to artwork did not match that of the prolific Disney animators. His leisurely pace plus his advanced years meant that despite producing beautiful work for the company, he was laid off in 1940. Though he was brought back in briefly to work for a Fantasia sequel and early drafts of The Little Mermaid, the work was not steady and he did not live long enough to see The Little Mermaid reach completion, as the film took almost 50 years to be made.
Sadly, Nielsen died penniless in 1957. In the last years of his life he survived on necessities, many of which were provided by friends from the local area. It was not until 1975, when David Larkin published a book on Kay Nielsen's artwork that his illustrations garnered popular appeal. Two years later, 42 paintings he had done for an unpublished version of A Thousand and One Nights were brought forward by friends and were published with other works in the book The Unknown Paintings of Kay Nielsen.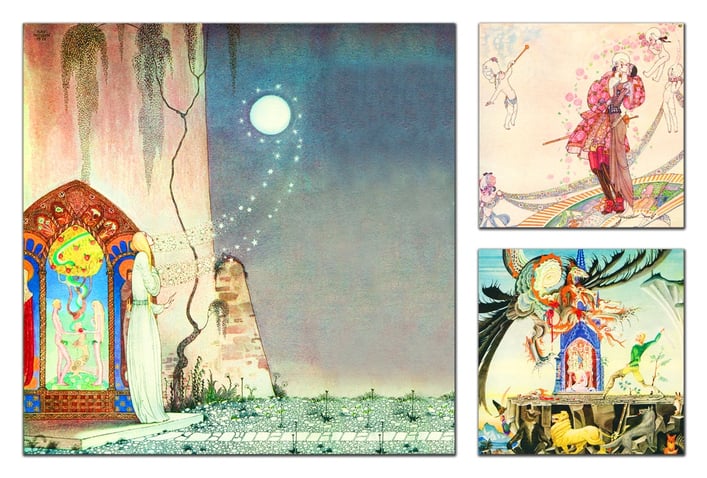 Though he died without seeing how beloved his work would become, we can now appreciate the glory of his beautiful illustrations. In our 2015 art calendar we have put together 12 of his most stunning images for you to enjoy every month of the year. You can purchase the calendar from our website here.
Links:
Have a look at some of Nielsen's illustrations from East fo the Sun and West of the Moon here
We also have a foiled notebook featuring an illustration from In Powder and Crinoline here
You can see some of Nielsen's illustrations for Arabian Nights here