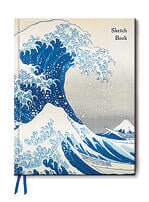 In anticipation of of our new sketch books arriving next week - one of which features a beautiful design by Hokusai - today in the blog we're going to take a look at the different schools of artists that reflect the history of this traditional art form. We have blogged about Japanese Woodblock prints before, click here to read our articles 'How I Learned to Love Japanese Art' and 'Japanese Woodblocks: Influences and Outcomes'.
Early Edo Prints
Although the woodblock print was centuries old as an idea in China and Korea, in one way at least it was perfected in Japan by the use of handmade papers, which were the finest in the world and lent themselves perfectly to the technique. The earliest ukiyo-e prints date from about 1660, and were mainly erotica, illustrations for sex manuals to train courtesans with uncoloured fine-line drawings that were sometimes very explicit.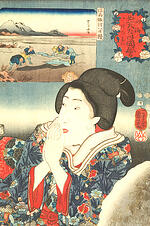 Sometimes seen as the 'founder' of ukiyo-e, Moronobu was the son of a famous artisan, a well-respected embroiderer of rich fabrics, a skill passed on to his son, who made his way to Edo in the late 1660s to study traditional styles of painting known as tosa. He began, like most ukiyo-e artists, working on book illustrations and quickly rose to fame as a master of the craft, a position he held until his death in 1694. His early book illustrations included shunga images that are clearly indebted to his Kanbun mentor, but by the 1680s, he had developed his own very distinctive style in which a strong black line dominated the design, making the figure more dynamic.
The Moronobu School
Moronobu's skills as a fine draughtsman were not limited to shunga images, which only accounted for about a quarter of his output. He also depicted aspects of seventeenth-century Edo society, as diverse as artisans at work, street markets and leisure districts. These portfolios of prints were usually arranged in groups of twelve images. The more explicit shunga images were often prefaced or interspersed with more romantic or courting scenes.
Moronobu was also the first ukiyo-e artist to establish a studio, where he could teach his skills to the next generation. When he was at the height of his powers, a young artist called Torii Kiyonobu (1664−1729) arrived in Edo with his father Kiyomoto, an actor and painter. He developed the fine, bold lines of Moronobu's style and adapted it to suit depictions of the Kabuki theatre.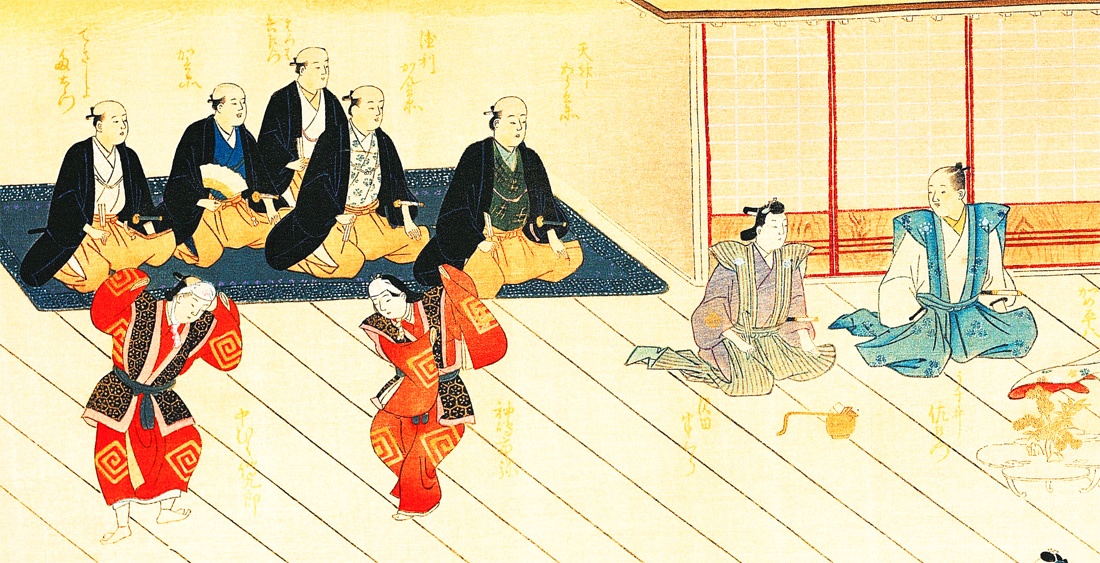 Torii School
Torii Kiyonobu focused his talent on producing billboards for the theatre, and by 1700 was well known and established as an artisan. He was first and foremost a painter, but, like many contemporary artists, adapted his skills to the production of illustrations for books and prints. He is mostly remembered as the founder of the Torii school, the creation of a stylistic type rather than an establishment for educating followers of the style. He became known as Kiyonobu I to distinguish himself from some of his followers.
Typically, these followers would adopt the name of the master, Torii, in recognition of his style. The style of the Torii school became an aspiration for all Japanese artists in the eighteenth century, because it typified ukiyo-e. The developing style embraced drama, using thick, bold lines that attracted the viewer, the original aim of a theatre poster.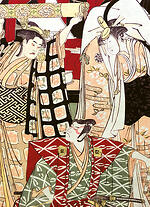 Katsukawa School
Although Katsukawa Shunshō can be considered to have been a member of the Torii school in his early career, he quickly developed a style that became uniquely his. His depictions of bijin-ga (pictures of beautiful women) are clearly indebted to Harunobu (another famous artist at the time), but his depictions of kabuki actors are more realistic than idealized, to the point where it is easy to distinguish one portrayal from another. Previously, the emphasis had been on the portrayal of the kabuki character, but Shunshō now depicted the actor in his own right, and theatre-goers were able for the first time to distinguish their favourite actor by his idiosyncratic features, as demonstrated in his triptych of actors.
There is little doubt that Shunshō developed a more realistic style that set the tone for Japanese woodblock printing into the nineteenth century. Though the school was actually founded by Miyagawa Shunsui (flourished 1740s−60s), who was Shunshō's tutor, and continued the tradition of realistic portrayals of kabuki actors. One of the most notable followers of the Katsukawa tradition in his early career was Katsushika Hokusai (1760−1849).
The Utagawa School
Although not the founder of the Utagawa school, Utagawa Toyokuni (1769−1825) was its most important master, having adopted the gō (artistic name) from his tutor Utagawa Toyoharu (1735−1814).
Toyoharu was among the first Japanese artists to study perspective in Western art. Toyokuni adopted a very eclectic style, having emulated many of his contemporary ukiyo-e artists. By far his best works were the portrayals of kabuki actors, for which he became well known, and are among the finest of the genre.
In part because of the Kensai Reforms, but also due to the lack of further innovation, the portrayal of figures in ukiyo-e was in decline at the end of the eighteenth century. There were, however, a number of followers of Toyokuni who continued producing bijin-ga, as well as portraits of kabuki actors into the nineteenth century. They belonged to the Utagawa school.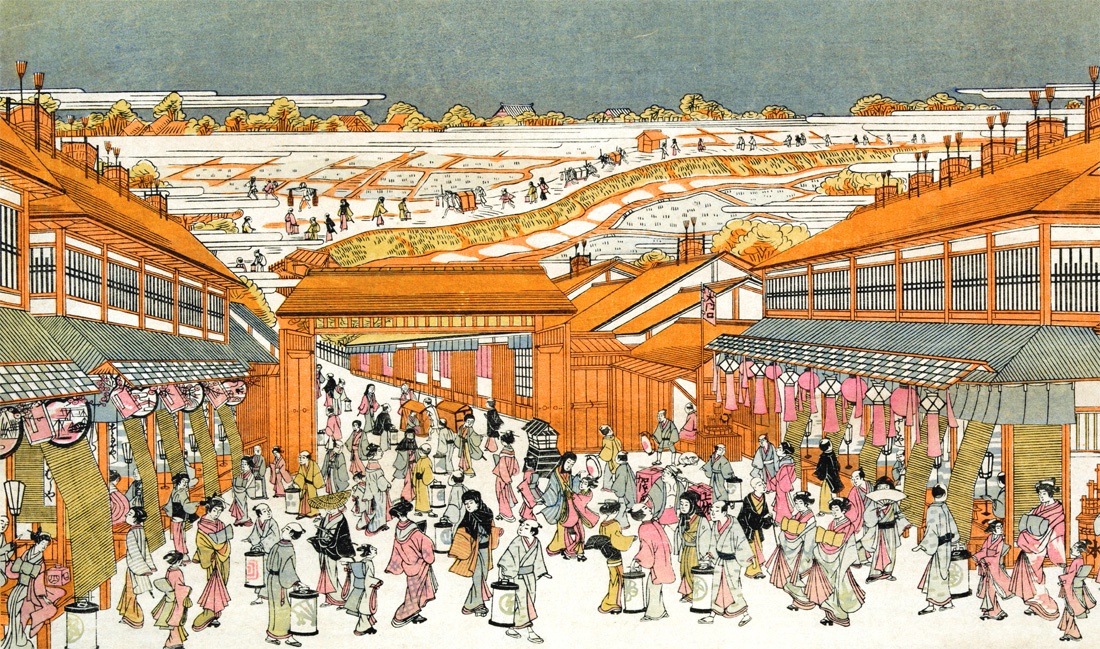 If you would like to get your hands on your own beautiful sketch book, click here to buy from our website, or click here to purchase it on Amazon. Also, this article is based off text from our popular Masterpieces of Art title, Japanese Woodblocks. Click here to look at it on our website.

Links