Warwick Goble is known for his pictures of fantastic things. Be they invading aliens or mysterious fairies, his work consistently exuded a charm that made him popular with young readers and lovers of illustrated literature.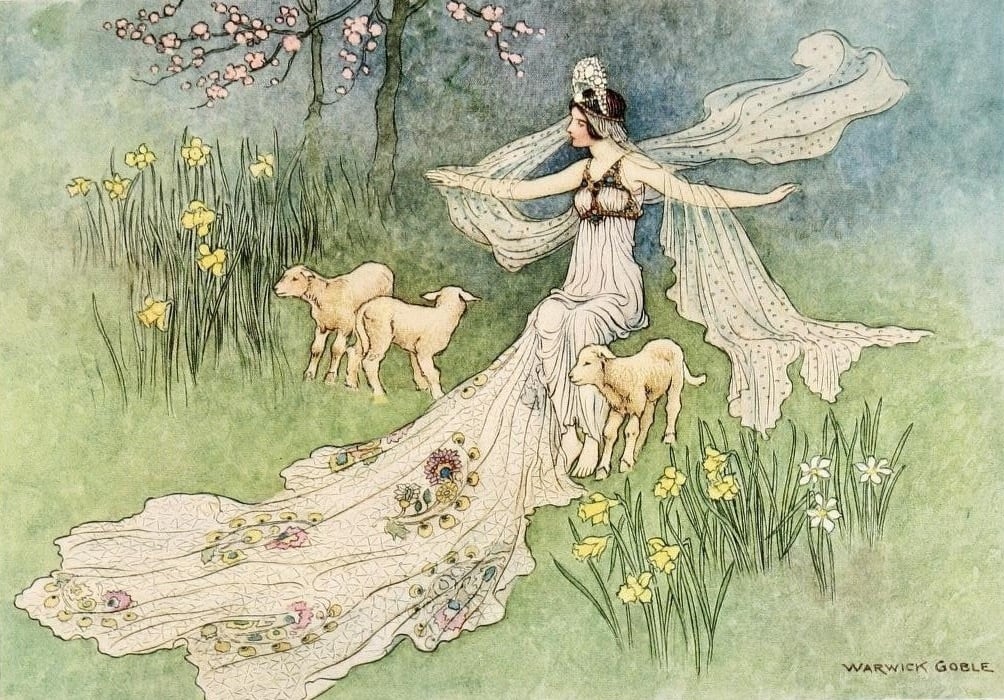 Born in 1862, Goble grew up in London, England. After graduating from the City of London school, he went on to study at Westminster School of Art. Goble had his work featured in several publications, such as the Pall Mall Gazette and the Westminster Gazette; he then found himself exhibiting at the Royal Academy in 1893. Interestingly it wasn't until 1896 when Goble was thirty-four that he first started working on illustrated books.
Worlds At His Feet
It was in 1989 that Warwick Goble hit the big time, after being commissioned to illustrate H. G. Well's infamous story The War of the Worlds. Goble's work went alongside the serialised edition in Pearson's Magazine, which ended up being shorter than the complete novel. His work was the first to bring Wells' story to life, informing subsequent artists who would render the martians and their terrifying tripod walkers.
Goble's illustrations of the Martian's machinery is functional - they look a bit like walking water butts! But it's their plausible, imperfect design that readers can believe in these walking alien vehicles. As Wells himself described them, the machine's legs are rigid - their unerring progress all the more intimidating for their systematic, almost rudimentary steps across the landscape. Later on they would be depicted as fluid limbs that could coil and grasp objects, and whilst this is an interesting visualisation it was not the way the robots were described in the story - the walker's design being based on plausible engineering.
The strong images of the Martian's machines (including flying vehicles that pour poisonous smog down onto the people below) work so well because they so starkly contrast Goble's drawings of the humans under attack. His figures echo the classic style of characters from illustrated novels at the time (personally reminding me of an old edition of Coral Island that I read as a boy). These figures, whether cowering behind bushes or fleeing the black smog, have their clothes untidily loose. The material painstakingly detailed with folds and creases, highlighting the panicky nature of civilians under attack. In short, Goble's images do an excellent job of complementing the classic text, drawing comparisons between identifiably human characters and intimidating, alien robots.
Fairy Good Pictures
By 1909 Goble was a resident illustrator for Macmillan's gift books. His wonderful images helped decorate titles such as The Water Babies, The Complete Poetical Works of Geoffrey Chaucer, The Fairy Book, and The Book of Fairy Poetry - to see some images from this last title click here.
Goble continued to create charming fairy art for the remainder of his career, but perhaps his most widely recognised later work would be for two Robert Louis Stephenson Novels, Treasure Island and Kidnapped.

As a publisher of deluxe gift books, we're always looking out for incredible artwork. Warwick Goble's fairy art couldn't help but catch our eye, which is why we are proud to feature it on one of our foiled journals. His delightful image, combined with a printing process that involved embossing the design and adding a reflective foil, results in a fantastic product which is perfect for notation whilst looking at home among other beautifully designed books. Take a look at out Warwick Goble notebook here and the rest of our designs here.