Continuing with our series of Q&As to celebrate our February releases, today we are talking to Russell James! He talked to us about his new book, The Playing Card Killer, his inspirations and his advice for new writers. You can find The Playing Card Killer on our website.

What is the book about?
A young genius determined to prove or disprove the existence of an afterlife becomes obsessed with the idea of being able to record and recreate souls. Her friendship with a raven become a part of her twisted plans.
What would you say are the underlying themes?
Motherhood, existence of angels and the afterlife, the frightening consequences of unchecked genius
Did you base your characters on anyone you knew?
All my characters are a little bit of me and a whole lot of imagination.
Is there any advice you can give someone starting to write?
The only way to write a book is to actually sit down and write it. Lots of people want to write a book, and few manage to actually do it. Nobody else will make your writing more important than you will. WRITE.
Where do you write?
Wherever I have to!
We've been asking our writers whether they write in silence, or to any particular music?
I listen to music constantly and find it difficult to write in silence.
Did you find it hard to write? Or harder to edit your own work?
Some days, writing is like floating on waves of ice cream while being gifted with unicorn wishes. Other days, I'd rather listen to infomercials for off-brand kitchen equipment nonstop on three days of no sleep and in the aftermath of an army of mosquitos sampling me.
Editing is always easier. It can range from "this is sewage" to "hey, this isn't that bad."
What was it like to be edited by someone else?
A good editor/author relationship is invaluable. To have someone who "gets" the work and helps to make it better is a true gift. On the other hand, sometimes editors and authors don't mesh at all, and that can be a terrible experience. I always want my work to be the best it can be, so having someone who can look at the book and work with me on improving it is essential.
What are you writing now?
Whatever I want! It could be sexy romance or a creepy horror or an unnerving thriller. I've got a head full of ideas.
What's the scariest thing that's ever happened to you?
My apartment used to be haunted by an angry ghost cat that would sit on my feet at night. Sometimes it would knock things over (always in the middle of the night.) You'd think a ghost cat wouldn't be that scary, but it was pretty menacing. Fortunately, it eventually stopped bothering me.
Thank you!
---
Thank you to Megan for taking the time to speak to us about her writing practices, her inspirations and telling us a little about Black Wings. You can pick up this new FLAME TREE PRESS title, along with the other February releases, from Thursday the 14th February 2019. It will be available in paperback, hardback and ebook. Check out our website for details.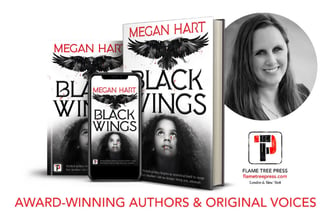 Megan Hart writes books. Some of them use a lot of bad words, but most of the other words are okay. She can't live without music, the internet, or the ocean, but she and soda have achieved an amicable uncoupling. She can't stand the feeling of corduroy or velvet, and modern art leaves her cold. She writes a little bit of everything from horror to romance, though she's best known for writing erotic fiction that sometimes makes you cry.
---
Check out all of the February Releases blog posts!