Continuing with our series of Q&As to celebrate our February releases, today we are talking to Russell James! He talked to us about his new book, The Playing Card Killer, his inspirations and his advice for new writers. You can find The Playing Card Killer on our website.

The first question is what is the book about?
After a lifetime on anti-anxiety medications, Brian Sheridan quits cold turkey. He's soon plagued by dreams of women being murdered. When he sees these murders on the local news he's worried that he may be seeing these murders through the eyes of what the press has dubbed The Playing Card Killer, or worse that he may be committing the murders himself. The truth is a third, more terrifying reality that sets Brian on the run to clear his name before he becomes the Playing Card Killer's next victim.
What would you say are the underlying themes?
There's a strong theme about family. What impact does a good or bad family situation have? How much of who we are is genetically coded and how much is malleable. Brian and his brother start out in the exact same place, yet travel different paths and become different people. We share in Brian's fear that nature may ultimately undo nurture, and will become more like his evil brother.
There is also an underlying theme about mental illness. There's a line between off-center but functioning and far out and anti-social. Without the right support and direction, that line ends up being pretty thin in this novel.
Did you base your characters on anyone you knew?
My wife is a school principal and has had a lot of experience with sets of twins. Many have an uncanny empathic connection, aware when the other is in distress, able to finish each other's sentences, able to communicate in some kind of near-silent shorthand. And to the set of twins, it seems completely normal. I thought about how unnerving it would be if you didn't know you had a twin and this was happening to you, and that got the story rolling.
Who influenced you most in the writing of the book?
There is a generation of writers I first encountered when we were all writing for Samhain Horror. Hunter Shea, Jonathan Janz, Tim Waggoner, Brian Kirk. All of these authors really inspired me to keep trying to master the craft and to create works that were fresh and original.
Is there any advice you can give someone starting to write?
First you need to read. All the time, every day. You need to decrease the passive entertainment of TV and movies and video games, and increase the active entertainment of reading. Without exposure to new styles and ideas, your own writing can never evolve.
Second, write every day. There are plenty of things you do every day. Eating, brushing your teeth, walking the dog. Writing needs to be as much a routine in your life as that. It is true that practice makes perfect. The more that you write, the better a writer you will be.
Where do you write? Is there a specific place that you feel you write best?
I have a room in my house with a splendid southern exposure and abundant natural light. That's my best place to write, sitting at a table with a keyboard.
We've asked a few writers now about writing to music, do you write in silence, or to any particular music?
I'm a write-in-silence guy, except when I start talking to myself sounding out dialogue. Then it might get loud.
Did you find it hard to write? Or harder to edit your own work?
Like any job, getting started working is always tough. But once I get started, time frequently zips by and I notice I've been at it for hours. Writing and editing take two different skill sets, the first creative, the second much more mechanical. I like to exercise both.
How did you find the experience of being edited by someone else?
When you have Don D'Auria as an editor, being edited by someone else is great. I worked with Don at Samhain and have learned to trust his judgement and follow his lead. The man knows the genre inside and out, what works and what won't. I look forward to the edits I get from him.
Can we ask what are you writing now?
There are a few things in the works. One's a story about the Devil coming to an island in Long Island Sound to open a permanent passage between Earth and Hell. A couple of former high school lovers are the key to stopping his plan, but each had personal demons to confront, and Satan will exploit every one of them to open The Portal.
Thank You!

---
Thank you to Russell for taking the time to speak to us about his writing practices, his inspirations and telling us a little about The Playing Card Killer. You can pick up this new FLAME TREE PRESS title, along with the other February releases, from Thursday the 14th February 2019. It will be available in paperback, hardback and ebook. Check out our website for details.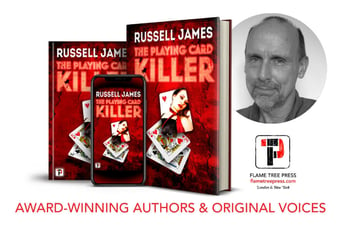 Russell James grew up on Long Island, New York and spent too much time watching Chiller, Kolchak: The Night Stalker, and The Twilight Zone, despite his parents' warnings. Bookshelves full of Stephen King and Edgar Allan Poe didn't make things better. He graduated from Cornell University and the University of Central Florida.
After a tour flying helicopters with the U.S. Army, he now spins twisted tales best read in daylight. He has written the paranormal thrillersDark Inspiration, Sacrifice, Black Magic, Dark Vengeance, Dreamwalker, Q Island, and Cavern of the Damned. He has four short story collections, Tales from Beyond, Outer Rim, Forever Out of Time, and Deeper into Darkness.
His wife reads what he writes, rolls her eyes, and says "There is something seriously wrong with you." They live in Florida with two untrainable cats. You can visit his website at www.russellrjames.com and read some free short stories or follow on Twitter @RRJames14.
---
Check out all of the February Releases blog posts!