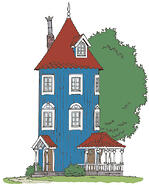 In the centenary year of the superbly talented Tove Jansson, we celebrate her glorious artwork and look in detail at what the Moomins were and what they meant. With art taken from our calendar series, The Art of Fine Gifts, keep reading to learn more about Jansson and what the Moomins meant to her.
Tove Jansson
An intelligent and emotionally sensitive woman, the creator of the Moomins conveyed layers of her psyche within her stories. She admitted to creating the first idea of the Moomins whilst angrily sketching an image of philosopher, Immanuel Kant, who she called 'the ugliest creature imaginable'.
After studying art in Stockholm, Helsinki, Paris and Rome, Jansson returned home just before the start of World War Two. It's said that Jansson felt a great anxiety towards the war, specifically regarding her brother's safety as he was enlisted. Her first Moomin book The Great Flood reflected her feelings during that period of time, and was published just afterwards in 1945.
However it was not until Jansson's third Moomin book was translated into English in 1951, that she received her breakthrough. It was in this book that Jansson communicated her lesbianism – illegal in Finland at the time – and her passionate affair with a married woman. She did this via two new characters, Thingumy and Bob. They walk hand in hand, smitten and carrying a suitcase within which is a secret that no-one else knows. In truth, the suitcase conceals a ruby and they are pursued throughout the book by The Groke, a killer ghost. It was via this metaphor that Jansson wrote about her secret love and the constant threat of it being stolen away.
Other Interpretations
Despite The Great Flood being considered by most to be a forerunner of the main series, the story still reflects not only Jansson's ties with nature but also supernatural events and obstacles faced by a band of individuals. For instance, in Comet in Moominland, Moominvalley is almost destroyed by a massive meteor thought to be a metaphor for nuclear weaponry. The family also find themselves adventuring after discovering a magician's hat; reliving the past of Moominpappa; and also put on a stage play in an abandoned theatre.
However, the tone of the series evolved and this is most noticeable in Moominland Midwinter. In this book Jansson's style is more grounded and 'real', and the Moomins themselves also demonstrate some psychological depth. This psychology is further perpetrated in her short story collection, Tales from Moominvalley and the two books Moominpappa at Sea and Moominvalley in November.



Wider Success
After this initial success, Charles Sutton, a London based agent, proffered a comic strip deal for Jansson who in turn accepted. The Moomins were an instant success and within two years Jansson's comic strips where being read by over 12 million people.
Despite the success and even Walt Disney asking for exclusive rights to the Moomins, the comic strip began to get Jansson down. The nature of these short stories meant she was exhausting herself trying to find new ideas and had less time to devote to painting and writing, her first and foremost passions.
However, in 1956 Jansson found love. At a small party, standing by the record player she asked a lady named Tuulikki Pietila to dance. Though reluctant at first, aware of social pressures, Tooti – as she came to be known – fell for Jansson's charms and they eventually became lifelong partners.
True to form, Jansson's change of mood influenced her next book. Moominland Midwinter introduces Too-Ticky, someone who gives guidance to the more self-styled character Moomintroll; together they persevere through the winter, providing support for each other through this tough season.

In 1970 Jansson began work on her final Moomin book: Moominvalley. A melancholy story, Jansson reflected on her grief after her mother died and so typically introduced a new character to convey this. The new Moomin, Toft, is said to be the closest rendition of Jansson herself. A wanderer who has been away, she returns home to find no-one there.
After this final Moomin title, Jansson wrote some narrative fiction and took holidays with her lover before they were too old to do so. Jansson died in 2001, survived by Pietila until 2009.
Today, over 15 million Moomin books have been sold worldwide. The characters are still a great and profitable export for Finland. Jansson has found herself slowly integrated into Finnish culture over time, and it is not uncommon to find a Moomin doll in a household or one of the many stamps featuring her creations and even her own portrait.
Now her stories are devoured by countries across the world due to their universal charm and poignancy.
All images used in this article are © Moomin Characters™
Links
If you like the Moomins, you'll love our 2015 calendar. Have a look at it on our website here or on Amazon here

Have a look at 10 facts about Moominpappa (that will make you love him even more) here

Do you REALLY love the Moomins? If so, you might want to know about the official theme park in Finland.