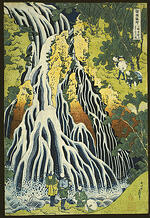 Right now, the Grand Palais in Paris is hosting an extensive exhibition on the prolific and iconic Japanese artist, Katsushika Hokusai. Arguably the herald of Japanese art for Western audiences, Hokusai's expansive work possess multitudes of layered meaning and historical context. His popularity led to the wider appreciation of Asian art and other Japanese artists, such as Hiroshige.
For those of you who can't make it to France this week, enjoy this blog – where we will offer a bit of background on Hokusai's work and why, if you haven''t already, you should fall in love with it.
Starting Blocks
Though woodblock prints have a history tracing back to early Chinese and Korean society, Japanese artists are widely considered to have perfected the art form. The prints exported by the beautiful island nation were perceived to be the finest on the planet - something recognised by visiting merchants in the early 17th century. This was the inception of their popularity, though at the time the most in demand were called Shunga. These prints were erotic in nature and differ from what brusque commentators may deem 'pornographic'. The artworks possessed depth and were created for a myriad of reasons, be they decorative, educational or narrative. In this last instance, concise lines of print would be included with the art helping flesh out the context of the piece. Rather than conforming to a set narrative, Shunga often offered a series of vignettes from which a larger story could be coalesced.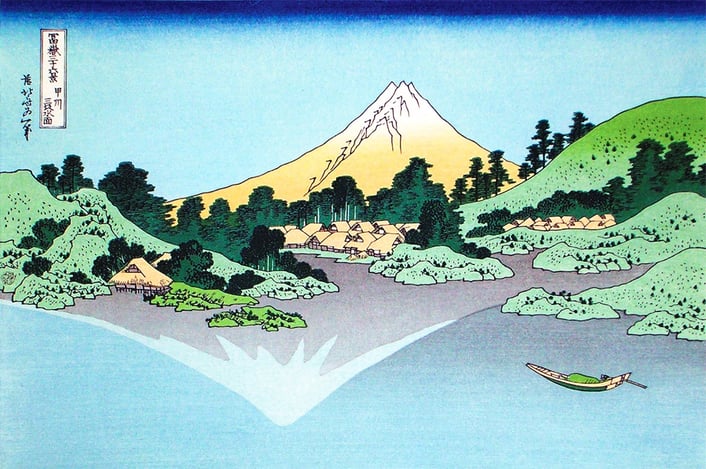 The Shunga movement was a sub-category of Ukiyo-e art, translated in the west as 'Pictures of the Floating World'. These artworks, whilst still heavily reliant on similar aesthetic techniques, were less sexually explicit in their depiction of women and intimacy. Instead representing scenes in a beautiful, often idyllic way. Most print-makers during this time would often make both Ukiyo-e and Shunga artworks, neither style being considered superior to the other.
Japonism
If you're a fan of Western art, you're probably a fan of Asian art too, you just might not know it yet.
As Eastern and Western culture began to intermingle after 1853 Japanese motifs began to be widely recognised, most notably in Paris. Japanese Woodblocks became a source of inspiration for Impressionists. It was this school that created the term 'Japonisme' (Anglicised to 'Japonism'). Famous artists such as Vincent Van Gogh, Claude Monet and James Whistler began by copying eastern printwork, before using it to help shape their own, more independent artwork.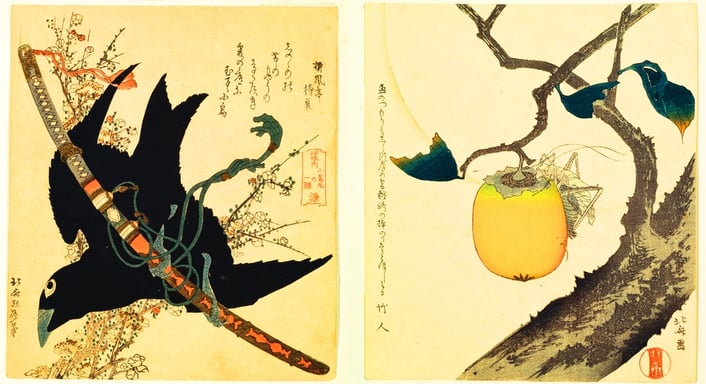 Both Hokusai and another famous Japanese artist, Hiroshige, were instrumental in this movement, as it was their prints that were the most widely spread. In tandem to this movement, their art was also helping shape what would eventually come to be known as Art Nouveau. It's more than fair to say that without Japanese art, we may not have ever heard of artists such as Alphonse Mucha or Charles Rennie Mackintosh.
Hokusai's Legacy
Hokusai fits into this chronology in many places, but in general it's simpler to say that his woodblock prints were what helped earn him such wide notoriety (though he was also an artist of manga and art manuals, whilst teaching others, too). Despite being one of the most prolific artists of his time, he was always striving to create more art, better art. By the time of his passing he produced over 30,000 images.
He is quoted as saying on his deathbed 'If only Heaven will give me just another ten years… Just another five more years, then I could become a real painter'. Luckily, his moribund admission seems to contradict his now astonishing popularity. His works are still circulating in great numbers and his iconic The Great Wave off Kanagawa is recognised widely.
Though the role of the artist has changed in contemporary society, there is still a massive market for Hokusai's classic artworks. Without him we may be lacking the diligent artists who still make woodblock art, plus we may also have missed out on the wider, divergent strains of western art that were born from its influence.

This post was based on text taken from our popular title, Japanese Woodblocks, part of our Masterpieces of Art series. To look at this book, click here. For the rest of our Masterpieces of Art series, click here.
Links:
Visit the offical website of Katsushika Hokusai here.

For 9 Key Terms You Should Know Before Seeing The Massive Hokusai Exhibition, click here.

You might also be interested in checking out this upcoming 'Immersive Exhibition of "Re-created" Works by Hokusai'. Click here for more.