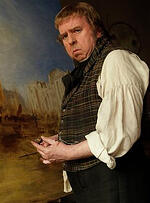 Reviews for the new film Mr. Turner are out, and the general consensus is that this film is just as great as Turner's original paintings. Timothy Spall's performance even won him the Best Actor award at the Cannes Film Festival, and a lot of people are saying that his portrayal of J.M.W. Turner could even win him an Oscar. Robbie Collins, of The Telegraph, says, 'His repertoire of grunts alone comfortably extends past a hundred, and you wonder if perhaps Spall went Method for the role, living for years in a sty until he got the voice, posture and smell just right. But beyond the troughfuls of fun tics, Spall makes Turner tenderly and totally human, which has the effect of making his artistic talents seem even more God-given.'
The supporting actors aren't to be ignored, either, as they give stunning performances as well. Even Clayton Davis, from Awards Circuit, who gave the film two out of four stars, says, 'The high points of this film are the three exceptional turns by the female characters. Beginning with the talented Dorothy Atkinson as Hannah Danby, Turner's housekeeper, she layers a broken woman with ravishing resolve. She says so little yet so much with our own expressions. The elegant Marion Bailey evokes a performance you'd see from a veteran actress like Kathy Bates. Her magnetism adds a sensitivity that lacks throughout and ultimately captures the viewer's attention every time she's on screen. The glittering and scene-stealing Ruth Sheen embezzles every ounce of comical and emotional currency in her brief scenes. I prayed for more of her. As Turner's adorable father, Paul Jesson makes the most of his screen time as does Lesley Manville.'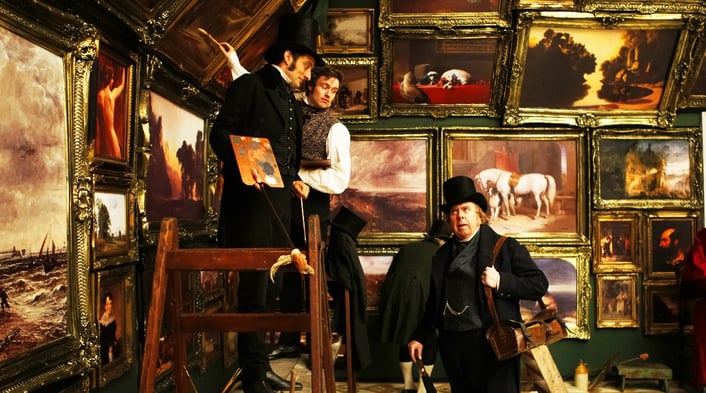 Rich Cline, from Contact Music, sums up all of the factors that make the film as great as it is in his review: 'Leigh observes this period in Turner's life without any overt plotting, merely tracing the events as well as how people react to him. It looks amazing without ever drifting into stodgy period drama cliches, which is partly due to the fact that all of the characters are eccentric oddballs, both hilariously funny and distressingly bleak. And this is a film that hones in on the people rather than the set design, gripping the audience with sparky interaction and shocking behaviour without overplaying a single scene. It's an uncanny approach, fiercely original to the extent that it will annoy a lot of viewers. But those seeking something fresh and beautifully rendered will love it.'
The movie was released on October 31st, so there is still plenty of time to go see it! Even if you're unfamiliar with or not a fan of Turner or Turner's work, you should still see the film, as it's a remarkably good movie regardless.
Masterpieces of Art iBooks
Here at Flame Tree we make a range of amazing art books and helpful guides on technology. Over the last few months we've re-published some of our most popular art books into an iBook format, just like Mike Leigh illustrated the life of J.M.W. Turner in a new way. This isn't just any old export job; the books have been redesigned and adapted to suit the iBook format as much as possible. J.M.W. Turner's paintings have been re-mastered so the rich colours that he uses remain vibrant and show up as optimally as possible on your screen. We use the highest possible quality images so that if you zoom in, you can see the individual blades of grass in his renown landscapes. Our images really look incredible on the screen and the text can be enlarged as much as suits your needs.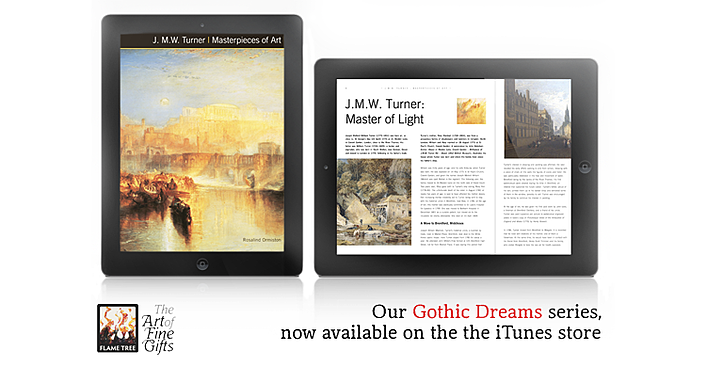 We think this is an excellent way to marry together classic art and new technology. Our new iBooks let the art speak for itself, but can accommodate users in various new ways, such as using page links, online hyperlinks and text manipulation.
Our Masterpieces of Art iBooks, including one about Turner, are available now. Check them out here.
Check out this handy video, that quickly shows users around the iBook interface:
Links:
To watch the trailer for the film, click here.
For the movie's Rotten Tomatoes page (they gave it a 96%!), click here.
This post was written by intern Taylor Steinberg.