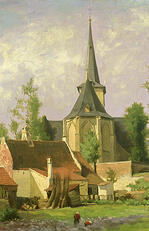 Piet Mondrian is best known for his abstract work. His grid-like art represents the harmony of the universe through simple empty space and black lines. Mondrian's work was crucial to the development of modern art and even had a massive impact on architecture, furniture and popular culture. In his early years as an artist, however, he created traditional pieces and even rejected modern art. So how, then, did Mondrian become the artist as we know him today? We are going to look at his early influences and development as an artist to find out.
Early Life
Mondrian was born into a strict Calvinist family. He was surrounded by artists. His father taught drawing at a Christian reform school while his uncle was an accomplished painter. Encouraged by them both, Mondrian honed his painting skills from early on. Often the young boy would go on walks with his uncle and painted what he saw.
After getting a degree which qualified him to teach at secondary schools; Mondrian decided instead, with prompting from his uncle, to become an artist like his father. Mondrian went to Amsterdam for art school and joined the Arti et Amicitiae artists' society. Like he had done for his father, Mondrian painted religious illustrations for the Gereformeerde Kerk, which had a radical Protestant congregation. During this time he was a firm believer in traditional art and was opposed to modern art. The works he produced for exhibits proved he was concerned with selling, rather than developing his own style.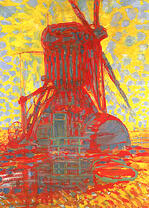 The Gereformeerde Kerk promoted a belief in the end of the world, and was prepared for a collapse in society. The church rejected radical change and stressed the importance of support for its members in the face of adversity. Mondrian felt secure as a part of this group, and supported its principles wholeheartedly.
Though during this time his art did not change much, Mondrian was seeking to create his own style. He was influenced by George Hendrik Breitner (1857–1923) and Isaac Israels (1865–1934), both Impressionist painters. Mondrian would take his easel to the end of his garden and sketch the landscape before him. It wasn't until later that he realised he could paint what was in his head as well.
Early Influences
In December 1892 an exhibition of paintings by Van Gogh moved to Amsterdam and Mondrian went to see it. The work had a profound effect on him and he slowly began incorporating the new ideas he had seen and heard of. Soon, Mondrian was moving away from complete Dutch Impressionist work and began working on capturing moods rather than lifelike detail. He realised that he need not simply paint what he saw before him, but also ideas and impressions of his own.
With a looser application of paint, in the style of Van Gogh, the breaking down of compositional elements, like Paul Cezanne, and other influences, Mondrian was beginning to learn to experiment.
Ascending into Abstraction
In 1904 Mondrian moved to Brabant on his own. He focused on painting landscapes, experimenting with fewer and fewer elements. Many of his works still resembled the realism he had practiced with his uncle, but he also began simplifying his work. He emphasised vertical, horizontal and diagonal lines in close up studies of buildings. These were the first of his works to show hints of the abstraction to come. There was a greater focus on shapes rather than reality, though his work was still a representation of nature.
Van Gogh was becoming popular and artists were becoming inspired by his work. Jan Sluyters (1881–1957) was one of these artists. He painted with bright colours, like Van Gogh, and became a major influence on Mondrian who saw his work as exciting. Mondrian began painting with bold, strong colour, in contrast to his previous palette. It was a clear break from his traditional Dutch painting background.
In the summers, Mondrian stayed by the beach in Domburg. He worked on a series of paintings of the beach. Large expanses of open land emphasising light and colour represented the seaside in a more abstract way. They were radically different from the traditional, and brought Mondrian sudden fame.
In 1909 Mondrian joined the Theosophical Association and began thinking about how the physical and the spiritual can be represented in his art. He wrote:
'I do not know how I shall turn out.... For the time being however, I want my work to stay within the normal domain of the senses, because that is where we still live. But art can form a bridge to finer regions: perhaps I am wrong to call them spiritual realms, since everything which still has form is not yet spiritual, so I have read.... But it is still the ascending path, away from the material.'
Mondrian continued to be influenced by Theosophy, and incorporated its ideas into his work. He delved deeper into abstraction and continued his experiments with colour, shape and spirituality. Soon he began to develop his own unique style.
Stay tuned for more blog posts on Mondrian where we discuss his later life and works. To learn more about Mondrian, check out our book Piet Mondrian: Masterpieces of Art (ISBN: 9781783613557).

Links: