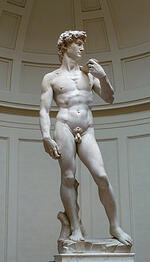 Michelangelo is considered one of the greatest artists of all time. His mastery of carving the human body with incredible realistic detail continues to impress us to this day. His most famous sculpture, David, stands impressively today at the Accademia Gallery in Florence. It is no wonder that we are adding Michelangelo to our Masterpieces of Art series. In a previous blog, we took a close look at the greatest sculpture ever achieved by a single man. If you missed it, click here to read more.
Today we take a look at the man behind the sculpture. We delve into the world Michelangelo lived and worked in, and ponder the impact he and his contemporaries had on their world, as well as our own. While Leonardo da Vinci (1452–1519) and Raphael (1483–1520) were also considered geniuses (many thought them greater in certain respects than Michelangelo), neither equalled Michelangelo's mastery of so many artistic disciplines. Be that as it may, none of them, including our 'divine master', could have achieved what they accomplished without the others.
Humanism and High Renaissance
Arising from pagan Antiquity to Christian Western art into Medieval times, through its massive public edifices and churches, the social and intellectual shift toward humanism – the belief that human intelligence and reason can determine one's life in the place of divine gods or sacred religions – altered human endeavour in all fields of thought, design, religion, literature and art. Various forms of humanism dominate our philosophies to this day. Doubt and an empirical look at the self and the universe emerged from classical studies to form early humanism, the crucial cultural movement of the Italian (European) Renaissance.
During Michelangelo's life, the era of the Renaissance was at its height. The world was ripe with advances in cultural philosophy, art, science, and design. Michelangelo thrived in this time, expressing the advancing world in beautiful sculptures. He gave the world the means of 'acquiring new emotions and new means of expressing them.'
Powerful Families
As a child, Michelangelo was placed in the care of a family of stonecutters. His mother died of illness and his father struggled to make money. Michelangelo joked later 'With my wet-nurse's milk, I sucked in the hammer and chisels I use for my statues.'
It was clear that from an early age, Michelangelo had no interest in schooling, and at the age of 13 he became the apprentice of the fresco painter, Domenico Ghirlandaio (1449–94). He studied sculpture and painting with Ghirlandaio before being discovered by Lorenzo the Magnificent (1449–92). Lorenzo introduced him to the Medici court. The Medicis ruled Florence and were the most powerful family at the time.
The importance of the Medici family cannot be overestimated in any discussion of the individual artists and thinking of the Renaissance. Their astute banking practices and political acumen, equalled only by their passion and skill at collecting art, the sum of which many Florentines would condemn as opportunistic and unholy, nevertheless paved the way for a humanistic, secular society that has been in constant development to this very day.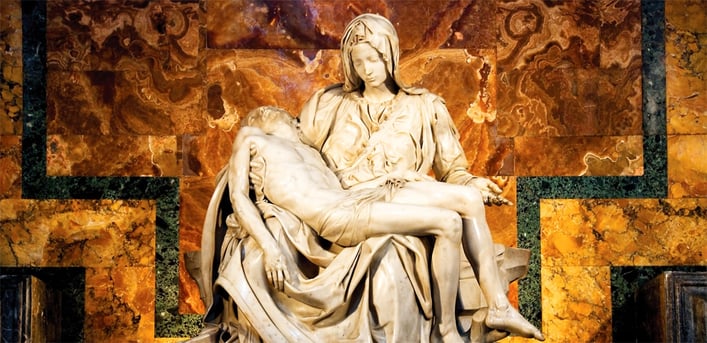 A collector of art and antiques, Lorenzo urged contemporary artists to study and gain inspiration from antiquities, at considerable cost to himself. He designed a sculpture garden at San Marco, where he encouraged Michelangelo to carve his Madonna of the Stairs, 1490–92 and Battle of the Centaurs, 1491–92. Michelangelo was part of Lorenzo's coterie, along with humanist scholars and poets. This association both increased Lorenzo's collection and commissions, and changed the nature of art patronage.
Cupid
When Lorenzo died, political strife caused Michelangelo to move to Bologna where he continued his studies. In 1495 he moved back to Florence, his style influenced by classical antique masterpieces. During this time he carved Cupid. According to some, Michelangelo artificially made the sculpture look aged. The story goes that his art dealer buried the sculpture to 'age' it and make it look as though it was an antique.
Cardinal Riario of San Giorgio, believing Cupid to be an antique, bought the sculpture. When he found out the truth – that he had been tricked – Riario demanded his money back. In the end, he was so impressed by Michelangelo's skill that he decided to let the sculptor keep his money and even invited him to Rome to continue his work. Michelangelo spent the rest of his days working in Rome.
Rise to Fame
Michelangelo's first major work was the Pietà (1498–99). The sculpture is a rendering of the Virgin Mary cradling the dead Christ. The two figures flow together effortlessly, relying on each other. After this impressive piece, Michelangelo was commissioned to carve David, his most famous sculpture.
The immense figure, meant to top the Duomo, Florence's main cathedral, was placed in the Piazza della Signora for all to see and admire. By working on and succeeding in creating masterpieces of his first two major sculpture commissions at such an early age, Michelangelo not only laid down a path and discipline from which he would never waver, but he also gained the skill and confidence in his work which many take a lifetime to achieve.
While Michelangelo is arguably one of the most well-known and respected artists of all time, this is not merely because of his work and the objects he left behind, but because the High Renaissance continues to shape so many of the issues we face today, in an age in which we still struggle with what it really means to be humanists and how that should be made manifest in our social and spiritual behaviour, our physical and material evolution, and our private and public humanity.
He continued his work, painting the Sistine Chapel, a huge challenge for the accomplished sculptor. Stay tuned for more on Michelangelo as we explore his work with the medium of paint.

This article is based off extracts of the much more detailed text in our upcoming book, Michelangelo: Masterpieces of Art. You can pre-order it on Amazon by clicking here.
Links
Think you know Michelangelo? Try naming all his works in this quiz!

Missed our first Michelangelo blog? Give it a read here!

Take a look at Michelangelo's sculptures here!