The live action movie for the beloved manga series turned TV show is coming to theatres this summer. Even if you're not a fan of the show, there's a chance Attack on Titan might still ring a bell somewhere. That's because it's a mega-sensation, with over 30 million volumes of the manga having been sold in 2014. With successful translations for english-speaking countries and a TV series that has been running for the last couple of years, the stage seems perfectly set for a transition to the silver screen.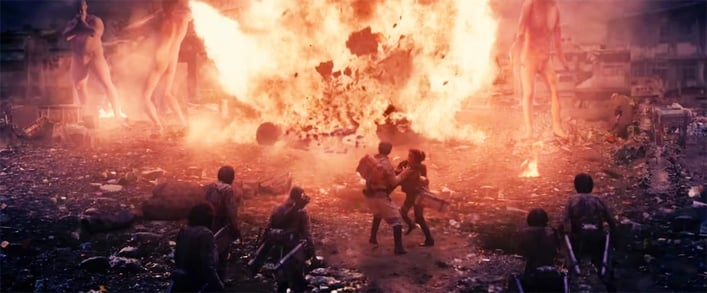 For those who aren't familiar with Titan, the premise is this: Humanity survives in small towns protected by colossal walls. These defences exist to shield the inhabitants from giant monsters called Titans who attack the settlements with no obvious motive. The Titans look similar to humans, except they are incredibly tall and often disfigured (the most iconic image of a Titan is a colossal man without skin). The series exposes more background information about the Titan's origins and motives, creating an engaging narrative among stunning set-pieces.
Tl;dr: Mankind's last vestiges fight giant monsters.
One of the reasons for the franchise's success seems to be the way in which it has appealed to a broad range of fans with little to no experience of Japanese cartoons. Attack on Titan has been lauded for its character and plot development, as well as aesthetically awesome action. The world of Titan has also been noted as a little more European in feel, helping it open up to a world-wide audience that may not be that familiar with Japanese environments. This is reinforced by the bucolic, mostly peaceful towns that reside within the looming walls. One of the show's strengths is the fact that viewers are exposed to this world, learning about its unique history through the events that unfold, rather than simply through boring exposition. Its story-telling credentials like this help give a show about fighting giant monsters some narrative credibility too.
Of course, none of this would mean too much if the manga's art style was no fun to look at. The action scenes contain real urgency and the horrifying Titans are rendered with gruesome detail. Those who also sample the anime will enjoy seeing the 3D manoeuvring kit in action: an awesome bit of steampunk gear made up of cables and hooks, helping the heros zip around the landscape at incredible speeds.
So, if you're a fan of awesome comics and need something new, or if you're even yet to take your first steps in manga, you could do worse than giving Attack on Titan a look-in. If, for some reason, this doesn't sound like your cup of tea, here are some other manga titles that might float your boat.
Dragon Ball
This successful manga is probably now more famous as the incredibly popular anime series Dragon Ball Z (as well as other iterations), which takes the characters from the manga and develops them alongside an expansive fictional universe.
But before you start watching the TV show, why not take a look at the original manga series first? It's still one of the most popular manga series of all time. With a story told using a balance of cute and kinetic art styles, readers follow Goku who's on a quest to find seven 'dragon balls', which when gathered all together grants the user one wish.
Packed with action and a lengthy narrative that would be pointless to summarise here, there's plenty of high-quality content (starting all the way back from 1984) to get new readers hooked, and there's a whole host of spin-offs, TV shows, films and more to keep fans happy for years to come.
One Piece
The manga that has kept Dragon Ball off the top spot, One Piece hit shelves in 1997 and has never looked back. Following the antics of pirate Monkey D. Luffy, readers can enjoy a story with a keen sense of humour whilst Luffy searches for the 'One Piece': a piece of treasure that will make him the next pirate king.
Though similarly filled with the action that most popular manga franchises boast, One Piece is also well loved for its unique concept and funny moments. With an 'elastic boy' at the helm of a pirate ship, you really would expect it to be humorous. The good news is that One Piece consistently raises smiles whilst also dazzling the eye with its stunning artwork and cool set-pieces.
Astro Boy
This spot was initially reserved for Naruto, an arguably more popular series, but also one that is quite similar to the other titles in this list (fighting and adventure), so the honour goes to Astro Boy instead. Not only the oldest entry on this list (the first volume was released in 1952), but also the series that was the first to successfully make the leap into animation, spawning the hugely popular anime series of the same name. A model that almost every other popular manga would come to emulate over the years.
With a slightly more cute aesthetic, Astro Boy is set in a future where humans and robots coexist. Astro is a powerful robot built by Doctor Tenma who lost his own son in a car accident. Though their relationship doesn't last long, Astro finds a parental guardian in Professor Ochanomizu later in the series and their relationship is the central heart of the Astro Boy narrative.
The rest of the series shows Astro using his robot powers for good. He can fly, has super-strength, has his own machine gun, as well as having an incredibly high IQ. Astro's crime-fighting exploits combined with an interesting father-son relationship makes Astro Boy well worth checking out for anyone interested in how manga paved the way for anime shows.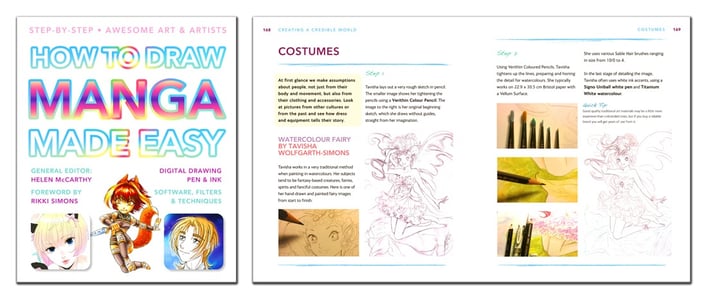 If you want to draw your own manga artworks, our upcoming title How To Draw Manga: Made Easy is the perfect resource for honing your skills. Take a look at it here.