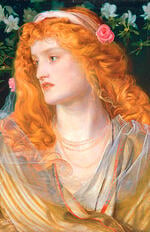 Recently a Pre-Raphaelite study was found, of all places, behind a door! Said door was within a 16th century manor house owned by Bamber Gascoigne, former University Challenge host.
The study's significance stems from its relationship to one of the most iconic Pre-Raphaelite images of all time, Flaming June. Recognised across the world, the original is hosted in the municipal art museum of Puerto Rico's second biggest city, Ponce.
The timing seems to have serendipitously coincided with a resurgence of popularity for the art movement. Recently Aidan Turner's 'raunchy' turn as Dante Gabriel Rossetti has been attributed to the growing popularity of Pre-Raphaelite Brotherhood paintings.
The 2000s seem to have seen a general shift in public perception of these antiquated works. Critics, too, have been noted as being more open to the art movement, plus with a string of TV shows (Turner was working on the BBC show, Desperate Romantics) and exhibitions, slowly but surely the Pre-Raphaelites have found themselves in the best public standing they've known since their first appearance at auction.
What is the 'PRB'?
The end of the nineteenth century saw British art dominated by the Pre-Raphaelite Brotherhood. It was a revolutionary art movement that approached painting in a vastly different way to the academic style that was in vogue. It was initially launched in 1848 by three rebellious young artists: Dante Gabriel Rossetti (1828–82), William Holman Hunt (1827–1910) and John Everett Millais (1829–96). Though they had all been through the academic system, they found themselves united in a desire to bring about change in the art world.
The most famous of the three remains Dante Gabriel Rossetti. He was born in London in 1828 and grew up surrounded by literature, art and politics. These early experiences made him unsure which art form to pursue, and though his legacy in painting lives on, he was also a successful writer.
Aged 13, he left school to attend Sass's Academy, a preparatory school for prospective Royal Academy students. He spent much of his time reading and illustrating scenes from Shakespeare, Goethe, Walter Scott and Byron. In 1845, he entered the Royal Academy Schools as a probationary student and a year later he was enrolled as a full-time student. However, his experiences at the RA frustrated the young Rossetti. The greatly ambitious student longed for weightier subjects and felt inhibited by the school's curriculum.

In 1848, he attended the Royal Academy Summer Exhibition where he saw a painting that delighted him – The Eve of St Agnes by fellow student, William Holman Hunt. The two became friends and later that year he and Hunt rented a studio in Cleveland Street, London. There, Hunt helped Rossetti complete his first Pre-Raphaelite work, The Girlhood of Mary Virgin. Along with third founding member John Everett Millais, the Pre-Raphaelite Brotherhood was born.
The essential philosophy of the Pre-Raphaelites were:
To have genuine ideas to express.
To study nature attentively, so as to know how to express them.
To sympathise with what is direct and serious and heartfelt in previous art, to the exclusion of what is conventional and self-parading and learned by rote.
Most indispensable of all, to produce thoroughly good pictures and statues.
Rossetti was the first of the Brotherhood to exhibit. The Girlhood of Mary Virgin was shown about a month before the opening of the Royal Academy's annual exhibition and was given a favourable reception by critics. The letters 'PRB' were mysteriously appended to the signatures on following works created by the brotherhood, leading to widespread speculation. Critics believed these new emerging pairings to be credible attempts in the Italian style and they soon felt confident in their movement's growing popularity.
However, the young artists soon found themselves to be victims of hubris. The following year the meaning of the letters 'PRB' became public knowledge, possibly as a result of Rossetti gossiping to a sculptor who passed it on to a journalist. The art establishment reacted furiously; they were of the opinion that the young and inexperienced artists were presuming too much of their own ability.
This public outcry lead to a swift decline in the public's opinion of PRB artworks and by 1850 they received a critical roasting. Even Charles Dickens weighed in, described the paintings of the PRB as 'mean, repulsive and revolting'. In reaction to such unfavourable public opinion, Rossetti swore to never exhibit in public again.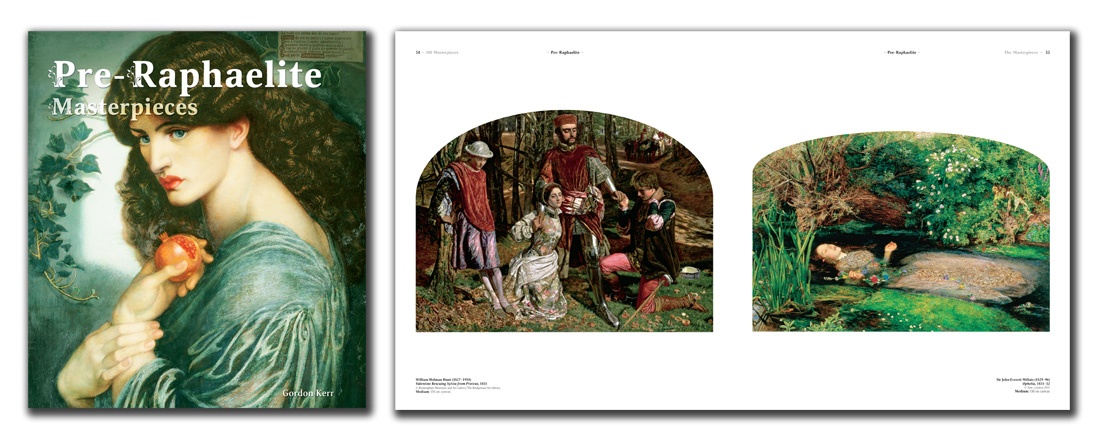 Yet now we find ourselves discussing the young trio's masterpieces of art once more – why? Make sure you stay tuned to read part two of our Pre-Raphelite blog, uncovering more information as to how the PRB regained their public and critical credibility.
In the meantime we have a beautiful book packed with stunning Pre-Raphaelite artwork, which you can look at here.