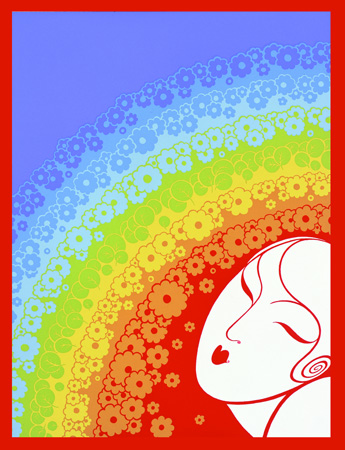 History was made this past weekend as the United States Supreme Court legalized same-sex marriage. Of course, news of this monumental event put an extra cheer into the Pride day celebrations on Saturday. Elaborate outfits and exceptional fashion paraded its way down the streets of London as pure love for the gay community was visually expressed. Reminiscing in all the outfits and designs, one would only know that the famous Art Deco designer, Erté, would have loved to be a part of this celebration.
Receiving some criticism for his homosexuality, the Russian born French artist, Romain de Tirtoff or known as Erté, is adored for his collections of jewellery, watches, textiles, perfumes, costumes, interiors, magazine covers, and sets designs. The fashion designs illustrated by Erté in the 20th century influence many current artists as they use his geometrical shapes, bright and bold colours, and lavish ornamentations. Like the men and women in the parade, Erté enjoyed fur coats, feathery hats, and dressy colours. Erté has left a legacy.
But, how big is his legacy? Erté has been called the 'Father of Art Deco' and his illustrations have influenced the most prestigious museums across the United States and the United Kingdom: New York Metropolitan Museum of Art, Museum of Modern Art, Washington D.C.'s Smithsonian Institution, and London's Victoria & Albert Museum. Drawing fashion designs for Russian & Parisian luxury journals as well as for Harper's Bazaar, Erté oftentimes modelled and wore his own designs. His encouraging designs and actions were brought to the popular Las Vegas showgirls and drag queens that have taken after Erté's designs and have blown them into an extremely notable fashion.
During the peak of his career he was highly inspired by Prince Nicholas Ourousoff, his business partner and lover with whom he lived with for over twenty years. Many of Erté's early fashion designs were inspired from the emotions he felt while he was with his glamorous Prince: elegant, wild, and accessorized. In fact, his relationship with Ourousoff lead Erté to gain courage to separate from whatever the current fashion trend was and to express himself through his own feelings. He often was treated like a star and was put in the press when travelling with Ourousoff. In recognizing the reliability of the press, Erté would purposely wear many of his designs to advertise in the newspapers. Being noticed in the news, especially in America, the two lovers were often invited to dinners by other homosexuals such as MGM Studios head Louis B. Mayer. As a result, his created style was considered to be part of the finest Art Nouveau and by the 1920s homosexual wardrobes gained freedom and popularity.
Unfortunately, not long after his works were becoming extremely notable, his career was devastated by the death of Prince Nicholas in 1933. His relationship was so defining to Erté the public was sincerely concerned for Erté's work and designs. Unknowingly at the time, Erté still flourished with his unisex designs and flamboyant costumes. It wasn't until his publication of his autobiography in 1975 that the public learned he restored his heart shortly after the tragedy through a serious relationship with a champion Danish swimmer and decorator named Axel.
It was when Erté was in his relationship with Axel that he was producing some of his most spectacular scenery and costumes for ballet, opera, theatre, and music hall. He designed just about everything a decorated woman or man would need to be exceptionably fashionable and posh. Towards the end of Erté's life, his large unisex wardrobe flourished in the United States. Erté's strong courage, romantic relationships, and beautiful talent has led many prideful individuals to make him a lasting fashion idol.

For a much more detailed look at Erté's life and works, our book is a must-look. Full of stunning full-page reproductions of a wide selection of his designs and illustrations, this is an essential title for lovers of the iconic designer. Click here to take a closer look. To view the book on Amazon, click here.
This post was written by intern Kaiti Porter.