Last month saw the auction of of Degas' ballerina go to auction Sotheby's. Philip Hook, senior director at the auction house spoke about the work's importance. "It is one of the three or four great sculptural images of the last two centuries. You've got Rodin's The Kiss and Rodin's The Thinker and this is up there with them in terms of importance and recognisability ... it is such a classic."
The sculpture has was received with high praise, with critics commenting on it's astounding realism. Yet also, this detail is balanced against a certain character. "It is a wonderful pose… the way her head is back, she is slightly defiant." says Hook.
One can also see Degas' work in Itica, New York, where he is part of an impressionist exhibition. His paintings hanging alongside Monet and Renoir, to name a few. The charcoal and pastel work by Degas is a piece that 'reflects the Impressionist's interest in employing unusual perspectives to compose a piece'.
Finally, did you know that the Museum of Modern Art is hosting a major exhibition on Degas' montotype prints? It may not be the first thought that comes to mind when thinking about the masterful artist, but regardless, after he grew acquainted with the technology Degas became a lot looser and more improvisational with his working methods.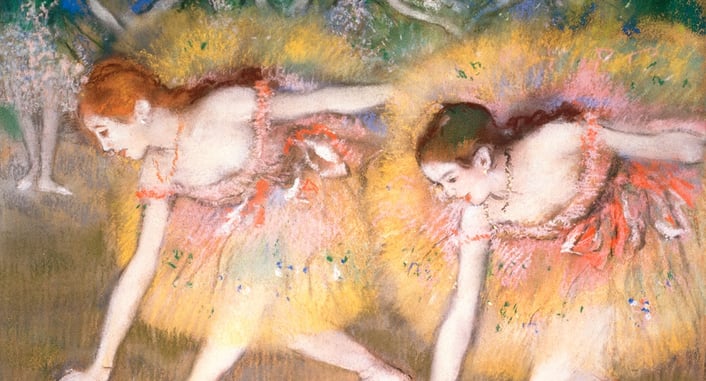 In fact, after the advent of the monotype Degas moved beyond the subjects he is widely known for - his scenes of dancers and dancing studios. Senior curator of drawings and prints at MoMA, Jodi Hauptman, says that Degas' montotype work is where he takes some of the biggest risks.
"It is almost as if he's locked himself in his studio," says Richard Kendall, who is working on the show. "He lets his hair down and goes crazy."
The monotypes leave evidence of Degas' fingerprints where he would edit the prints by hand. One can observe an interesting effect where Degas would use the same plate for multiple prints. As the image quality slightly degrades viewers are left with an impression of the same image, yet somehow different. If you find yourself in the New York area, this may be well worth a look-in. Especially for those who want to discover a new dimension to a artist well-known for only a specific part of his oeuvre.
Read more about the event here.
Here at Flame Tree we're big fans of Degas. Though his print work intrigues us, we can't help but be loyal to his captivating paintings of lithe dancers. His balance of physicality, poise and impressionistic interpretation are quite simply stunning. We're proud to be able to show off his stunning work on our products. On our website you'll find a beautiful foiled journal featuring his iconic The Star, as well as a charming greetings cards without the same design. We also have a another card design decorated with his painting The Rehearsal, which you can see here.