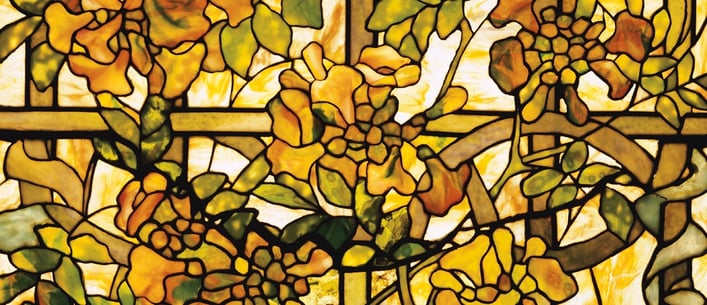 The American artist, visionary and businessman Louis Comfort Tiffany (1848–1933) is most known for his beautifully crafted selection of windows, lamps and decorative objects, in which rich colours suffuse intricate glass designs. Born into a wealthy family – his father owned the successful jewellery company Tiffany & Co. – Tiffany was determined to be a painter and to see the world. He described his work as the 'pursuit of beauty', and it would seem he pursued this intention around the world – he was an eager traveller, soaking up the artistic ideas he discovered in other countries and using them to play with colours and textures in his own work, employing revolutionary techniques in glass-making.
Influence from Abroad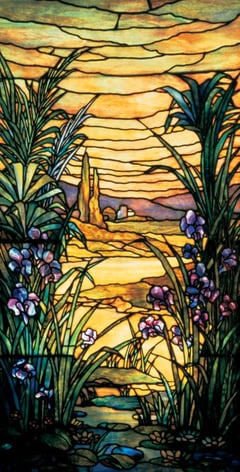 Tiffany's taste for travel fed through into the development of his artistic style. During his first trip to Europe in 1865, he was constantly sketching and photographing his surroundings, visiting museums and galleries and collecting local glassware and ornaments from England, Ireland, Italy and France. A second tour of Europe followed in 1868, and Tiffany observed the burgeoning art movements taking place. He took influence from the Gothic Revival, and also from the ideals presented by Arts and Crafts exponents in England. He began to see the primary role of beauty in art, using the beauty of nature as a recurring feature in his work, inspired also by the organic shapes and colours of the emerging Art Nouveau style in Paris (as explored in our recent blog on Alphonse Mucha).
Tiffany continued exploring the world, travelling with the painter Samuel Colman to Morocco, Algeria, Tunisia, Egypt and Northern Spain. Open-air markets, or souks, as well as desert landscapes and Islamic architecture, began to feature in both artists' work, and Tiffany focused on developing his use of colour, which he saw as the primary component in Arabic art. His mosaics show Byzantine influence, a style that he similarly came across during his travels while studying the culture and art of the areas. His influences ranged from the decorative arts of China, Japan, ancient Greece, Egypt, Venice, India and the Islamic world – taking especial interest in the Islamic emphasis on colour and balance. His Favrile glass – a type of iridescent glass developed and patented by Tiffany – was designed taking inspiration from the excavated vessels of Rome and Syria that he had seen in museums while travelling, where the objects had over time absorbed minerals from the soil and developed a metallic sheen. This and the colourful Persian glass he had seen encouraged him to focus on his glasswork, wishing to perfect the relationship between colour and light.
---
'

'Nature is always right' – that is a saying we often hear from the past; and here is another: 'Nature is always beautiful'.'
– Louis Comfort Tiffany
---
Worldwide Exposure
Tiffany's extensive travels enabled him not only to witness first hand the various artistic traditions and developing fashions of the world, but also to expose his own work and take up his place among the great leaders of new artistic techniques.
While visiting Paris Tiffany met up with the art director of his father's store in New York, the respected designer Edward C. Moore, who had been one of the first designers to use Japanese and Islamic art in his own work. He also made the acquaintance of Siegfried Bing, a leading specialist in oriental and contemporary art. This became a fruitful relationship that helped bring Tiffany to public attention in Europe, and also introduced him to the many art movements emerging in Paris. Bing displayed Tiffany windows in his galleries, contributing to Tiffany's popularity in Paris, and he also raised interest for Tiffany's works in a number of countries by arranging exhibitions and sales for him. Tiffany gradually became recognized worldwide, competing in Europe and exhibiting at a number of world fairs, such as the 1889 Exposition Universelle in Paris. Having already conquered the market at home, he was able to make successful business abroad too, such as in selling his company's glassware to Parisian museums. For the World's Columbian Exposition, held in Chicago in 1893, Tiffany's display included a huge ornate Byzantine chapel with leaded windows. His exhibits impressed European art buyers and were successful with influential critics, with the chapel enjoying 1.4 million visitors and securing the international acclaim of his works.

Tiffany fused art and craft with spectacular results: radiant objects that play with colour and light, and that demonstrate rich multicultural influence. If you'd like to read more about his extensive travels and how they fed through to his work, our book Louis Comfort Tiffany Masterworks covers his life and his legacy, as well as the development of his style. It can be bought through our website here, or via Amazon here. Our 2016 Tiffany calendar also features his stunning artwork in all its colourful glory – take a peek here.
LINKS
We've previously written a blog that focused more specifically on Tiffany's life and techniques: check it out here.
Read more about Tiffany's Byzantine chapel here.
The art dealer Siegfried Bing was hugely influential in bringing art from abroad to the public eye – learn more about him here.