A pioneer of abstract art, Wassily Kandinsky (1866–1944) is still renowned for his woodcuts, paintings and heading of the Blue Rider group which included Franz Marc (1880–1916), August Macke (1887–26) and Paul Klee – all Expressionist yet very distinct from each other in terms of technique. Kandinsky's style went through many changes, ranging from the fast brush work and striking colours of Fauvism to the horizontal lines and plain colours of Neoplasticism. It is perhaps because of this changeability that his work is still loved by many today.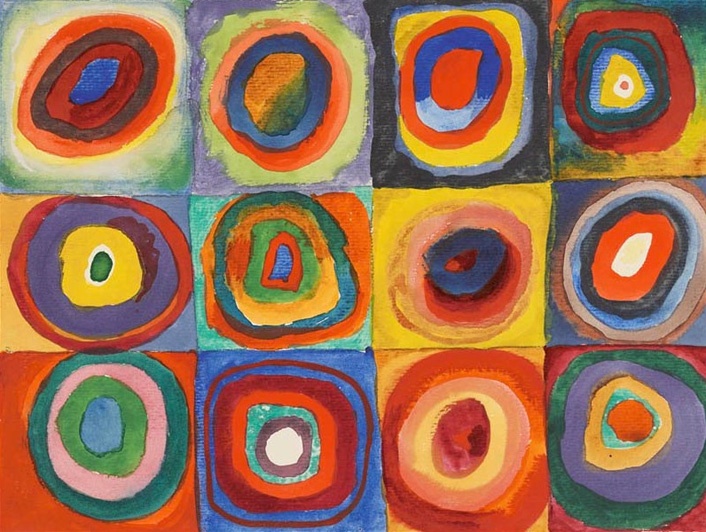 From Boy to Artist in Russia
Kandinsky came to painting at a time when the old order was in rapid decline across Europe, and artists were seeking a new artistic language for a new epoch. His was Abstraction.
Early life
He was born Wassily Wassilievich Kandinsky, on 4 December 1866 in Moscow, the only son of a wealthy tea merchant. Within five years his parents were divorced and he lived with his father and aunt in Odessa. In 1886 he returned to Moscow to study law and economics at the city's university, finally submitting his doctoral thesis 'On the Legality of Labourers' Wages' in 1893. He married his second cousin Anya Shemyakina, seven years his senior in 1892.
Transformation to Full Time Artist
Kandinsky initially settled into academic life as a teacher at Moscow University, but in 1896 decided to take up painting full time after seeing an exhibition of Claude Monet's (1840–1926) Haystacks paintings, and attending a performance of Richard Wagner's (1813–83) Lohengrin, 'two events that stamped my whole life and shook me to the depths of my being'.

The Move to Munich
At 30 years of age, Kandinsky made a life-changing decision and moved to Munich, a city that was considered a progressive centre for art, particularly in its adoption of Jugendstil, a decorative-arts adaptation of Art Nouveau motifs.

He enrolled at the private academy of Anton Azbé (1862–1905), a Slovenian painter, where he met other like-minded painters such as Alexei Jawlensky (1864–1941). It was while subsequently studying with Franz von Stuck (1863–1928) at the Munich Academy of Art in 1900 that he met the artist Paul Klee (1879–1940).
Phalanx
The following year, Kandinsky and Jawlensky were instrumental in starting an artists' exhibiting society called Phalanx. The society grew in popularity and in the same year Kandinsky opened his own art school, also called Phalanx. The school was one of the few art schools open to women, and it was here that he met Gabriele Münter (1877–1962), one of his pupils, who from 1902 also became his companion.
Travel
Between 1903 and 1907, Kandinsky and Münter travelled extensively around Europe, making contact with many of its avant-garde artists, some of who had been included in the last of the Phalanx exhibitions in 1904. Kandinsky travelled to Moscow and St Petersburg to exhibit with their respective Artists' Associations, thus developing his contacts in Russia, and held his first one-man exhibitions in Munich.

During this period, he also exhibited at the Salon d'Automne and the Salon des Indépendants in Paris, with Die Brücke ('The Bridge') group in Dresden and the Secessionists in Berlin. Kandinsky had witnessed the burgeoning development of modern art across Europe, and wanted to be an integral part of it.
Painting Styles & Influences
Kandinsky's paintings of the first decade of the twentieth century can best be described as Expressionist in temperament and style, but by 1910 he had begun to develop more abstract forms in his works, which he referred to as 'impressions', 'compositions' and 'improvisations'.

Kandinsky was submitting paintings for exhibitions in Zurich, Berlin, Amsterdam and Russia, travelling there in late 1911 to read excerpts from Concerning the Spiritual in Art to the All Russian Artists Congress in St Petersburg.
Concerning the Spiritual in Art
Kandinsky's first major theoretical work, Concerning the Spiritual in Art, in which he promulgated his ideas on colour and form, and philosophized about his artistic credo to paint from 'an inner necessity' was a development that coincided with the meeting with the composer Arnold Schönberg (1874–1951) which confirmed his belief in music's relationship with painting.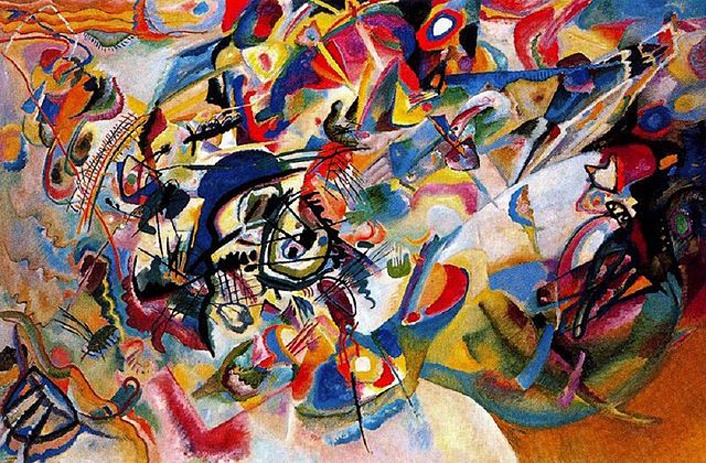 The Der Blaue Reiter Exhibitions
Apart from the publication of Concerning the Spiritual in Art , the year 1911 also saw his divorce from Anya finalized and in December he held the first of Der Blaue Reiter ('The Blue Rider') exhibitions in Munich. Der Blaue Reiter consisted of a small group of artists around Kandinsky that included Münter, Auguste Macke (1887–1914), Jawlensky, Paul Klee and Franz Marc (1880–1916).

The following year Kandinsky and Marc produced an almanac for Der Blaue Reiter with contributions from the aforementioned artists as well as from Schönberg, who contributed an article on the relationship of painting to music, and Thomas von Hartmann (1885–1956), who wrote an article called 'Anarchy in Music'. Both Marc and Macke also contributed essays as well as visual images to the almanac.
The Return to Moscow
Despite his popularity in Europe at this time he was forced to return to Moscow in 1914 after the First World War was declared. This enforced repatriation was a difficult time for Kandinsky. He was now permanently separated from Gabriele Münter, limited as to his exhibition opportunities, and living in a country threatened by revolution. The ensuing civil war did little to help Kandinsky's painting career since he was now without bourgeois patrons.

With his new wife Nina to support, he became an educationalist as part of INKhUK (Institute of Artistic Culture) and at the VKhUTEMAS (State Higher and Artistic and Technical Studios).

Teaching at the Bauhaus
After disagreements with the authorities and the new avant-garde in Russia, Kandinsky left in 1922 for a new teaching post in Germany at the Bauhaus.

Kandinsky's duties at the Bauhaus were as a teacher, in the wall-painting workshop, and on the theories of form as part of the basic course. These theories had already been formulated by Kandinsky in his Concerning the Spiritual in Art and in his work at INKhUK.

Despite his not-inconsiderable teaching duties, Kandinsky was still a prolific painter and continued to hold one-man exhibitions during the 1920s in Stockholm, Munich and Berlin. He also held solo exhibitions in The United States: New York in 1922 and on the West Coast in 1924.
Point and Line to Plane
However, in 1926, after the Bauhaus moved to Dessau, Kandinsky published his second most important text, Point and Line to Plane, a theoretical work that was highly influential in the development of graphic design.
Final years at the Bauhaus
Between the years 1925 and 1933, when Kandinsky finally left the Bauhaus, he produced more than five hundred paintings and watercolours. In 1928, to coincide with his sixtieth birthday and on becoming a German citizen, a major retrospective of his work was held, which toured five German cities. In 1929 he had his first one-man exhibition in Paris and in 1930 was exhibiting again in Paris and at the Venice Biennale.

During his final years at the Bauhaus, Kandinsky had achieved truly international status as an artist with further exhibitions in major European and American cities, and was included in the pantheon of great artists at the Museum of Modern Art in New York.
Move to Paris
After the Nazis closed the Bauhaus in 1933, Kandinsky and his wife Nina moved to the Parisian suburb of Neuilly-sur-Seine. Although disappointed by the lack of sales in Paris and elsewhere as a result of the world Depression and increasing political tensions; and having over 50 of his paintings confiscated by the Nazis as 'Degenerate Art', Kandinsky continued to paint with as much vigour, passion and enthusiasm as he had always shown.

He was afforded a one-man show at Peggy Guggenheim's gallery in London, and shared an exhibition with Fernand Léger (1881–1955) and Paul Klee in New York, both in 1938. He continued painting up until the summer of 1944 when he became ill, dying in December less than two weeks after his seventy-eighth birthday.
After Death
Since his death, there have been many attempts to characterize Wassily Kandinsky and his paintings. There have been a number of retrospectives of his work, the first being as early as 1945 in New York.

More recently, the Royal Academy, London, held a major exhibition of his watercolours, its president Sir Philip Dowson stating that, 'Kandinsky exemplifies the art of the century in so many ways. Along with such seminal figures as Einstein, Freud, Schönberg and Joyce, he revolutionized our world.' Dowson was referring of course to Kandinsky's role in realizing the full potential of Abstraction.

Yet to pigeonhole Kandinsky as an abstract artist is a mistake. His art is much more than that: it was the spirit of his own age, an age of revolutionary art. As he said himself, 'Every artist, as child of his age, is impelled to express the spirit of his age.'

Conclusion
Kandinsky's artistic output in terms of volume and consistent quality is phenomenal by any standards and matched by very few artists in any generation. Although like many artists his paintings show an apparent dissimilarity between the early and mature works, Kandinsky showed one consistent theme throughout, the 'inner necessity' to paint. As his fellow artist Diego Rivera (1886–1957) has suggested, 'Kandinsky's art is not a reflection of life, it is life itself.'
Whether you are interested in learning more about the man who was one of the earliest pioneers of abstract art or looking at magnificent images of Kandinsky's key works from his early days to his death, check out our beautiful book Wassily Kandinsky Masterpieces of Art by clicking here.


Links