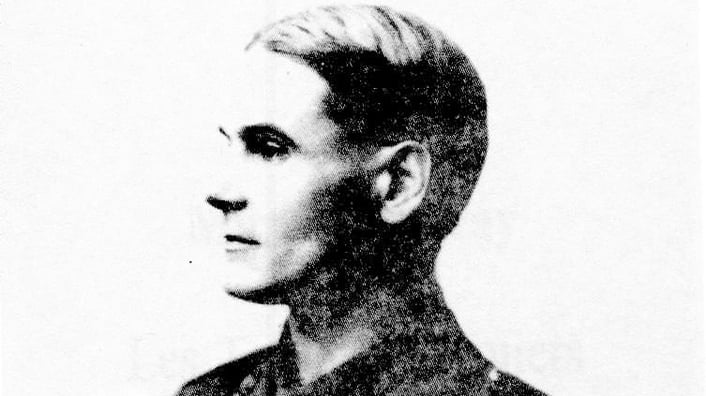 With a history in seamanship, photography and bodybuilding on top of his successful writing career, William Hope Hodgson (1877–1918) makes for an interesting subject for today's blog. Perhaps best known for his novels 'The House on the Borderland' (1908) and 'The Night Land' (1912), Hodgson's fiction has been a great influence on a number of horror writers, especially celebrated for his authentic narratives on the horrors of the sea and his creation of the enduring supernatural investigator Thomas Carnacki.
His tales often explore what lies beyond the borders of human knowledge and human existence, detailing dangerous circumstances or events. Hodgson himself was not short of heroism, saving a man from shark-infested waters during his years as a sailor, as well as volunteering for what was essentially a suicide mission during the First World War. Here we're going to attempt to understand how Hodgson's intriguing collection of experiences helped shape his work and secure him amongst the best writers of mystery and horror fiction.
---
'I read, and, in reading, lifted the Curtains of the Impossible that blind the mind, and looked out into the unknown.'
---
Drawn to the Sea
Born in Essex in 1877 as the son of a priest, William Hope Hodgson was part of a large family. His family moved often during his childhood, and with three of his siblings dying in infancy, Hodgson was early on exposed to the notion of potentially devastating forces that were out of human control. He made several unsuccessful attempts to run away to the sea during his youth, and his desire to become a sailor was eventually seen through when he was permitted to train as a cabin boy. After an apprenticeship, Hodgson became a sailor, developing a close association with the ocean that would unfold later in his many sea stories.
Hodgson documented his time at sea through journals and photography, though what began as a fervent love of the sea transformed into hatred through his bitter and gruelling experiences in that world. Often the victim of bullying at the hands of older seamen, his later sea stories would seem to incorporate these experiences, with a number of his tales involving perpetrators receiving their comeuppance as victims or disturbed forces take revenge. Possibly in response to bullying behaviour, Hodgson became very interested in developing strength through personal training. He left the sea behind when he was 22 and opened his own School of Physical Culture. He was no stranger to press attention at this point, even once appearing onstage with Harry Houdini in a controversial episode: Hodgson had provided his own irons as a challenge for the escapologist, who had great difficulty in freeing himself as a result.
Hodgson only turned to full-time writing when he found that his physical fitness business was not sufficiently lucrative. He began by writing a little on his negative experiences at sea, even giving paid lectures that featured photographic slides from his time as a sailor. After several initial rejections, he published his first story ('The Goddess of Death') in 1904. The tale involved mysterious deaths, atmospheric horror and investigations of extraordinary objects and happenings. While the story concluded with a rational explanation for the supernatural occurrences, which not all of Hodgson's stories do, it did display the trademark techniques that would identify the style of his horror fiction later on. Hodgson married in 1912, though despite his success as a writer he was never really financially secure so there was a continuous need to produce and sell his work. Hodgson joined the army during the First World War, though not in a naval capacity despite his ample experience: he served in the Royal Artillery, and, after re-enlisting following an injury, he was killed in Ypres in 1918.
---
'And, suddenly, it came home to me that I was a little man in a little ship, in the midst of a very great sea.'
---
Hodgson's experiences at sea fed his stories and lent a convincing aspect to his work, as in for example his short story 'Through the Vortex of a Cyclone' – a not entirely fictional account illustrated by slides made from his own photographs taken at sea. The sea's suitability as a backdrop for mystery and horror coupled well with his knowledge and interest in its dangers. This is not a unique fascination – the sea has long captivated audiences as a subject for tales of mystery and horror. This is due in part to our powerlessness in face of the immense depths and power of the sea, and our lack of knowledge of the creatures that inhabit that watery environment. Covering over 70 per cent of the Earth's surface, an alarming amount of that space is yet unexplored. Only this month a new marine creature, dubbed the 'flying spaghetti monster' (possibly of interest to those Pastafarians among us), was captured on camera. Testament yet to the bizarre and wonderful creatures that live underwater is also this footage of a giant glowing sea worm. Hypnotic, gigantic enigmas of the sea, such life that goes on below the waves is intriguing and thrilling precisely because it is so unknowable, and so different from our own. It is no surprise then, that the murky, watery depths of the sea have provided the most convincing setting for all manner of monsters, baffling and terrifying in all their alienlike qualities. Legendary sea monsters such as the Kraken, and H.P. Lovecraft's Cthulhu, are colossal, mysterious and powerful beasts, against which a human stands little to no chance in either survival or comprehension. It is the impenetrability of these monsters that makes them so fascinating – they are unearthly, extraordinary, and all manner of other synonyms to mean 'beyond' the threshold of human knowledge. They are impossible for us to fully understand, and they in turn must not be able to understand us – they occupy a region well outside any of our reference points or supposed laws. H.P. Lovecraft used this to capitalize on that well-known fuel of horror tales: fear of the unknown. As with the Necronomicon, he kept the details of the mythical creature Cthulhu very much a mystery, even giving it a name beyond our language – Cthulhu being only a vague 'translation' in our language that inevitably fails to adequately express the existence of a creature so beyond our world.
Then there's the sea itself. Untamed, unpredictable, to be 'at sea' is to be away from stability, security and firm ground. Fluid boundaries, hidden mysteries and unknown depths: the perfect setting in all its terrifying potential. The idea of a ship stranded at sea is not unfamiliar, and as in the case of Moby Dick, the image has often served to represent a microcosm of the wider world, and of man's insignificance at the mercy of a greater being. Hodgman's Sargasso Sea Stories were no exception. The real area, as the only sea on Earth with no coastline, is renowned for its thick seaweed, which Hodgson used in his fiction as a means to trap his boats. Caught stranded in these weeds, the ships and its members are victim to a whole host of attacks from supernatural and sea creatures – it is these tales that captured the imaginations of his readers and secured him as a successful writer early on in his career.
Much mystery horror fiction concerns itself with an interaction of two worlds: humans caught in inhuman settings that surpass usual laws and expectations. Hodgson's first recurring character, the Ghost-Finder Carnacki, has become known for his trademark techniques and 'modern' devices, such as photography and the fictional protective 'electric pentacle'. The first tale to feature Carnacki was 'The Gateway of the Monster', published in The Idler in 1910, and the tale does indeed explore that boundary, or gateway, between the known and unknown. Similar to Lovecraft, the sense of authenticity and ancient mystery in Hodgson's work is fed by references to previous legendary texts on the same subject. The measured actions of the occult detective serve, as such, to contrast the abrupt and nonsensical happenings that he investigates. An enduring character, Carnacki has even appeared in a number of tales by other authors, including Alan Moore's graphic novel 'The League of Extraordinary Gentleman'.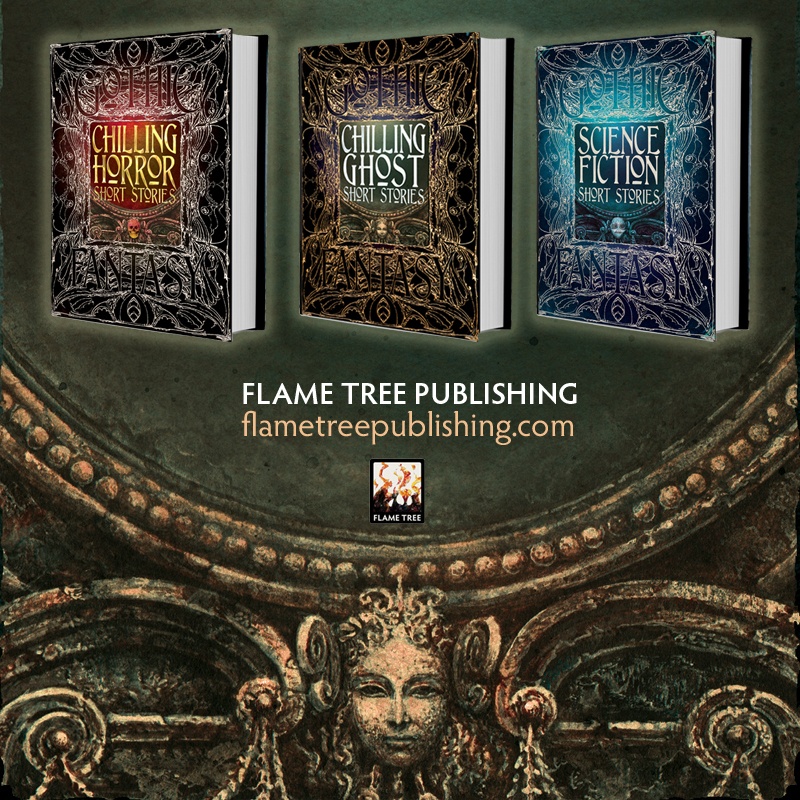 A master of the suspense of implied horror, Hodgson has been hailed as an influence for other such greats as H.P. Lovecraft and Clark Ashton Smith. Hodgson and 'The Gateway of the Monster' will be featuring in our upcoming anthology Chilling Horror Short Stories [ISBN: 9781783613748], which features a number of great stories by classic and new authors. He features alongside the likes of Arthur Conan Doyle, E.M. Forster, Mark Twain, Jules Verne and more... To view our other short story collections, click here.
LINKS