For today's August author Q&A, we have Faye Snowden. She talks about what some of the influences are of the book and what's to come! Be sure to check in tomorrow for more writing inspiration!

What is the book about?
The book is crime fiction about a female homicide detective trying to catch the serial killer who is wreaking havoc on the town and her life. At the book's heart, however, is the dilemma Detective Raven Burns has struggled with ever since her father was executed for murder. Was she complicit in her father's crimes, and if so, can she make up for her guilt by putting men like him away?
What are the underlying themes?
Redemption, revenge, and the sins of the father.
Did you base your characters on anyone you knew?
No. Floyd, the book's first villain, came to me almost whole, though. When I was writing this character, it was almost like taking dictation.
Who influenced you most in the writing of the book?
I had a great writing partner while working on this book. Of course, my writing has been influenced by authors I admire including Walter Mosley, Stephen King, Tana French, Chester Himes, Toni Morrison, William Faulkner, Flannery O'Conner, and Eudora Welty to name a few.
Is there any advice you can give someone starting to write?
Write something you'd like to read. And practice. Practice, practice, practice.
Where did you write?
With a full time job and a busy home life, any place I could have a few minutes to myself including coffee houses, conference rooms during the lunch hour and early mornings in my studio at home when the rest of the house was asleep.
Did you write in silence, or to any particular music?
It depends on the book. When writing this one, I listened a lot to Zyedeco.
Did you find it hard to write?
Or harder to edit your own work? I used to tie myself up in knots when writing. Now, I find it fun. I approach the difficulty as a challenge, a puzzle that needs solving. I also love editing. To me, it's like finding the sculpture hiding in the stone.
What was it like to be edited by someone else?
I love the diverse ideas and perspectives people bring to my work. I've always said that in the end, a book is a collaborative effort. Maybe I've been lucky, but I've always found the editing process supportive and beneficial. The work has always been better for it.
What are you writing now?
I'm taking my own advice and writing a book I'd like to read. I've got a Raven sequel in the works, and after that I plan to finish tackling my WW1 historical.It's about an African American WW I vet who expects to come home from the front to a different America. I'm also experimenting with short stories, especially fantasy and sci-fi.
Thank you!
---
Thank you to Faye for taking the time to talk to us about character influences and telling us about A Killing Fire. You can pick up this new FLAME TREE PRESS edition of her book, along with the other August releases now. It will be available in paperback, hardback and ebook. Check out our website for details.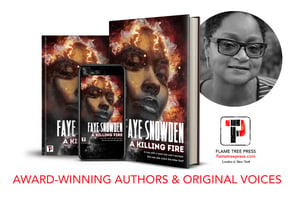 Faye was born in San Fernando, California and uprooted before she was ten to a place where people supposedly had swamps in their backyards and alligators for pets. She didn't have any alligator for pets in Shreveport, Louisiana and it wasn't exactly a log cabin, but an amazing, resourceful single mother raised Faye and her five siblings in one of Shreveport's now disappearing shotgun houses. At eighteen, she left Louisiana for the United States Navy.
The Navy gave her an opportunity to spend some time living in Naples, Italy and on both US coasts: Washington, DC and northern California where she eventually settled. After the Navy, she went to work as an information technology professional in various industries while on her way to a masters in english literature. She also managed three novels, two boys, a husband, five dogs and three writing fellowships during those years. Today, she works, writes, and lives in Modesto, California.
---
Make sure you check back in with the blog for more Q&As with the authors of our August releases!