We have so many great new titles coming out over the next couple of months, so we wanted to take a moment to talk about them! We've got brand new horror from award winning authors, an amazing new crime thriller from a first time author and some brilliant new to Flame Tree titles as well! Check out today's blog for more details about everything we have in store for you over the next couple of months!

June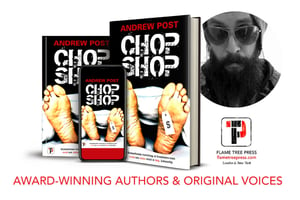 Amber Hawthorne and Jolene Morris, roommates and business partners at the Hawthorne Funeral Home, are drowning in debt. Because both young women have trouble keeping their partying habits in line, they start selling body parts on the black market to keep their business alive – and their new buyers seem friendly and trustworthy enough at first. That is until the dead gangster they've recently parted up turns out to have been full of disease. Now Amber and Jolene's buyers want something else to make up for lost profits, leaving the two undertakers to learn sometimes running your own business can cost you an arm and a leg. Literally.
---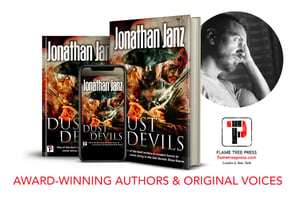 When traveling actors recruited his wife for a plum role, Cody Wilson had no idea they would murder her. Twelve-year-old Willet Black was just as devastated the night the fiends slaughtered everyone he loved. Now Cody and Willet are bent on revenge, but neither of them suspects what they're really up against.
For the actors are vampires. Their thirst for human blood is insatiable. Even if word of their atrocities were to spread, it would take an army to oppose them. But it is 1885 in the wilds of New Mexico, and there is no help for Cody and Willet. The two must battle the vampires—alone—or die trying.
"Entertaining is an understatement." - Horror Novel Reviews
---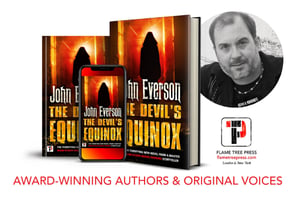 Austin secretly wishes his wife would drop dead. He even says so one boozy midnight at the bar to a sultry stranger with a mysterious tattoo. When his wife later introduces that stranger as Regina, their new neighbor, Austin hopes she will be a good influence on his wife. Instead, one night he comes home to find his wife dead. Soon he's entranced with Regina, who introduces him to a strange world of bloodletting, rituals and magic. A world that puts everything he loves in peril. Can Austin save his daughter, and himself, before the planets align for the Devil's Equinox?
"John Everson's newest novel is so powerful, so terrifying, so implacable in the evil it describes, that I could not stop reading." - The Haunted Reading Room
---
July
They Kill - Tim Waggoner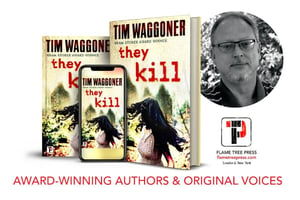 Sierra Sowell's dead brother Jeffrey is resurrected by a mysterious man known only as Corliss. Corliss also transforms four people in Sierra's life into inhuman monsters determined to kill her. Sierra and Jeffrey's boyfriend Marc work to discover the reason for her brother's return to life while struggling to survive attacks by this monstrous quartet.
Corliss gives Sierra a chance to make Jeffrey's resurrection permanent – if she makes a dreadful bargain. Can she do what it will take to save her brother, no matter how much blood is shed along the way?
---
Castle of Sorrows - Jonathan Janz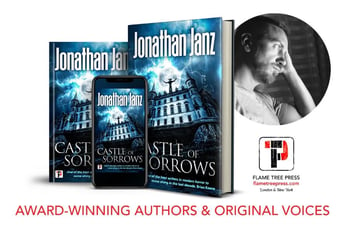 A year ago composer Ben Shadeland traveled to the Sorrows, a reportedly haunted island off the California coast, to find inspiration for a horror movie music score. Instead, he found madness, murder, and an ancient evil. His family barely survived the nightmare, and Ben swore he'd never return to the island or its accursed castle.
Now Ben's infant daughter has been kidnapped and Ben is convinced that the malevolent creature that lives in the catacombs beneath Castle Blackwood is responsible. Ben joins three federal agents, a sultry medium, and others in an attempt to save his daughter. But what awaits them is far worse than they ever imagined. The creature - an ancient god named Gabriel - has grown more powerful than ever. It has summoned unspeakable monsters to the island - both human and supernatural. And Gabriel won't rest until he has his revenge.
---
American Dreams - Kenneth Bromberg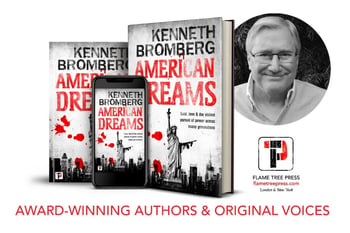 In 1904 Czarist Russia, four-year-old Max witnesses the rape and murder of his mother by Russian soldiers. After the boy's father extracts terrible revenge, father and son escape to New York, a teeming melting pot of immigrants. Max meets a young Polish girl, Sophie, who grows into a stunningly beautiful young woman. The two fall in love but their plans are shattered when Sophie is forced to marry a local crime boss and, once again, Max must watch as the most important person in his life is taken from him.
Thus begins Max's ruthless climb to dominance of the New York underworld and Sophie's transformation from a submissive girl to a strong woman who will allow no man determine her fate.
---
Make sure you check back in with the blog all week for more Q&As with the authors of our May releases!