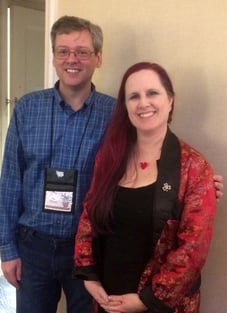 Don D'Auria, Flame Tree Press's executive editor, is a legend in the horror fiction community. He has been editing horror for the past 25 years, coming to prominence when taking the lead of Leisure Books horror line in the late 90s. Launching authors like Brian Keene and Sarah Pinborough, now household names in the genre, D'Auria also brought authors like Ramsey Campbell to a new generation of readers. Now, with Flame Tree Press, Don D'Auria is once again seeking out fresh and original talent while also bringing award winning writers to new audiences. Don recently spoke to Becky Spratford to discuss where horror was, where it is and where it's going? Check out the interview to learn a little more about Don, Flame Tree Press and horror fiction as a genre!
Don with Megan Hart (Author) at StokerCon 2018
Flame Tree Press is an offshoot of a larger independent British press. Why start a speculative fiction line now?
Three years ago, when Flame Tree Publishing first published a series of Gothic Fantasy hardcover anthologies focused on Ghosts, Horror and Science Fiction, the response was terrific. Readers really seemed to respond to the combination original fiction sourced through online submissions, mixed with classic tales. Subsequent anthologies in other genres did just as well, which is to say very well indeed. Clearly there's a wide readership eager for fiction in the genres of horror, SF, fantasy and crime. There seems to be a lack of quality fiction being published in these genres by the major houses, at least compared to the demand, and Flame Tree is well positioned to fill that gap. It's especially gratifying to publisher Nick Wells and myself, as we're both life-long fans of horror, SF, fantasy and crime thrillers. Speaking for myself, I've been editing horror and crime thrillers for nearly twenty-five years, so the opportunity to work in the genres I love, for a house that's dedicated to quality, is a real gift. I should mention too that the fans, often unpublished writers as well as readers themselves, are truly dedicated to their interests and we're just part of the groundswell.
Where do you think horror is at the moment and where do you see it moving? Why now for this new imprint?
Like all genres of fiction, horror is constantly shifting and changing in response to the times and the attitudes of readers. Its popularity rises and falls, and right now I'd say it's certainly risen. You only have to look at movies like A Quiet Place or Hereditary, or TV shows like Stranger Things to see how horror is capturing the public imagination more than it has for years. But rather than embracing horror over the past couple years, too many of the larger houses have moved away from it, leaving too many readers unsatisfied. At Flame Tree we'll do whatever we can to rectify that.
You are often cited as one of the main forces behind the horror paperback boom on the early 00s when you were the editor at Leisure Books. Can you talk about that time and the excitement and if there are parallels with the present day?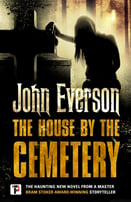 Well, at first the big excitement for me was just being able to edit horror. There wasn't much horror being published when I started the Leisure horror line in 1997, so I didn't think I'd ever get the chance. But once Leisure gave me the go-ahead, the response from horror fans was terrific. It was so clear there was a large horror readership that simply hadn't been getting enough from other houses. Very similar to today, I'd say. I'm very proud of the fact that, through Leisure, I was able to introduce readers to wonderful authors like Brian Keene, John Everson, Tim Waggoner and Sarah Pinborough, and make classic (and new) novels by masters such as Jack Ketchum, Richard Laymon, Ramsey Campbell and Edward Lee available again to a whole new generation of fans. By the time the Leisure line ended fifteen years later, I was very proud of the reputation the line had gained among authors and fans alike. Largely because of that, I've been able to attract a number of very popular authors to Flame Tree. Established writers, such as Ramsey Cambell, John Everson, Jonathan Janz, Tim Waggoner and Hunter Shea, all of whom I've worked with over the years, were eager to work with me again on the new line. So right from the start Flame Tree Press brings a great deal of name recognition to the table.
What are your goals for the first year of the new press?
Our goal is to publish a wide variety of excellent horror, SF, fantasy and crime fiction, and to be recognized as a dependable source of quality books. . I'd like readers and booksellers to associate Flame Tree Press with excellent fiction in our genres, and feel they can trust us to publish books that fans will love.
Which authors do you have lined up for releases in the first few months and then, following that, what is plan for releases over the next few years?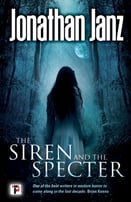 We've purposely cast a wide net in terms of content, style and authors. In the launch season there will be classic-style haunted house horror from Jonathan Janz (The Siren and the Specter), dark fantasy/horror with erotic undertones by Tim Waggoner (The Mouth of the Dark), SF adventure by J. D. Moyer (The Sky Woman), an urban crime thriller by David Tallerman (The Bad Neighbor), a totally new creature and mythology from horror author D. W. Gillespie (The Toy Thief), not to mention new fiction by John Everson, Hunter Shea, and of course, Ramsey Campbell, among others. In short, a healthy mix and variety, all terrific. In terms of number of titles, between September and December 2018, we'll publish thirteen titles, in all of our genres combined. In 2019 we plan on publishing twenty-four original books, plus approximately ten back list titles. By 2020 our goal is to publish forty original titles per year.
For the librarians, how can they order the books? Are you on Ingram and Baker and Taylor? Also, librarians care about the artwork on books. Can you talk about the artwork how well the paperbacks will hold up to checkout?
The books will be available everywhere! All the wholesalers, Ingram and B&T, of course, but regionals as well. Anyone with a direct account with Baker & Taylor Publisher Services can order through them too. As to the artwork, Flame Tree has a reputation of quality and market awareness for its non-fiction lines in art and music, with a fine line of deluxe-bound journals. Their focus on this is reflected in the approach to the covers created by a team led by art director Mike Spender, with photographers, picture researchers, designers and the publisher, Nick, all contributing. They take particular care on the look and feel of both hardcover and trade paperbacks, with 12pt covers soft-laminated, spot UV on the titles and author, and book block paper inside that feels creamy and smooth. And they're manufactured in Ohio, at Bookmasters, so they're readily accessible.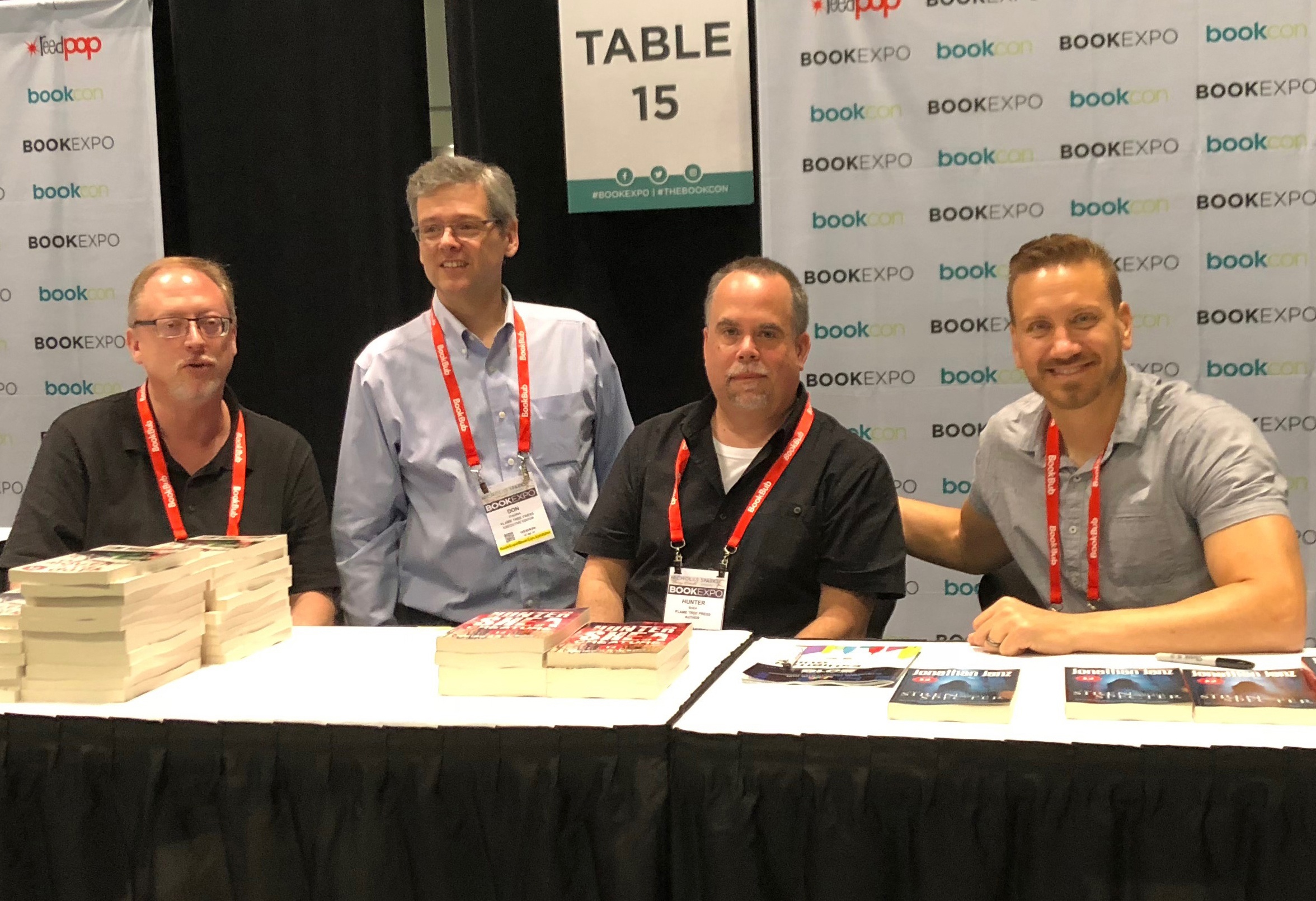 Don with authors (from left) Tim Waggoner, Hunter Shea, Jonathan Janz and John Everson (not pictured)
Is there anything else you want to share about the press?
Well, the full shape of the list will take a couple of years to become apparent, the true realization of the 'Fiction Without Frontiers' strapline. We'll have crime and science fiction from China, epic fantasy from Finland and we're exploring ways of encouraging more diversity in our submissions, so there's so much to look forward to.
Thank You to Booklist and Becky Spratford for their interview with Don D'Auria!
The first 6 titles from FLAME TREE PRESS will come out in Hardback, Paperback, Audiobook and eBook on September 6th!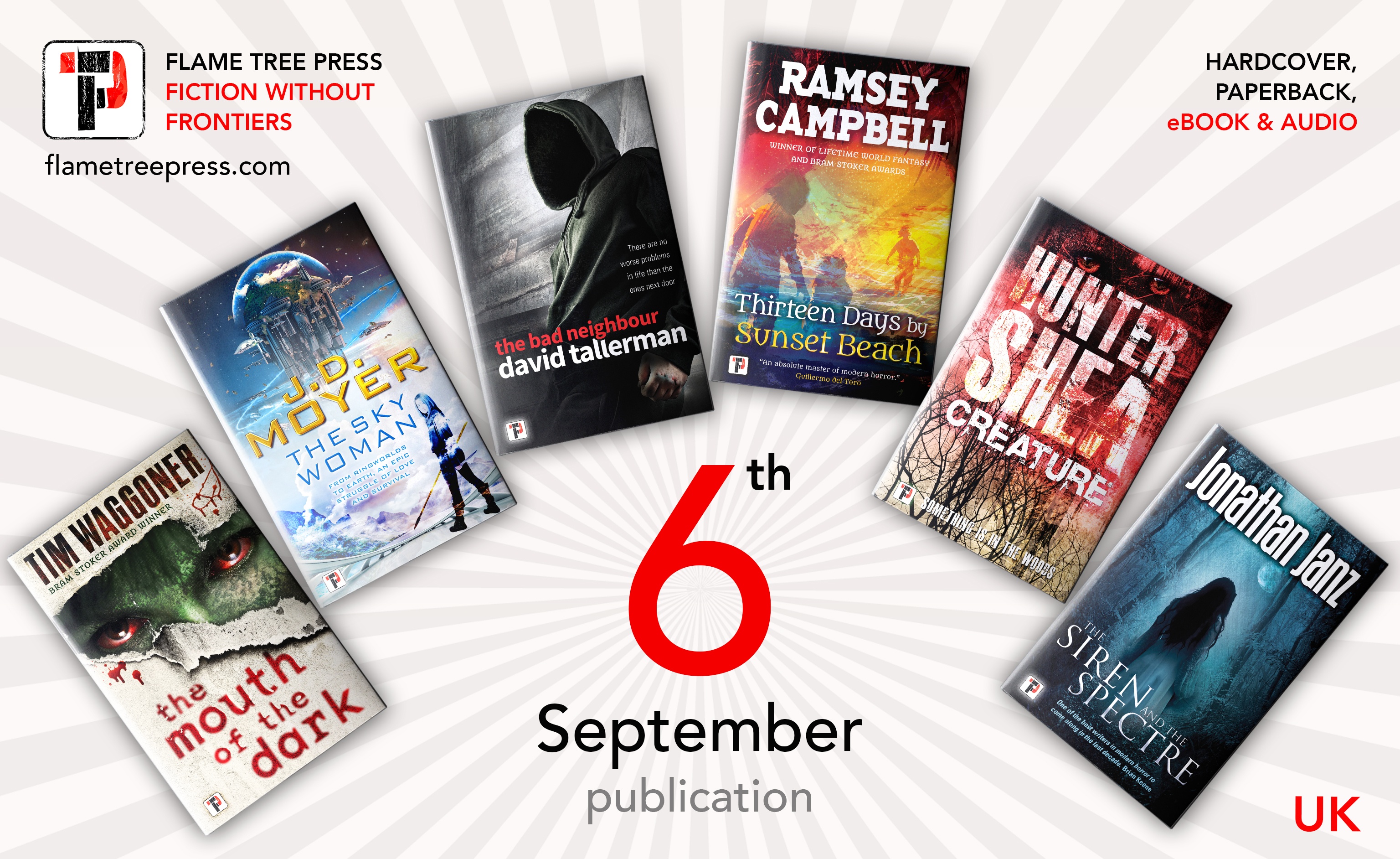 Links
Check out all the blogs from launch week