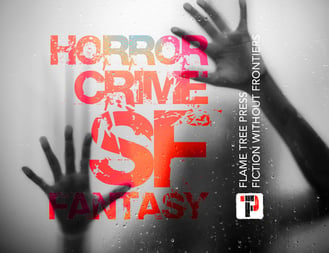 The launch list for 2018 brings together brilliant new authors and the more established; the award winners, and exciting, original voices. We're so happy with the launch of our September titles and we are so glad that so many people are loving the books, but there's more to come this year. There are still seven more titles being released by FLAME TREE PRESS in 2018 so we thought we would give you a short rundown of the titles still to come this year and when they will be arriving...
October
The House by the Cemetery -

John Everson
Rumor has it that the abandoned house by the cemetery is haunted by the ghost of a witch. But rumors won't stop carpenter Mike Kostner from rehabbing the place as a haunted house attraction. Soon he'll learn that fresh wood and nails can't keep decades of rumors down. There are noises in the walls, and fresh blood on the floor: secrets that would be better not to discover. And behind the rumors is a real ghost who will do whatever it takes to ensure the house reopens. She needs people to fill her house on Halloween. There's a dark, horrible ritual to fulfill. Because while the witch may have been dead... she doesn't intend to stay that way.
You can find John Everson at johneverson.com
Ten Thousand Thunders -

Brian Trent
Having just been killed in a mysterious shuttle explosion, Gethin Bryce is back to uncover what happened. An unusually gifted investigator with the InterPlanetary Council, Gethin is tasked with seeking out the truth behind unexplained anomalies that lie outside IPC control. His investigation takes him from the luxurious enclaves of Earth's elite, to the battered Wastelands beyond civilization's protective thrall. Linking up with an inquiry team from a planet-spanning corporate powerhouse, he also befriends a grim and reluctant outlander who has an important piece of the puzzle—evidence of a sadistic entity which threatens not just civilization, but all life…
You can find Brian Trent at briantrent.com
The Toy Thief - D.W. Gillespie
Jack didn't know what to call the nameless, skeletal creature that slunk into her house in the dead of night, stealing the very things she loved the most. So she named him The Toy Thief… There's something in Jack's past that she doesn't want to face, an evil presence that forever changed the trajectory of her family. It all began when The Toy Thief appeared, a being drawn by goodness and innocence, eager to feed on everything Jack holds dear. What began as a mystery spirals out of control when her brother, Andy, is taken away in the night, and Jack must venture into the dark place where the toys go to get him back. But even if she finds him, will he ever be the same?
You can find D.W. Gillespie at dwgillespie.com
November
Night Shift - Robin Triggs
Antarctica. A mining base at the edge of the world. Anders Nordvelt, last-minute replacement as head of security, has no time to integrate himself into the crew before an act of sabotage threatens the project. He must untangle a complex web of relationships from his position as prime suspect. Then a body is found in the ice. Systems fail as the long night falls. Now Anders must do more than find a murderer: he must find a way to survive. Will anyone endure the night shift, or will ice and frozen corpses be all that remains?
You can find Robin Triggs at robintriggs.wordpress.com
Think Yourself Lucky - Ramsey Campbell
David Botham just wants a quiet ordinary life—his job at the travel agency, his relationship with his girlfriend Stephanie. The online blog that uses a title he once thought up has nothing to do with him. He has no idea who is writing it or where they get their information about a series of violent deaths in Liverpool. If they're murders, how can the killer go unseen even by security cameras? Perhaps David won't know until they come too close to him—until he can't ignore the figure from his past that is catching up with him…
You can find Ramsey Campbell at ramseycampbell.com
December
Kosmos -

Adrian Laing
Rookie barrister George Winsome, young and arrogant, defends an old boy who thinks he's Merlin on a manslaughter charge. The riotous trial turns Merlin into a celebrity; money, greed and ambition take hold of George and his partner Heather until the secret of Merlin's past is revealed as the spirit of Saint Yves intervenes to ensure George and Heather follow their true paths. 'Kosmos' is a modern-day jury trial, a feel-good love story and a spiritual journey involving Saint Yves, Nemesis and Merlin.
The Sorrows - Jonathan Janz
The Sorrows, an island off the coast of northern California, and its castle have been uninhabited since a series of gruesome murders in 1925. But its owner needs money, so he allows film composers Ben and Eddie and a couple of their female friends to stay a month in Castle Blackwood. Eddie is certain a haunted castle is just the setting Ben needs to find inspiration for a horror film. But what they find is more horrific than any movie. Something is waiting for them in the castle. A malevolent being has been trapped for nearly a century. And he's ready to feed.
You can find Jonathan Janz at jonathanjanz.com
The September releases from FLAME TREE PRESS are now out in Hardback, Paperback, Audiobook and eBook!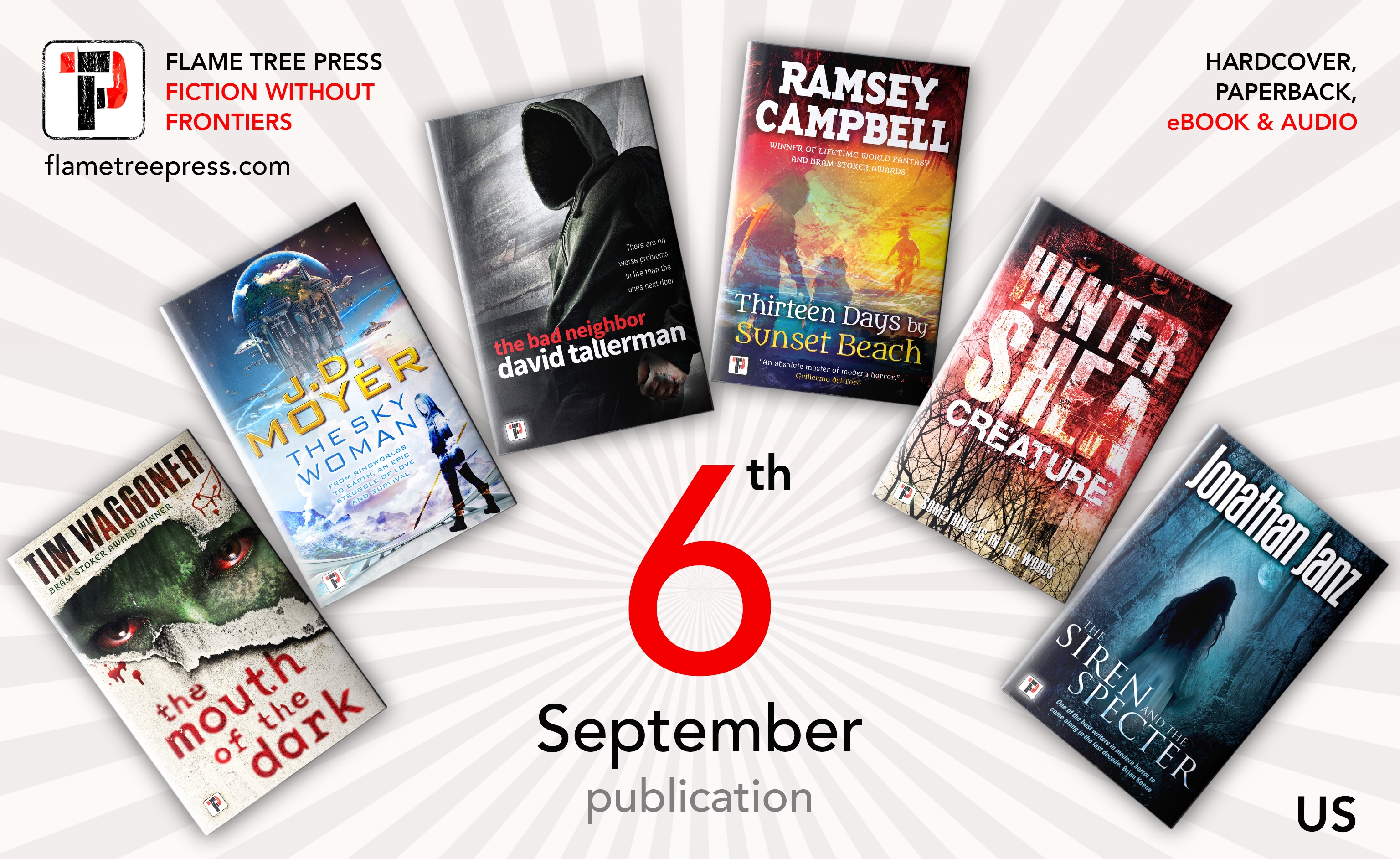 Links
Checkout the full list of available and upcoming titles from Flame Tree Press here.
Hardbacks, Paperbacks Audiobooks and eBooks are all also available on amazon here.
Check out all the blogs from launch week