Today we are looking ahead to our upcoming releases. Over the next two months we'll have amazing new scifi novels, some excellent new horror and a few brilliant new to Flame Tree titles too! We've got some absolutely great titles coming up and we can't wait to share them with you!

April Titles
Second Lives - P.D. Caceck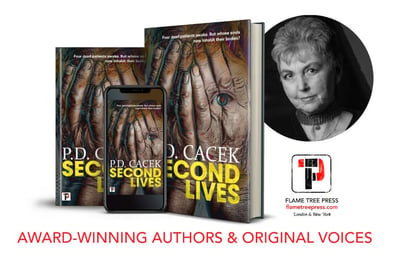 When four patients unexpectedly wake after being declared dead, their families are ecstatic and the word "miracle" begins to be whispered throughout the hospital. But the jubilation is short lived when the patients don't respond to their names and insist they are different people. It is suggested all four are suffering from fugue states until one of the doctors recognizes a name and verifies that he not only knew the girl but was there when she died in 1992. It soon becomes obvious that the bodies of the four patients are now inhabited by the souls of people long dead.
"Second Lives is a wonderfully stunning novel, and a definite candidate to reread." - The Haunted Reading Room

Check out Second Lives on our website.
---
The Dark Game - Jonathan Janz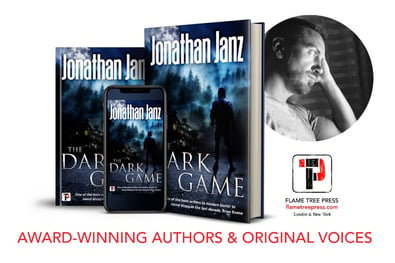 Ten writers are selected for a summer-long writing retreat with the most celebrated and reclusive author in the world. Their host is the legendary Roderick Wells. Handsome, enigmatic, and fiendishly talented, Wells promises to teach his pupils about writing, about magic, about the untapped potential that each of them possesses. Most of all, he plans to teach them about the darkness in their hearts.
The writers think they are signing up for a chance at riches and literary prestige. But they are really entering the twisted imagination of a deranged genius, a lethal contest pitting them against one another in a struggle for their sanity and their lives. They have entered into Roderick Wells's most brilliant and horrible creation.
"One of the best writers in modern horror to come along in the last decade. Janz is one of my new favorites." -

Brian Keene
---
The Hungry Moon - Ramsey Campbell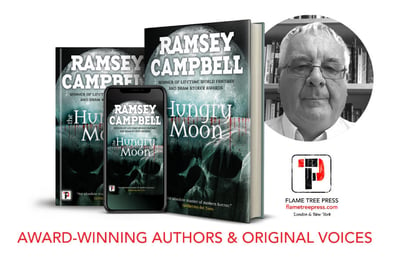 Isolated on the moors of northern England, the town of Moonwell has remained faithful to their Druid traditions and kept their old rituals alive. Right-wing evangelist Godwin Mann isn't about to let that continue, and his intolerant brand of fundamentalism has struck a chord with the residents. But Mann goes too far when he descends into the pit where the ancient being who's been worshipped by the Druids for centuries is said to dwell. What emerges is a demon in Mann's shape, and only the town's outcasts can see that something is horribly wrong. As the evil spreads, Moonwell becomes cut off from the rest of the world…
"In every respect, Campbell's best." -

Kirkus Reviews
Check out The Hungry Moon on our website.
---
May
The Gemini Experiment - Brian Pinkerton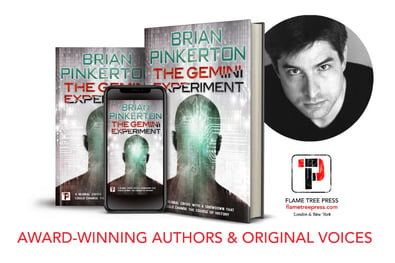 In a secret lab, a team of doctors and scientists funded by a mysterious billionaire create the first human replica entirely from technology. The robot is prepared to host the digitized consciousness of Tom Nolan, a family man suffering from a terminal illness. But when Tom's replica escapes before the transfer can take place, he is faced with the horrors of an alter ego bent on death and destruction. When the experiment draws the attraction of spies, Tom is caught up in an international crisis with a showdown that could change the course of the world.
"as soon as I started, I was instantly hooked. I couldn't put it down!" - Yolanda Sfetsos
Check out The Gemini Experiment on our website!
---
Ghost Mine - Hunter Shea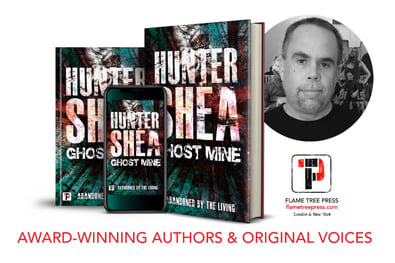 Deep in a Wyoming mine, hell awaits. Nat Blackburn is given an offer he can't refuse by President Teddy Roosevelt. Tales of gold in the abandoned mining town of Hecla abound. The only problem - those who go seeking their fortune never return. Along with his constant companion, Teta, a hired gun with a thirst for adventure, Nat travels to a barren land where even animals dare not tread. Black-eyed children, strange lights and ferocious wild men venture from the deep, dark ghost mine...as well as a sinister force hungry for fresh souls.
Check out Ghost Mine on our website!
---
Stoker's Wilde - Steven Hopstaken & Melissa Prusi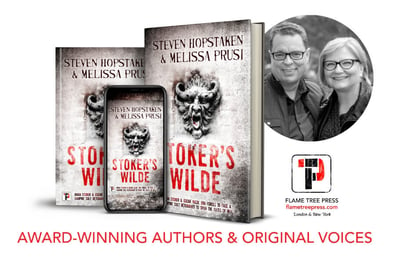 Years before either becomes a literary legend, Bram Stoker and Oscar Wilde must overcome their disdain for one another to battle the Black Bishop, a mysterious madman wielding supernatural forces to bend the British Empire to his will. With the help of a European vampire expert, a spirited actress and an American businessman, our heroes fight werewolves, vampires and the chains of Victorian morality. The fight will take them through dark forests in Ireland, the upper-class London theater world and Stonehenge, where Bram and Oscar must stop a vampire cult from opening the gates of Hell.
"Stoker's Wilde is immensely entertaining and engrossing...this novel was an utter delight." - The Haunted Reading Room
Check out Stoker's Wilde on our website!
---
House of Skin - Jonathan Janz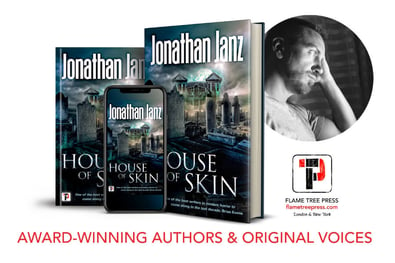 Myles Carver is dead. But his estate, Watermere, lives on, waiting for a new Carver to move in. Myles's wife, Annabel, is dead too, but she is also waiting, lying in her grave in the woods. For nearly half a century she was responsible for a nightmarish reign of terror, and she's not prepared to stop now. She is hungry to live again…and her unsuspecting nephew, Paul, will be the key.
Julia Merrow has a secret almost as dark as Watermere's. But when she and Paul fall in love they think their problems might be over. How can they know what Fate—and Annabel—have in store for them? Who could imagine that what was once a moldering corpse in a forest grave is growing stronger every day, eager to take her rightful place amongst the horrors of Watermere?
"One of the best writers in modern horror to come along in the last decade. Janz is one of my new favorites." -
Brian Keene
---
Check out all of the March Release blog posts!