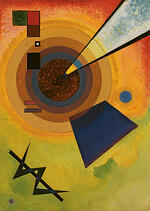 The star of today's (16/12/14) 'Google Doodle', Wassily Kandinsky was an abstract painter born in 1866. Considered by many to be the 'Father of the Abstract', Kandinsky's art focussed on the portrayal of colours and shape – he compared the compositions of his paintings to the creations of the cosmos, beauty borne from catastrophe. In today's blog we look at the master's early years and how it was that he selected abstract as his form of choice.
Early Life
From as early as his third year Kandinsky recalls the colours that made the most significant impression on him, vibrant hues from light juice green, white, and crimson, to red, black and yellow ochre. He describes perceiving colours more clearly than objects themselves, a theme that seems to have pervaded his art since. There was a freshness to the child's point of view that Kandinsky remained loyal to throughout his career.
'A child, for whom every object is new, experiences the world in this way: it sees light, is attracted by it, wants to grasp it, burns its finger in the process, and thus learns fear and respect for the flame.'
We may deduce from this that art, like piety, are not necessarily beautiful, but this does not matter if that reflects the subject's true nature. The comparison to religion is appropriate too, for he was described as an artist who worked with near-religious sanctity. He said that any art not created by an internal necessity was a 'sin'.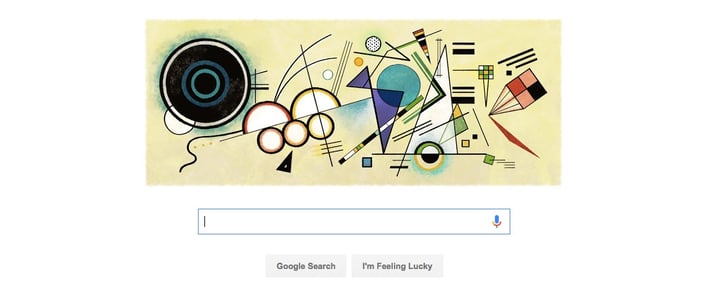 Google's tribute to Kandinsky
However it is interesting to observe that, despite his seemingly reverent perspective on art from a young age, his upbringing was otherwise completely ordinary. He behaved obediently, practising the cello and piano daily and studying law to please his parents. After graduation, Kandinsky did not continue straight into employment. Instead he continued his study and research, the most essential precursor to his artistic career seeming to be a trip to Vologda, Moscow. It is there that we see shades of the artist that Kandinsky came to be, describing the experience of entering rural houses and churches (that were painted inside and out) as if 'walking into a painting'.
Kandinsky finally broke away from his upbringing to pursue a career in art by the age of 30. However, after being rejected from one of Europe's most prestigious art schools, the Akademie der Bildenden Künste Münche, he found himself adrift in Moscow. Whilst wandering about the city he walked into a Claude Monet exhibition. At first Kandinsky found himself allied with fellow Russians in their dislike for the new trend 'Impressionism'. Despite himself, however, Kandinsky found himself fascinated by Monet's paintings, and we may attribute this moment as the first in which he started to doubt the importance of an 'object' within a painting.
The Dissolution of the Object
Kandinsky started to become interested in boundary-breaking forms of art, in alliance to the composers Wagner and Scriabin. The latter, who claimed to see 'tonal colour', was interesting for Kandinsky, who described the feeling of his brushstrokes upon the canvas as conjuring up 'musical sound'.
As time went on Kandinsky came to believe that when people recognised aspects of an artwork, it distracted their attention from the art's deeper truth.
'I more or less dissolved the objects in my Improvisations so that not all of them could be recognized at once, so that the spiritual overtones could be gradually experienced by the viewer one after the other.'
This is to be understood then, not as Kandinsky's rejection of representation entirely, but rather his preference to represent a message. His ideals began to permeate his real-life. He divorced his first wife, Anna, and then enrolled in the Munich Academy before marrying again in 1911 to fellow artist Gabriele Münter. However, the work he produced during his period living with Münter still seemed restrained, unable to live up to the claims he was making about art. But the breakthrough was soon to come. Later in the year 1911, after his marriage, Kandinsky went for a walk unknowing that upon his return his perception of art would be completely new.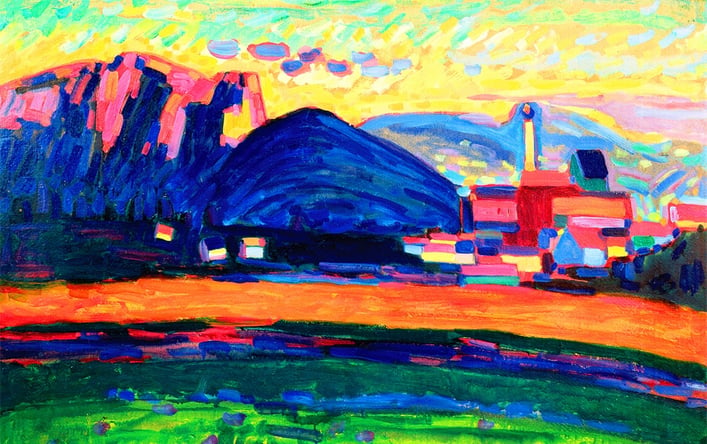 Arriving at the Abstract
Kandinsky had gone out for a walk, leaving a painting in progress on the easel. Whilst he was out of the house Münter did some cleaning, but when she replaced the easel after having moved it, she had inadvertently placed it on its side without realising. Kandinsky recalls arriving home and looking at the painting, before falling down in tears. He claimed it was the most beautiful work of art he had ever seen. From a simple change in perspective Kandinsky could finally see more clearly what he considered to be 'artistic truth'.
'In the course of time', Kandinsky was eventually to claim, 'it will be proved clearly and infallibly that abstract art, far from being divorced from nature, is rather more closely and intimately linked with it than art ever was in the past.'
Of course, after that essential moment Kandinsky went on to become a prolific painter. His work is still dearly loved today and it is more than fair to say that without him we may not hold such a dear regard for abstract art. If you're a fan of Wassily Kandinksy you'll love our upcoming title Wassily Kandinsky: Masterpieces of Art. You can pre-order it on Amazon here.
Stay tuned for our follow up blog about the later stages of Kandinksy's career, which included not only art, but also teaching and theoretical writing.
'Painting is a thundering conflict of different worlds, which in and out of the battle with one another are intended to create the new world, which is called the world of art.'
LINKS