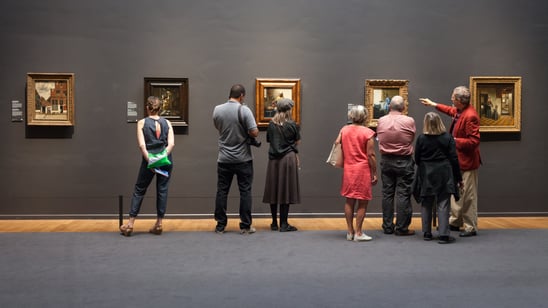 There's been a handful of interesting developments across the art world recently. Here's a condensed summary of what's gone on, with links to the full length articles.
Header image via Evening Standard

---
Last week saw the end of the Public and Commercial Service's ten day strike. Hundreds of people rallied in Trafalgar Square in opposition to plans to privatise the National Gallery.
The union claims that artists including Grayson Perry, Mark Wallinger, Ryan Gander and Peter Kennard signed a separate letter calling for a halt to privatisation plans.
"The National Gallery is a much-loved institution and it must be stopped from damaging its own reputation." - Mark Serwotka (PCS General Secretary)
You can read the full article over on the BBC.
In other National Gallery news, the Irish National Gallery has recently found itself under fire for putting up several paintings for auction by Alfred Beit.
A petition on the Irish Arts Review website to keep the paintings in Ireland has attracted more than 2,500 signatures.
Read more over on Irish Times.
Closer to home The Independent have published a review of the Royal Academy's Summer Exhibition.
Karen Wright says that the RA's display is intially impressive, with an attempt at modernizing the art space evident at the first. Filling a rather quiet summer period in the art calendar since 1789 the insides are bright and 'jazzy', pumping some life into what Wright describes as a usually rather lack-luster show.
That said, ultimatley the final rooms become cramped with an over-abundance of works. Wright says this harks back to the clamor of past shows and concludes by noting that though this years exhibition marks an improvement over previous events, there is still room for improvement.
Look over the full article on Independent.
Shooting back up north, Hull will be hosting the Turner Prize when it is the UK's city of culture in 2017. Ferens art gallery will get a £4.5m refurbishment in preparation for its hosting duties.
"You can only see it if you come to Hull and that's what's great about these major events. They act as a honeypot," Martin Green (Hull 2017 Chief Executive)
More information over on the BBC.
Finally, a collection of Leonardo da Vinci drawings are to go on tour across northern England and Ireland. Ten drawings in total will be exhibited, starting at Newcastle's Laing gallery.
"This will be a rare opportunity for people in the North East of England to see the exquisite work of one of the greatest artists of all time." -Julie Milne (Chief Curator at Tyne & Wear Archives & Museums)

We're huge art lovers here at Flame Tree. If you want to learn more about the world's greatest artists alongside high-quality reproductions of their most iconic works, you'll love our Masterpieces of Art series. Take a look at our books here.