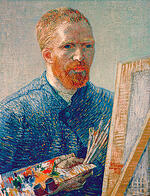 Summer is in full swing, which means there is plenty of time to fully enjoy the numerous museums and galleries around England. But this July art lovers should draw their attention to one artist in particular: Vincent van Gogh. For reasons bigger than the general appreciation of his incredible artwork, July 29th brings a bigger celebration: the 125th anniversary of Gogh's death and incredibly memorable career.
As the general timeline of Vincent van Gogh's career is known to many, today we are going to specifically explore a time in Gogh's life that is rarely addressed in detail: his time spent in the Saint Paul de Mausole Asylum. In this hospital Gogh constructed many of his most famous and vibrant works including 146 oil paintings and 150 drawings.
Admittance – Early 1889
After the infamous incident when Vincent van Gogh cut part of his ear off, following a heated argument with the artist Paul Gauguin, Gogh earned his first admittance into an asylum: a hospital in Arles. It was during this first hospital stay that he constructed his painting Self-Portrait with Bandaged Ear. Quickly, he recovered from his self-inflicted wound and tried to go back to his belligerent lifestyle. Unfortunately, fellow neighbours did not want his unreliable behaviour around and Gogh was quickly sent back to the hospital.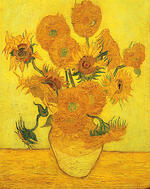 After Gogh's mental health stabilized somewhat, he began writing to his friend Arnold Hendrik Koning discussing the paintings he was continuing to create. While in the hospital he painted Sunflowers in a Vase, La Félix Rey and La Berceuse. He was released and shortly re-admitted again into the hospital for the third time. This instance was Gogh's own doing as he was suffering delusions that his neighbours were trying to poison him. After a complete reassessment over his mental health, doctors were extremely concerned to discover that Gogh had tried to drink a substance containing turpentine. The alarming and dangerous effects turpentine could cause made the doctors attentive of Gogh at all times. He had little privacy and was only allowed to paint occasionally, and always under strict supervision. This did not allow him very much creative freedom, and Gogh was unable to feel relaxed enough to produce any work. His depression grew as well as his concerns about his family members having to pay for his miserable stay in the hospital. He developed ambitions to join the Foreign Legion in order to save the money spent on his worsening psychological health, although his brother Theo did not approve of this declaration and set out to find a better alternative.
Solution Found – Middle 1889
Within days, Vincent van Gogh moved to the Saint Paul de Mausole Asylum. At this hospital Doctor Peron, his psychiatrist, developed an Art Therapy program in an attempt to help Gogh recover in the most comfortable way. Through this program, Gogh was free to paint as he pleased anywhere within the asylum's walled gardens. Gogh's mental health began to significantly recover, so the doctors supported his work enthusiastically and gave Gogh the comfort of three personal rooms: a room for sleeping in complete serenity, a room for painting and a room for storing his masterpieces.
It was from his bedroom window that Gogh could see the beautiful and inspirational wheat field; he would paint this scene fourteen times before the end of his stay at Saint Paul's. The calm atmosphere encouraged Gogh to free his mind of any troubles and illnesses. He started to express his creativity again, and with permission from Doctor Peron, Gogh was allowed to expand his free time outside and have frequent opportunities to walk around the hospital. With good behaviour and a clear sign of continuous improvement, Gogh was finally allowed to walk to town under supervision.
Found Mastery – Late 1889
This walk had a huge impact on Gogh, as he spent numerous days in his designated painting room painting all the natural surroundings he saw from his freedom walks. Flowers, trees and immaculate landscapes flourished under Gogh's artistic utensils. Out of this room he produced the most famous of his works: The Starry Night, Olive Trees with the Alpilles in the Background, Cypresses, Cornfield with Cypresses, Country Road in Provence by Night, Bedroom in Arles, Two Peasant Women Digging in a Snow-Covered Field at Sunset, Sorrowing Old Man and five versions of L'Arlesienne. All these incredible masterpieces of art have been adored and respected for decades.
In light of the hardships and breakdowns that formed Vincent van Gogh's troubled life, it is impressive that he was able to produce such incredible works. Although Gogh was plagued by mental health issues throughout his life, it is through the benefits of Doctor Peron's Art Therapy program that he was able to produce some of his most glorious paintings, which the world is now able to appreciate in all their complexity and rich psychological significance.

For a much more detailed look at Vincent van Gogh's life told alongside high-quality reproductions of his most iconic works, look no further than our title Vincent van Gogh: Masterworks. See more of the book by clicking here. For Amazon, click here.
Links:
This post was written by intern Kaiti Porter.