We have some great titles coming out in the next few months, so we wanted to talk about them here! We have yet another amazing new to Flame Tree horror from Brian Kirk called We Are Monsters and Snowball, a horror/suspense by Gregory Bastianelli. Check out today's blog for more details about everything we have coming up over the next couple of months!

October
Slash - Hunter Shea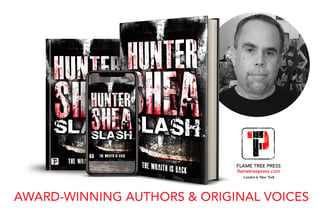 Five years after final girl Ashley King survived the infamous Resort Massacre, she's found hanging in her basement by her fiancé, Todd Matthews. The lone survivor of a team of urban explorers who ran into a faceless killing machine, she was never able to overcome the fear that the killer would find her and finish what he'd started. A puzzle addict, she leaves behind clues as to what really happened that night, clues that may reveal the identity of the killer the press has called The Wraith. With the help of his friends, Todd goes back to the crumbling Hayden Resort, a death-tinged ruin in the Catskills Mountains. The Hayden was once a premier destination in what was called the Borscht Belt. Now, it's rotting, abandoned, and the epicenter of a series of murders that goes back decades.

Todd and his friends are joined by Sharon Viola, broken and lost sister of Ash's best friend, Sheri, who was murdered the night of the Resort Massacre. Sneaking in at night on the cusp of winter, the Hayden is the definition of eerie and foreboding. They find the breadcrumbs of a deep, dark mystery that Ash had left behind, all but forgotten in her amnesia of the fateful night. An escaped Nazi had fled to America, masquerading as a cook in the resort's restaurant. The discovery of his true origins by the all Jewish staff was handled with brutal efficiency, lynch mob style. It was the first of what would be many more murders, escalating under the cover of secrecy after the resort burned down in the mid 1970s.

The Hayden may have been deserted, but it was never empty of fresh corpses. Someone, or something, has been murdering anyone who dares to wander amidst its crumbling buildings. It knows Todd and his friends have come, and there will be hell to pay for trespassing.
Check out Slash on our website!
---
Those Who Came Before – J.H.Moncrieff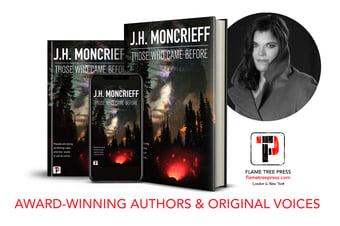 An idyllic weekend camping trip is cut short when Reese Wallace's friends are brutally murdered. As the group's only survivor, Reese is the prime suspect, and his story doesn't make much sense. A disembodied voice warning him to leave the campground the night before? A strange, blackened tree that gave him an electric shock when he cut it down for firewood?

Detective Greyeyes isn't having any of it—until she hears the voice herself and finds an arrowhead at the crime scene—an arrowhead she can't get rid of. Troubling visions of a doomed Native American tribe who once called the campground home, and rumors of cursed land and a mythical beast plague the strangest murder case she's ever been a part of.

People are dying at Strong Lake, and the worst is yet to come.
Check out Those Who Came Before on our website!
---
Hearthstone Cottage – Frazer Lee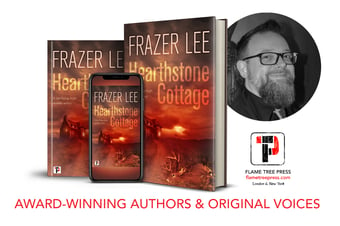 Mike Carter and his girlfriend Helen, along with their friends Alex and Kay, travel to a remote loch side cottage for a post-graduation holiday. But their celebrations are short-lived when they hit and kill a stag on the road. Alex's sister Meggie awaits them in the cottage, adding to the tension when her dog, Oscar, goes missing. Mike becomes haunted by a disturbing presence in the cottage, and is hunted by threatening figures in the highland fog. Reeling from a shock revelation, Mike begins to lose his grip on his sanity. As the dark secrets of the past conspire to destroy the bonds of friendship, Mike must uncover the terrifying truth dwelling within the walls of Hearthstone Cottage.
Check out Hearthstone Cottage on our website!
---
The Influence – Ramsey Campbell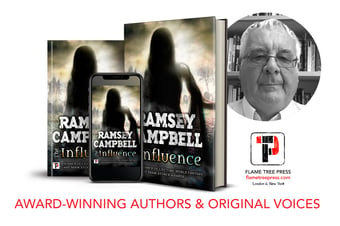 Queenie is the ageing matriarch of the Faraday family, and even death can't break her hold over her eleven-year-old granddaughter Rowan. She's buried with a locket that contains a lock of Rowan's hair, and soon afterwards Rowan is befriended by a mysterious uncannily intelligent girl of her own age. Only her aunt Hermione suspects how sinister this is, but will retrieving the locket save her niece? By the time anyone sees what effect the ghostly influence on Rowan is having, it may be too late for her. if the child who takes her place in the family isn't Rowan, Rowan may be somewhere else not quite like our world…
Check out The Influence on our website!
---
January
We Are Monsters - Brian Kirk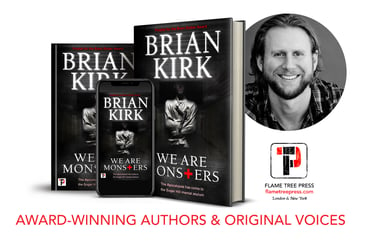 Nominated for a Bram Stoker Award® for Superior Achievement in a First Novel.

"A stark and frightening novel. Horror fans should definitely seek this one out." – Booklist

Some doctors are sicker than their patients.

When a troubled psychiatrist loses funding to perform clinical trials on an experimental cure for schizophrenia, he begins testing it on his asylum s criminally insane, triggering a series of side effects that opens the mind of his hospital s most dangerous patient, setting his inner demons free.
Check out We Are Monsters on our website!
---
Snowball – Gregory Bastianelli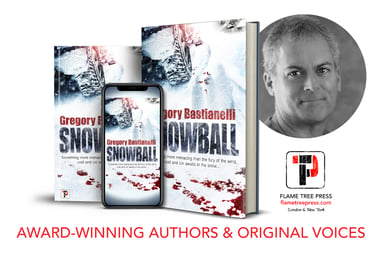 A group of motorists become stranded on a lonely stretch of highway during a Christmas Eve blizzard and fight for survival against an unnatural force in the storm. The gathered survivors realize a tenuous connection among them means it may not be a coincidence that they all ended up on this highway. An attempt to seek help leads a few of the travelers to a house in the woods where a twisted toymaker with a mystical snow globe is hell bent on playing deadly games with a group of people just trying to get home for the holidays.
Check out Snowball on our website!
---
Make sure you check back in with the blog for more Q&As with the authors of our September releases!