For today's August author Q&A, we have D.W. Gillespie. He will be talking about what some of the influences of his book, One by One, and talk of haunted houses! Be sure to check in tomorrow for more Q&As!

What is the book about?
One By One is about a family moving into a big, weird fixer-upper. They expect it to be a bit of an adventure, but things come off the rails pretty quick after they find a drawing that looks exactly like their family hidden underneath some old wallpaper. Pretty soon, people start disappearing, and each time they do, a black X appears on the drawing. It's up to the youngest child, a girl named Alice, to figure out what's going on.
What are the underlying themes?
It's all about how we deal with the past, specifically, how some people just can't deal with it. The main character, Alice, finds a diary of the girl who lived there before her, a slightly older teen named Mary. Through her words, Alice sees a much darker world than she's used to, and all that manifests itself in the house. Alice hasn't dealt with that kind of grief in her own life, but she gets to see, first hand, how other people do.
Who influenced you most in the writing of the book?
I lived in a lot of different houses growing up. I hated it at the time, but it's great for giving me creepy places to write about.
The house in the book is almost identical to a house I lived in when I was a teenager. It was (according to the previous tenants) haunted, even though I never noticed too much as far as ghosts go. What I did notice was how damn eerie the place was. This house was the definition of "they don't make them like this anymore."
My bedroom was the same Alice's room, and it really did have windows that went into another room instead of going outside. It was built onto multiple times, giving it an almost Winchester Mystery House feel to it. Hallways would double back on themselves, and the first time you walked through, you'd end up in places you weren't expecting.
I knew that one day I'd want that house to feature in one of my books. I wanted it to feel like a character in the story. I hope I did it justice.
Did you write in silence, or to any particular music?
I usually write in silence, but music is still an important part of the process. I usually like to have a "theme" song for each book. Something that I can just listen to over and over while I'm driving. I usually live with a new book almost every moment of the day, and even when I'm busy with other stuff, the story's not far away. Having a good song helps me daydream in new directions so to speak.
Did you find it hard to write? Or harder to edit your own work?
Drafts are almost always a ball to work on. Occasionally, I get stuck, but usually, it's smooth sailing until I have to actually clean up this mess I've made. I used to hate editing, but, for me at least, making peace with it was a big part of me maturing as a writer. A book's not really written until you've had to dig around in it half a dozen times.
What are you writing now?
I'm actually switching things up a bit in my career. I'm working on a middle-grade book. It's still right up my alley…monsters, magic, all that fun stuff. It's just a bit toned down for a different audience.
Was this book inspired by any actual events?
Well, the house that inspired this book was supposedly haunted. And, while I usually don't believe too much of that stuff, I did have one moment in particular that's always stuck with me.

I had an old lamp in my room just next to my bed, and it wasn't unheard of for it to turn off while I was reading at night. I always chalked it up to how old the lamp was. But one night, when I was just about asleep, it came ON. That scared the hell out of me. I think it took me a few hours to doze back off after that.
You've written several books that focus on children. Any specific reason for that?
I think it just happened naturally. I mean, my kids are young, so I get to see all the things that scare them. My son in particular loves to just talk on and on about scary stuff. There's something very childlike and innocent about horror stories about kids. I know some people like the gorier stuff (and I do to), but I keep finding myself back in a more fairy tale sort of story. Hopefully, my audience appreciates it.
Being from the South, does that feeling play into your books?
Sometimes it does. I think some of my books could be read as almost geographically neutral, but occasionally, I do drift into a more southern style of story. I think it all depends on how much I want that southern voice to shine through. Several of my books really lean into that.
Is there any sequel potential for One by One?
Not for this one, but I do have several ideas for series that I'd like to get around to. I really like the idea of having a continuing sort of mythology, but it needs to be the right time. I'd really only want to do it if it was distinct and different.
Thank you!
---
Thank you to D.W. for taking the time to talk to us about the One by One's influences and giving more life to the back story. You can pick up this new FLAME TREE PRESS edition of his book, along with the other September releases now. It will be available in paperback, hardback and ebook. Check out our website for details.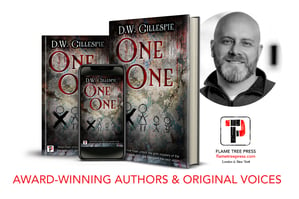 A fan of all things dark and horrific, D.W. Gillespie has been writing horror, sci-fi, and fantasy for longer than he would like to admit. After years of daydreaming, he started taking it seriously in college after a creative writing class helped spark his motivation. After winning a local writing award, he realized that his path forward was clear.
In the years since, he's been featured in many publications, both online and in print. He's the author of more than a dozen novels, including The Toy Thief, Still Dark, and Handmade Monsters.

A lifelong native of Middle Tennessee, he still lives there today with his wife and two children.

For One by One, Gillespie was influenced by his experience of moving houses often when growing up. One particular house was supposedly haunted (according to previous tenants) and became specially inspirational, and he knew he wanted it to feature in one of his books as a character in the story.

---
Make sure you check back in with the blog for more Q&As with the authors of our September releases!