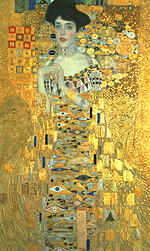 Klimt is one of our favourite artists here at Flame Tree. Now, with the upcoming release of the movie Woman in Gold it's possible that this incredible artist may garner ever wider exposure.
What we can tell from the trailer is that the film's story centres on an Austrian woman (Helen Mirren) attempting to reclaim Klimt's famous picture 'Portrait of Adele Bloch-Bauer |', a woman whom Mirren claims was her aunt. Also featuring Ryan Reynolds as her (unnecessarily attractive) lawyer, the film sees the unlikely duo jetting off to Vienna with possession of the painting being their ultimate goal.
The film is based off the true story of Maria Altman, so, though research can be done, we won't spoil the ending for those that want to go into the movie blind. What interests us more here at Flame Tree, is that Klimt (or at least his work) is the driving force in a film featuring two genuine A-listers. So, in anticipation of The Woman in Gold, we thought now would be a good time to look back at Klimt's life, particularly his 'Golden Phase'.
Early Years and An Evolving Style
Klimt grew up, aware of the strict stylistic expectations that directed his work. Though he created critically praised works and became a professional artist, he was also fiercely aware that many artists elsewhere were rebelling against orthodoxy and shaking off the restrictions of academic art.
Klimt had a few commissions in public buildings, and it's possible that they styles of these decadent Viennese jobs helped fuel his desire for a more elaborate form of art. He saw that through decoration and ornament his ideas could become more flamboyant, despite many of his contemporaries rejecting this notion.
As his musings grew and took clearer shape, he drew influence from all over. Including Japanese art, the European interpretation of that art form 'Art Nouveau', his grandfather's goldsmith work, plus ancient Egyptian, Greek, and other eastern art.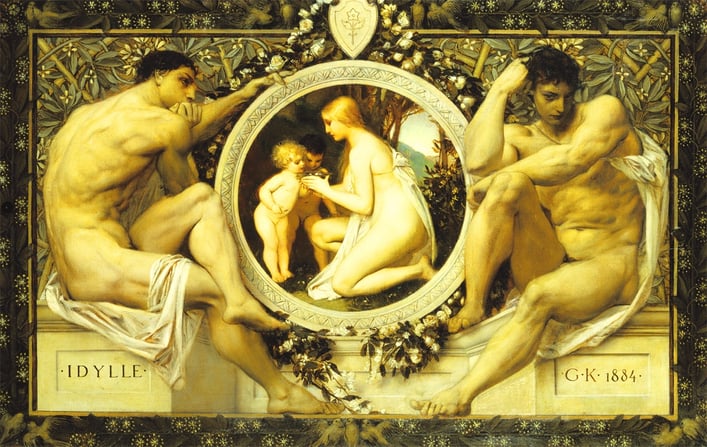 Phases of Gold and Women
Women have always been a key part of Klimt's life and works. He was very close to his mothers and sisters (and in fact lived with them most of his life), and also had numerous lovers and female friends, but interestingly he never married. Even from his earliest works we see his fascination with the female form, be they nudes, or workings that would help him develop his allegorical works.
It is known that Klimt had numerous affairs, especially with his models, and that he fathered at least 14 illegitimate children. His many relationships with women were frequently intimate, but they were not always sexual. Although he still conducted many sexual affairs while with Emilie Flöge, his relationship with her almost certainly remained platonic. Many of his works display sexual taboos, which were the subject of much gossip in Vienna at the time, and have given rise to various theories and debates, but, without direct explanations from Klimt himself, the rationale behind them remains obscure. Also ambiguous are many of the names of the women in his life, partly because Emilie burnt much of his correspondence after his death. Throughout his life, he kept his affairs discreet and avoided personal scandal, but when he died some of his models began legal proceedings to establish that he was the father of their children. The legal rights of just four of them were recognized.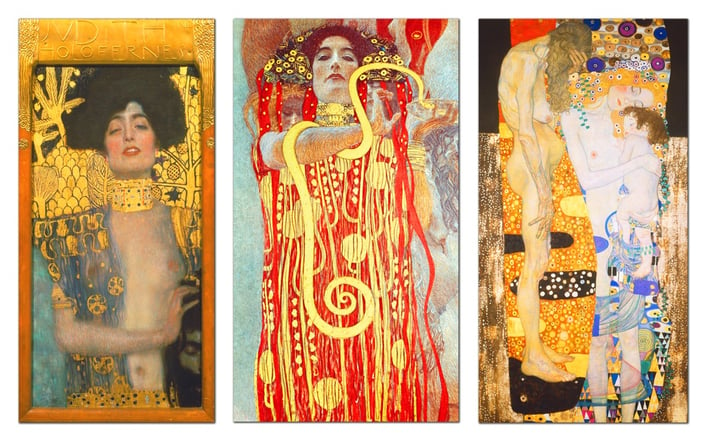 Yet despite this, his depiction of Adele Bloch-Bauer (the key painting from the movie), we do not see anything tasteless, despite the conclusions onlookers may draw from his personal conduct. His decorative painting, typical of the work he could create throughout his 'Golden Phase', was tasteful, elegant, and also came to represent European Art Nouveau. Though his subjects often stirred debate among his fans and critics, his talent, at least now, is undeniable, and his treatment of the female form was pioneering for the time.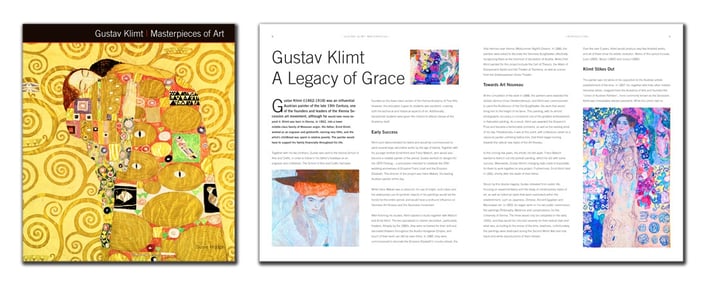 This article is based off text from our popular title 'Gustav Klimt: Masterpieces of Art' (ISBN: 9781783611393). You can buy thr book from our website, here.
Links